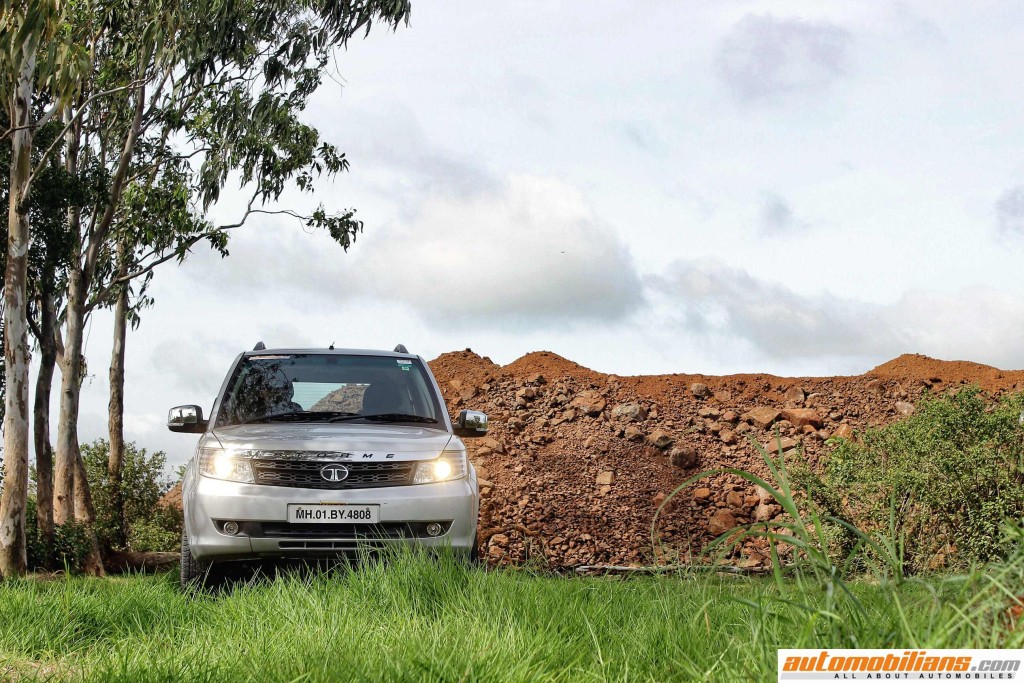 We at Automobilians.com got our hands on the 2015 Tata Safari Storme facelift. We were very impressed by the way this SUV performed during our test drive review. It climbed up a grassy mountain without any stress and performed well beyond our expectations. So then, we didn't want it to go so early and so wanted to spend some more time with it.
We then decided to go on a road trip from Pune to Bangalore so that we could have a drive worth to remember and cherish.
Pune! A city which is 9th most populous city in India and 71st populous city in the world is also known as the Cultural capital of Maharashtra, the Queen of Deccan, Oxford of the East, Pensioner's Paradise and the Center of Education. Now, you can also call it as the city of Car and Bike Enthusiasts as Pune scores the highest vehicle percentage than any other district in the state. Now, enough of history and lets buckle up and go on a drive!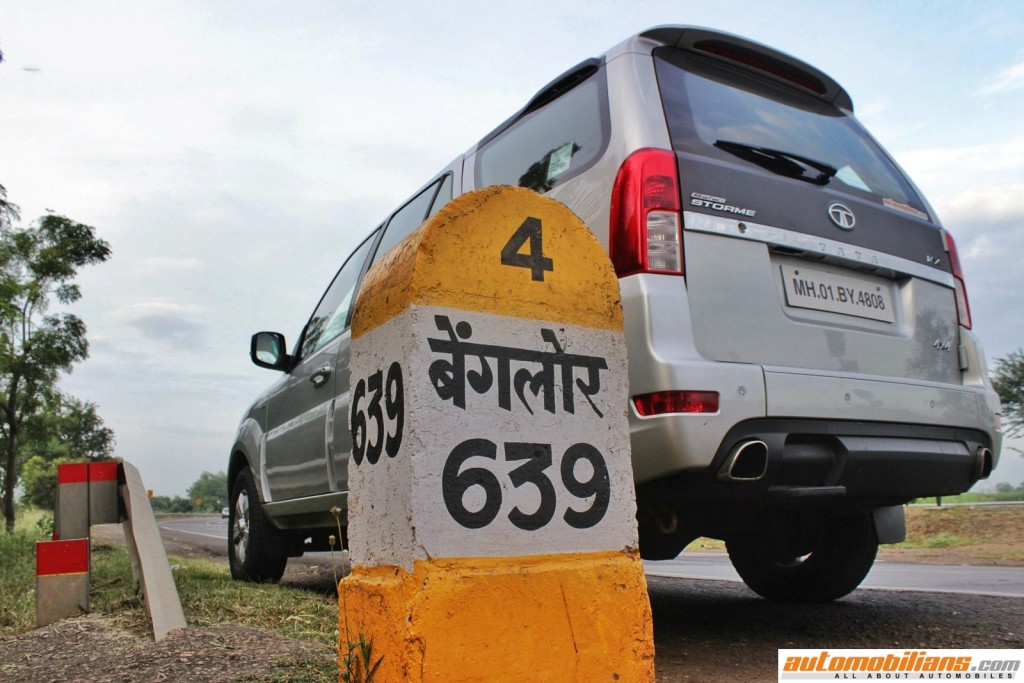 It was three of us who were going to go on this drive. Everything was arranged for our next day's departure from Pune. The bags were packed, car was washed and everything else was set. We were going to leave at 6 in the morning, but we just couldn't wait for the thrilling experience, so we started with our journey by 1 AM itself at night. The car has ample of storage space and stored our luggage very well. We started with almost 20 liters of diesel in the car and were cruising at normal speed on the NH7. We were just cruising and cruising. We kept on going without taking any halts and with extreme comfort and zero amount of stress we reached Kolhapur around 6:30 in the morning.
We took a halt near Kolhapur and had tea with some biscuits. After our small tea break we started again and took another halt at Nippani for our breakfast. There at a fuel station, wee refueled the Storme and headed towards Bangalore. While driving we saw a milestone of Goa – 196 kms away on the right side of the road. We stopped the car and started to think of what should we do now, to go Bangalore via a Portuguese province or not. There we had a cup of tea again and with looking at each others faces confused?!? and with the two roads diverged by, we took that right turn and headed towards Goa via the Amboli Ghat.
Goa, a state located in the Western Ghats of India is visited by numerous international and domestic tourists each year for its famous beaches, places of worship and heritage architecture. The Portuguese rule over Goa was for 450 years. Goa is also very famous for its rich flora and fauna as well.
On those amazing roads of Ghats, the Storme performed well with its power figures and its ride quality was also very nice. The suspensions on this car are so good that we thought we were travelling in a boat in some river body. Oh, that was awesome. We after exiting the ghat, found a small waterfall and a pond. We put the car in 4L mode and started driving in the pond and the car was fantastic. We had to climb on to the road back and yes, that too happened to be a very good climb with its enormous ground clearance.
As we were back on the road, we stopped on the side of the road and then realized that the rear tyre was punctured because of a broken glass piece which was in the pond. But, we had a lot of fun and didn't realize the punctured tyre until we were about to leave from there again. With all the tools and a spare wheel in the car we changed the tyre and noticed that it wasn't at all a difficult task to change a punctured wheel of such a huge SUV.
With the small offroad fun to an end and with a replaced wheel, we continued towards Goa. While on the move with a local friend's help we got a hotel room booked for us and we reached our hotel in Panaji, which is the state capital. It was 2 in the afternoon, and we had our lunch and went out for a drive to have some pretty glimpses and clicks of Goa. We visited several places; we clicked pictures in one of the famous and well built living colonies in Goa. We then went to a place called the Helipad (called by local residents of Goa), a place near to Aguada Fort. The place had red sand all over and I just couldn't keep myself back from having some fun there in the Storme. I did some drifting in the Safari Storme and the Storme had made a sand storm rise over there. After the Aguada fort, this car covered with red sand became the next attraction for the tourists who had come there. They just loved the car and discussed with us about the car. We had fun and had some good conversations with the tourists and then we were done for the day and left for our hotel.
The Safari Storme had been running continuously and was running all fine even after drifting in sand. We needed rest, but this machine was still ready to do anything like that. We reached to our hotel. We parked the car in such a way that we could see it from our room. The room also gave us a pleasant scene of the river which was exactly in front of our hotel. That was one good evening worth to remember which had all of it, us, the car and the beautiful scenery!!!!
The next pleasant morning we got up and got ready to leave for Bangalore. We got the punctured tyre fixed and also got the Safari Storme washed at a local washing center as we don't like to drive dirty! We started towards Bangalore with Goa's memories already starting flashing in our heads. We have been to Goa several times before but this one day trip to Goa in this beast had proved out to be the best experience for us. On our way to Bangalore we pulled over for refueling and had our breakfast over there at a small shop. With our stomachs full we set on the drive again and went to Chorla Ghat as we badly wanted to go there to have a more enthusiastic driving experience, and what a beautiful place it was to be there, to drive there, to have fun and to have a photography session. The Chorla ghat has so nice roads that we had one unforgettable drive there too.
With some good pictures with us we left for Bangalore from there again. We were travelling towards Belgaum, with amazing sceneries while travelling and sticking our heads out and with cool breeze hitting on our face and with darkness falling we took the national highway's route for Bangalore. Before that we took a halt for our dinner as we were hungry and we also had been driving continuously. It was our last halt indeed which was 150 kms before the city of Bangalore.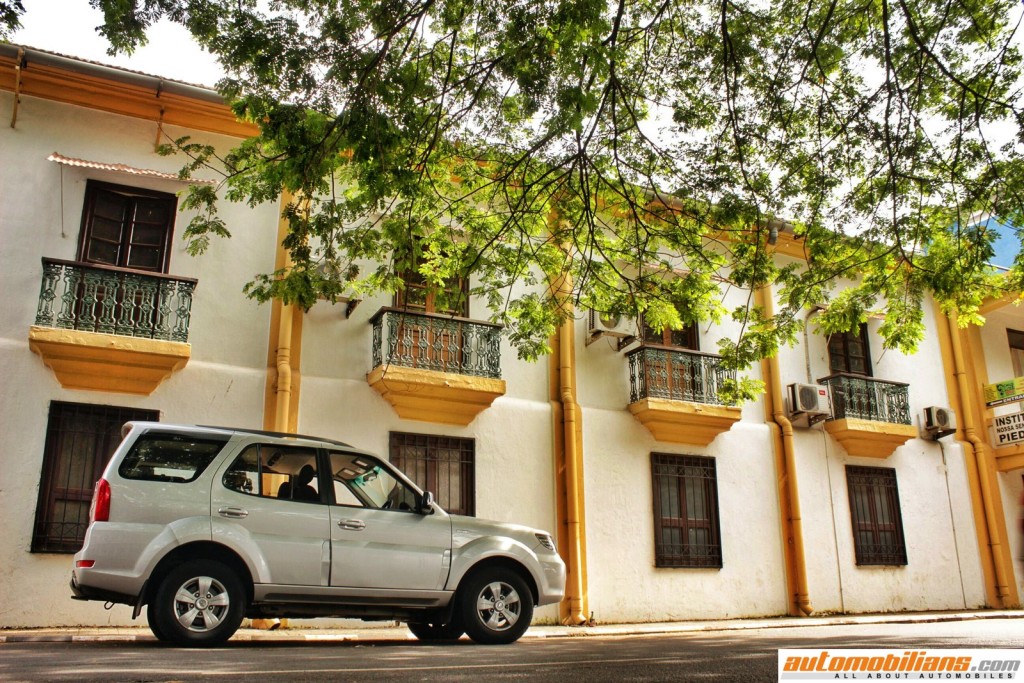 With our dinner done we started again and on our way it was raining, raining like cats and dogs but that did not make any difference or it did not even affect the Safari Storme as it was full of comfort and stability. The wipers worked well in clearing our vision and the projector headlights had a good throw of light on the road. The tyres had a good grip on that wet concrete road too. The drive was as smooth as it was on a dry tarmac. The Safari was just amazing and we were now sure that we had the right car for this trip.
We reached Bangalore. But now we had to reach our hotel where our room was already booked and getting there seemed to be a tough job as our phone's confusing GPS and the un-understandable local Kannada language of Karnataka weren't helping us out. Somehow late night at 1 AM we reached our hotel. We took rest for that night.
We had to reach the Concorde Motors at Bangalore on Friday to return the car. But we had stayed back in Goa for a day and had reached Bangalore on Saturday morning (1 AM). And due to some event in Bangalore we weren't able to return the car to the showroom as it was closed. We had to stay back in Bangalore till Monday. But what do we do for the next two days staying back in Bangalore? This was the question which all three of us were getting in our minds. We then decided to visit Coorg, a hill station situated in Kodagu district of Karnataka.
We took rest till Saturday afternoon and then got ready to go to Coorg. As it was monsoon, it was the best time to visit Coorg. We weren't worried about the time or speed at all. Coorg was 256 kms away from our hotel. We started at 2 PM, refueled the Safari Storme and reached Coorg around 10 PM. We had a nice drive to Coorg as we hardly found any bad roads and a few bad roads did not even make any difference to the car at all.
Coorg was full of foggy weather and rains. We were more excited to discover it with the Safari Storme during the day time. So we booked a rest house there for the night and went out for our dinner. Next morning, we got up and we all three washed the car before we headed out. We saw pretty places, the coffee plantation sites (for which the Coorg is actually famous for) and had some world's best coffee there. It was Sunday and the next day we had to return the car in Bangalore, so we headed back to Bangalore with car refueled again.
As we took the road that would take us back to Bangalore and Trans-music playing on the Harmon music system off the car, it provoked me to drive the Safari faster. As we were about to reach at Bangalore I realized that driving fast had also made the fuel meter of the car go down fast. But it was not a problem as we refueled the car again and reached Bangalore at 11 PM. We had our dinner and the next day we had to return the car. So we searched for a hotel and before we could check-in we thought of spending that night in the Safari Storme as it would leave us the next day. We then went to the same petrol pump and parked the car there. As the Safari has ample of space inside and is comfortable too, we three dropped the seats back connected the IPad to the car's Bluetooth system and watched a good movie and went off to sleep.
Next day, we got up and freshened up and went to return the car. We were nervous on our way to Concorde Motors. On our way we met a few of our friends until the showroom was opened. At 12 noon the Tata Safari Storme story came to end and now with only memories left with us we handed over the Safari Storme to the showroom and with all documentation procedures done we were handed with two other cars. These cars were our now source to get back to Pune.
The 2015 Tata Safari Storme 4×4 was a good companion of ours on this road trip. We were proud that we chose the right vehicle for this trip. It impressed us with its performance, driving dynamics, stability and all of it. It was amazing all the time. It was very impressive on the roads too, it also impressed the foreigners at Goa and also the Indians everywhere it went. It is big but it did not create any problem on the narrow streets of Goa or anywhere else. Its music system is good enough. The car did require fuel but every drop of the fuel was worth the drive. It has flaws and every car has some or the other flaw. Always, not only me, but my colleagues too gave it a glance where ever we would park it. As for me this Safari Storme has a special place in my heart. This travelogue with Safari Storme has given a lot of memories to me to remember and cherish. With a big smile on my face – me and my colleagues love the 2015 Tata Safari Storme Facelift VX 4×4.
Stay tuned for our next Bangalore to Pune travelogue report, to know which cars we got to return to Pune from Bangalore.
I am also very much thankful to my other two colleagues Hrishikesh Shrikant Mandke and Saurabh Gawali who were with me on this travelogue.