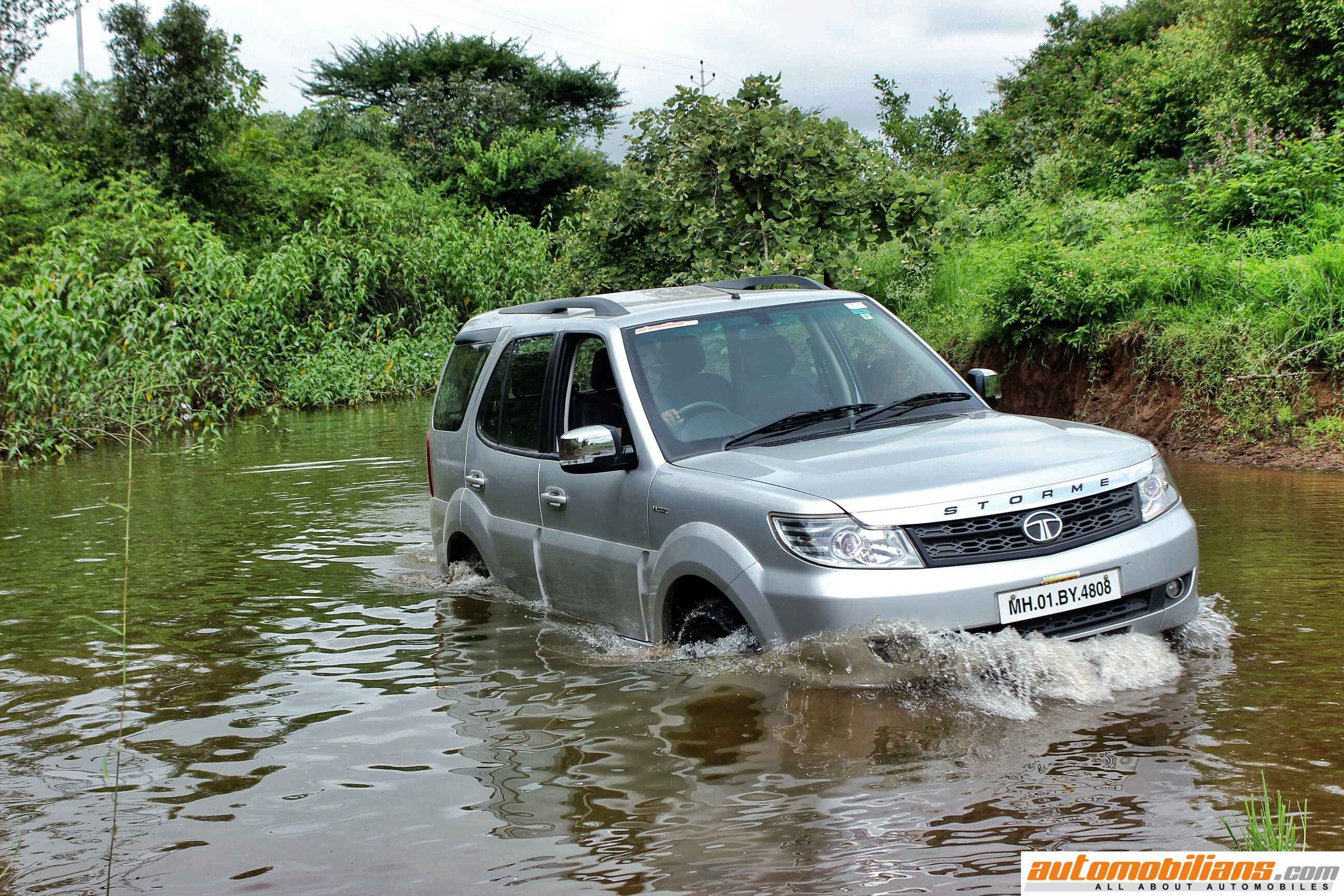 The first SUV to be designed, developed and manufactured completely in India was the Tata Safari. It was the replacement version for the Tata Sierra and was launched in India way back in 1998. It was released with a 2L diesel engine that year. The original Safari then got a complete makeover in 2005 with an addition of 3L DiCOR engine and then a 2.2L DiCOR engine was introduced in 2007. Tata Motors then launched the second generation Safari in 2012 and named it as Safari Storme. Now, in 2015 a facelift model of the Safari Storme has been launched and the Real SUV of India gets a few cosmetic updates like the Land Rover inspired front grille, black interiors with silver accents and also an increase in its power output. It might be heavy and huge but it can still conquer any terrain.
2015 Tata Safari Storme Facelift VX 4×4 Price – Rs. 14.69 Lakhs (Ex-Showroom, Mumbai)
Exterior Design: The Safari Storme has been a good looking SUV all the time. The car is big in size and thus it has a lot of road presence. The 2015 facelift version gets a very few changes on its exterior side. On the front side, the grille is new and its design has been inspired from Land Rover and is completely blacked out which looks way better than the previous one and the bonnet gets a stylized chrome garnish with Storme embossing. The front bumper gets a very slight change in its design. On the side, the car gets a VARICOR badging near its wheel arch, while on the rear side the SUV gets a refreshed tail gate with a chrome garnish joining both the tail lamps. The rear bumper like the front bumper also gets a minor change in its design. The car now gets clear front and rear fog lamps with reflex reflectors. The alloy wheels are similar to the previous model and get all wheel disc brakes. The car is surely a beast as it lengths 4655 mm and is 1855 mm wide (without side footsteps). The Storme is 1922 mm tall and the wheelbase is 2650 mm. Thus, for sure there will be no one to mess around with you when you are behind its steering wheel. Overall, this SUV has decent looks with an attitude of conquering any kind of terrain.
Interior Design: The Safari Storme gets many cosmetic updates on the inside. The high cabin looks more modern and refreshing than before. The car gets dual tone dashboard i.e. black dash with silver accent which looks nice. The centre silver console now looks much neater than before and the knobs and buttons are very well placed and can be accessed easily. Tata has now equipped this beast with a new steering wheel which has been borrowed from the Zest and the Bolt. The steering wheel is multi-functional and feels good to hold. It might look small but it is now sized well. The Harman stereo sounds better and has a better Bluetooth connectivity too. The infotainment system also comes with features like AUX, iPod connectivity and USB. The stereo also shows reverse graphics and still misses the reverse camera. The car is just not huge from outside, it's also huge from the inside. The car gets a lot of space inside. The seats get java black upholstery with silver accents which look cool and are pretty comfortable too. The combination of high seats and low dashboard with big windscreen gives the driver a better view to maneuver this suv. The middle row is now more comfortable because of better cushioned seats and also gets a lot of legroom and headroom. The rear seats are the jump seats which does not seats adults comfortably due to the cramped knee space and less headroom and the car still misses the front facing third row, but fold up the jump seats and you get a lot of space to store your luggage or cargo. The interior of Safari Storme thus feels good and is a better a place to be in.
Engine & Performance: The 2015 Tata Safari Storme gets a 2.2L, 16 valve DOHC Variable Turbine Technology (VTT) VARICOR diesel engine. The engine is tuned up very well and now makes 150 PS of power at 4000 rpm instead of 140 PS. The torque output is of 320 Nm at 1700-2700 rpm. The engine feels smooth and refined. The engine is mated to a 5 speed manual gear box and the new addition to it is the 260 mm self-adjusting clutch which feels lighter and makes gear shifting easy even at higher speeds. The torque delivery ratios at lower rpms give a good maneuverability to the car. The turbo kicks in pretty well even when there are tall gearing ratios. Downshifts are needed to be done when driving through congested roads, but cruising on the highways is just a fun. The steering is now lighter and you can make quick U-turns too. Despite of weighing 2650 kgs, we managed to do 0-60 km/hr under 8 seconds and 0-100 km/hr in 14.36 seconds (VBOX tested) which is quicker. We also did the 60-0 km/hr normal braking test and the car came to a standstill in just 5 seconds and it took 0.045 kilometers to stop (VBOX tested). The Safari Storme is offered in four variants being EX, LX, VX and VX 4×4. Our VX 4×4 car had the front drive layout and it returned us a mileage of 12 km/l on an average and the car just tries to give out more of a mileage from its 63 liters of diesel tank. These numbers look very impressive for big sized SUV like this.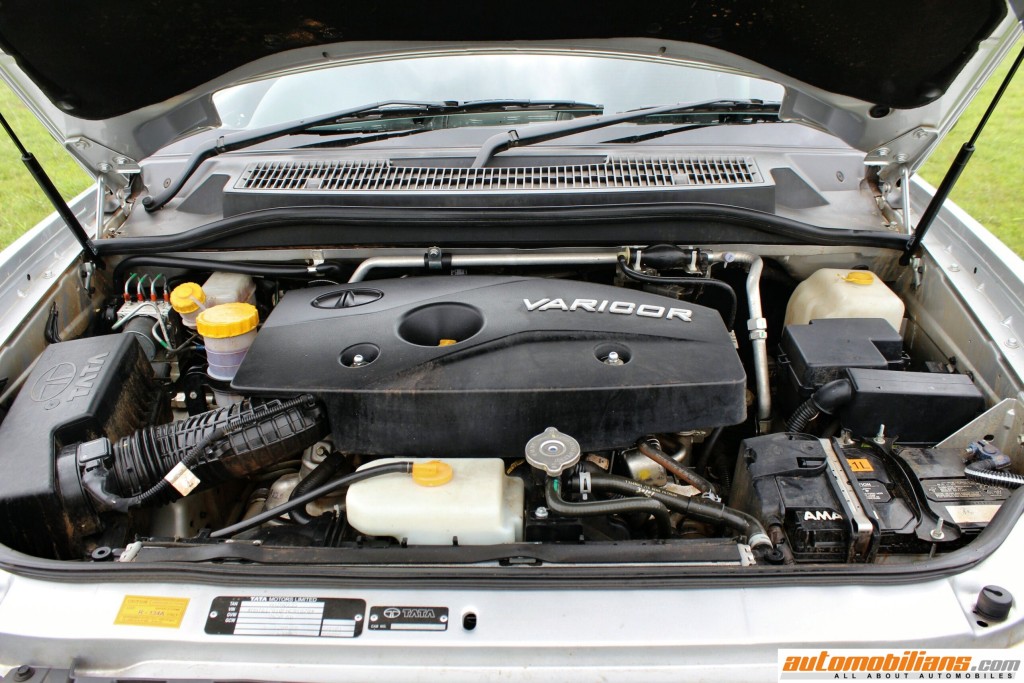 Driving Modes & Driving Dynamics: The Safari Storme gets a electronic shift-on-fly 2H, 4H and 4L 4WD options for all terrain drivability. The car gets a ground clearance of 200 mm which easily can get through any terrain. 2H is for driving the car under normal conditions on tarmac or concrete roads while 4H is for bad road conditions or offroads. 4L helps you get out of rough and sticky conditions at low speeds. We climbed up a mountain in 4H mode and later had to put it in the 4L mode as there was wet grass and this heavy 2.6 ton heavy beast did this offroad task without any fuss and the 16-inch alloy wheels offered good stability as well (H and L stand for High range/Low torque and Low Range/High Torque). The car gets a rigid chassis with stiffer suspensions. The car soaks up bumps with an ease and even when having a higher centre of gravity due to its greater height, there is very minimal body roll at high speed corners and the car offers a very good grip too. The car is huge and care must be taken whenever cruising through the city and while taking U-turns which is 5.4 m for this facelift model. ABS and EBD are standard in EX and VX variants and thus braking is precisely good. The power figures are well tuned up and the Storme cruises on highways with an ease. The speedometer and rest other ergonomics are very well placed and are within an easy reach of the driver. The steering mounted controls make the journey more comfortable.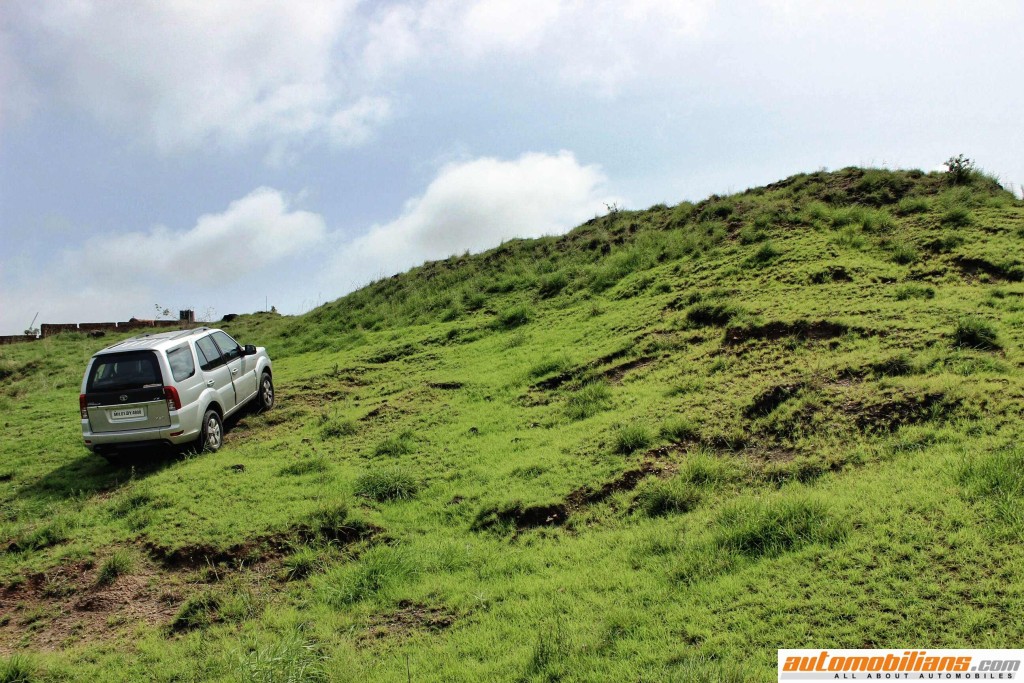 Safety and After Sales Service: Safari Storme gets dual airbags for its front passenger and driver only in the top variant, the VX 4×4. As said before, ABS and EBD come as standard in EX and VX variants. The car also gets crumple zone, engine immobilizer, tubeless tyres, reverse parking sensors and central locking with remote key. Tata Motors is the largest manufacturer in the Indian automotive industry so has a wide network of service stations across the country, so you don't have to worry much about its servicing.
Verdict/Conclusion: 2015 Tata Safari Storme has good looks and better than that, it gets good refreshing interiors with a lot of space and comfort. The car being heavy still does all the tasks easily and proves itself of being a capable SUV. The company has taken wise steps in terms of quality of the materials. The ride quality still remains to be good in every manner. In terms of price, there could have been addition of more features but maybe we can expect it in the next update of this car. Finally, this beastly SUV is worth the buy.
2015 Tata Safari Storme Facelift VX 4×4 Technical Data:
* Engine: 2.2L (2179cc), VARICOR, 16 Valves
* Power: 150 PS at 4000 rpm
* Torque: 320 Nm at 1700-2700 rpm
* Transmission: 5-Speed Manual
* 0-100 km/hr: 14.36 Seconds (Acceleration Test – VBOX Tested)
* 60-0 km/hr: 5 Seconds (Braking Test – VBOX Tested)
* Fuel Consumption: 12 km/l, 14.1 km/l (ARAI Certified)
* Fuel Type: Diesel
* Suspension: Double wishbone type with coil spring over shock absorber (Front), Coil spring type 5 link rigid axle (Rear)
* Tyres: 235/70 R16
* Brakes: Ventilated Disc (Front), Disc (Rear)
* Safety: ABS, EBD, 2 Airbags, Crumple Zone, Engine Immobilizer, Reverse parking sensors, Central locking.
2015 Tata Safari Storme Facelift VX 4×4 Dimensions Data:
* Overall length: 4655 mm
* Overall width: 1855 mm
* Overall height: 1922 mm
* Wheelbase: 2650 mm
* Fuel Tank Capacity: 63 litres
* Kerb Weight: 2650 kgs
* Ground Clearance: 200 mm
* Turning Circle: 10.8 meters
VBOX Equipments provided by – ZEN Microsytems