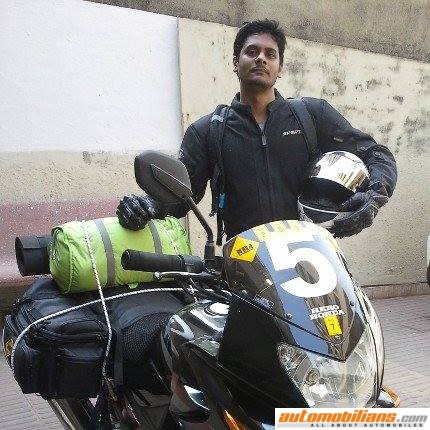 As it is said – 'Being a Biker is not a matter of Life and Death. It's more important than that.'
So let's go through the story of Mohammad Khiyar Pasha's 9 days Solo ride of Golden Quadrilateral
Introduction:
Khiyar's riding journey started when he was 14 years old. A boy fascinated with bikes and riding to different places at that time had started taking motorcycle riding lessons from his father, who was an enthusiastic rider on a Hero Honda Splendor. Khiyar observed his father's riding very well and the places they used to travel to. Slowly, Khiyar learnt riding and developed his interest into riding. After a few years when Khiyar started working, his father brought him a motorcycle – the Hero Honda Karizma R, a 225cc motorcycle. As days passed Khiyar started getting used to it and started fulfilling his riding dreams by riding his new motorcycle for 300Kms, 400Kms and then 600kms per day. Biker boy Khiyar started falling in love with that freedom of riding, the thrilling speed and the wind in his face. But, this freedom and speed were just a day's matter of fun and experience as he would reach his destination. Khiyar, always wished if he could continued riding on and on. So, as it is said again – 'Your passion keeps you hungry', Khiyar's passion keeps him riding to different places as he changes his jobs every year.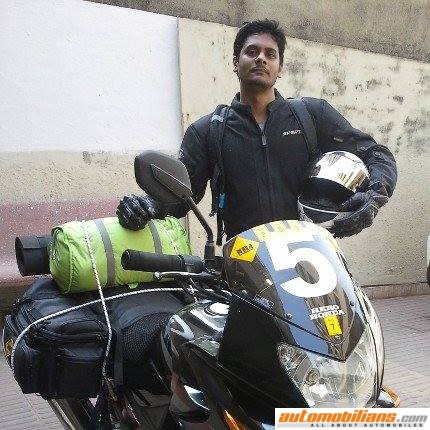 Khiyar was still not satisfied with these rides, he had read about people doing riding records on their motorcycles which made him thought of doing the same. Being an amateur biker, he thought his bike wasn't capable of doing such record holding records. But, with the help of Google, he started searching for long distance rides which he could do and one fine day he came across an article of Mr. Bharadwaj Dayala who has a record of riding across the world on his Karizma R. After going through his article, Khiyar, with a small little smile on his face thought that he owned one of the best riding machines – the Karizma R. After this he searched for maps and thought of riding Kanyakumari to Kashmir, which was also his father's dream ride. Then, he saw the Golden Quadrilateral route on the map which connected all the major cities of India viz. Mumbai – Delhi – Kolkata – Chennai – Mumbai. Khiyar found his dream ride to be done, but was unknown of how to start and from to start as he only knew about wearing a helmet. He then told about his dream to his friends who asked him if he would return alive or no from this ride and made fun of him. Khiyar then became wise and discussed about this with his biker friend – Raviteja who had recently done a ride to Leh Ladkah. Raviteja understood Khiyar's dream and helped him choose proper riding gears needed for this ride. Then, later he got in touch with India's Bike Guru – Mr. Dilip Bam, who completed a solo ride on his Kinetic Honda Scooter to the Sahara desert. He wrote to Bike Guru's blog and got responded from him. It was the right person to whom Khiyar had knocked the door to. Mr. Dilip Bam made Khiyar a budget plan regarding the tools and spares he needed to carry during his ride. Later, Khiyar met Devjeet Saha – a biker well known in India for holding many biking records like the Bun Burners' and Saddle Sores'. He proved to be a great motivator and supported to Khiyar.
Now the time had come, where everything was planned – Khiyar's 9 days Golden Quadrilateral ride – a total of 5950 KMS. He successfully completed the ride alone which he started on 5th April 2015 and ended on 13th April 2015 and which took him complete 216 Hours (9 days).
His Story about this Ride (His words):
Day 1: Mumbai – Haveri (620 Kms) 5th April 2015
I decided to start early in the morning at 5 AM from Khayrghar, Navi Mumbai, I reached Pune at 7:30 AM and met Dilip Bam Sir, had a small chat with coffee and from there I left at 8:30 towards Hubli Karnataka. At 11:30 AM I crossed Satara and It was super summer. Every one hour I halted to grab a sugarcane juice and water. Pune to Bengaluru Highway – NH4 was awesome, at 2 PM I crossed Maharashtra border and entered Karnataka, at 3PM suddenly I met Devjeet Saha as he was also doing his Bun burner ride on Hero Splendor. We just had a 5 minute chat and he left as he was competing against time or you can also call it a race, but I was not. I reached Hubli at 5 PM, but I planned to ride another hour till 6 PM and reached Haveri at 6:30 PM and that day I did a total 620Kms. I checked in a nice lodge in the city for Rs. 900/- and took rest for the day. I had called up all my friends and well wishers to inform them, they were happy for my good start that day. I took a nice shower and hopped in my bed for a good sleep.
Day 2: Haveri – Chennai (662 Kms) 6th April 2015
It was nice cold early morning at Haveri, checked off my hotel room and did my basic bike check like headlights, indicators, horn, and engine oil and tyre pressure. Loaded my saddle bag and started riding towards Chennai via Bengaluru, at 7:30 AM I had my breakfast at Kamath hotel, after riding for a few kilometers I saw a tea stall from which I couldn't resist myself from having a hot cup of tea, so had to make a U turn there, as I made a turn and the very next moment my bike fell down, I escaped safe but there starts the drama, I was trying to lift my bike for 5-10 minutes totally failed, That moment I realized the actual weight of my bike with luggage. Lol, finally got help from that tea stall guy. Huh! Then I was very careful during curves and turns. At 11:45 AM I reached Bengaluru and had to cross the city and go towards Hosur, It took me 2 hours to cross the city, No way I expected this much traffic, but I was particular about the GQ road as I dint want to take any other route. It was almost 2 PM when I crossed the Karnataka border and then the actual Summer heat starts from Tamil Nadu, Wow! Awesome heat close to 45 degrees I was only on liquids that complete day, Electral powder (energy powder) solution helped me a lot while riding in those hot conditions. I crossed Sriperumbudur at 5 PM and entered Chennai city by 6:30 PM, huge traffic again, I wanted to take halt at Red Hills, so that it will be easier for me to escape the city during mornings. So, took my route towards Redhills, I stopped at a place and was having a juice and local people who were present there asked me from where I had come, I replied, Mumbai. The old man was WHAT?? He immediately said, there is no route to Chennai from Bombay (Mumbai earlier was known by this name). WHAT? I just said Ok, Bye to him. No more discussion could be done with him. So I was on my way to Red Hills once again, I saw a Hero showroom opened at 7:30 PM, I immediately took my bike to them and explained the manager about my ride and requested them to do a basic servicing for my bike. They changed the Engine oil, tightened the chain, adjusted brakes and filled up tyres with Nitrogen. I asked them about the bill, they simply said no need, It's for free and they wished me luck for the ride. I felt very happy. Finally, I reached Red Hills at 8:30 PM and took a nice hotel room for that night's stay.
Day 3: Chennai – Guntur (420 Kms) 7th April 2015
I Woke up at 5 AM in the morning and started my basic stretches and exercises for 30 minutes, Did basic check for the bike and geared up and started at 6 AM towards Guntur (My home town) situated on NH5.
NH5 has always been special for me, not only because of the roads but also many old memories of my rides. I reached Andhra boarder at 7:00 AM at TADA. Saw, AP registered vehicles moving besides me, that moment was really awesome. Don't know why, but I always feel good when I see my own hometown state registered vehicles. The roads were excellent; some places here and there were diversions for six lanes' work. I had my breakfast at local highway dhaba type at Nellore.As I am a foodie guy, I was enjoying my meals at every place, their flavors, they were relishing. After having my food, I started riding back and I reached Ongole at 10:30 AM, there I had three tender coconut's water and started back towards Guntur. I reached my home at 12:30 PM and took rest for that whole day. The main reason for the halt at Guntur was to meet my parents and friends. I hadn't seen them since almost a year. That moment was very special, when I met them and spent some great time chatting about the journey.
Day 4: Guntur – Bhubaneswar (820 Kms) 8th April 2015
I Woke up again at 5 AM, as usual did my basic exercises and regular bike checkups and started towards Bhubaneswar, it was very emotional moment for me with a send off by my parents. I crossed Vijayawada and reached Eluru, had a nice breakfast and continued riding towards Vishakhapatnam via Rajahmundry. Places and sceneries at Rajahmundry were awesome, as I was riding between coconut trees on the highway full of greeneries. I reached Vishakhapatnam at 1:30 PM and had my lunch after crossing the city. Then I started riding towards Icchapuram, which is the border for Odisha. I crossed the border at 4 PM and then, it was a complete new world for me because I never had been to Odisha anytime before, It was really calm and a little isolated too, I was riding towards Bhubaneswar via Berhampur. Initially as per my it nary Berhampur was the stop for the day, But few of my close friends advised not to stay in that city, as it was unsafe, they were right, I could not find a lodge in that place too, so continued riding. After sunset, it became dark and to my surprise there was not even a single street light in the villages, people were moving out with torches and other lights, this is not the case with one village. Till Bhubaneswar not even a single village had a street light. That was little scary, I was thinking what if my bike breaks down, I was just praying and then heavy rains started, then I decided this is not the place to stop at all, I must reach Bhubaneswar at any cost. So, kept riding slowly and reached Bhubaneswar at 9 PM. So, that was a total ride covering for 820 Kms that day. My bike was literally crying for rest. I took a halt at a small budget hotel and ordered some local food, like dal and rice and roti and then jumped into my bed for a good sleep.
Day 5: Bhubaneswar- Howrah (430 Kms) 9th April 2015
I woke up at 5:30 AM that day, I did my regular routines like always. Bike and body was to be kept fit for the ride to continue on daily basis. I started towards Howrah – Kolkata, had a tea at Cuttack and I could not stop myself asking the tea maker about the conditions in Odisha. He explained me very nicely that except Bhubaneswar and Cuttack almost all places are not so well developed. He was absolutely right, they have temple at every corner of the street. They were really worth watching. I started towards Kharagpur, and then the bad roads starts as the six lanes' work was under process. So many diversions and gravel roads, I felt some change in my bike speed, it was dropping suddenly. I stopped my bike aside and checked what the issue was. Finally I found a small pin from carburetor came out and fell down. As that pin was a very important part, I was very happy as it did not fall on the road. The spring attached to pin had fallen off. So I immediately made a phone call to a mechanic at Mumbai and asked him what to do. He advised me to insert the pin and screw it tightly and asked me not to stop the bike till I found a proper mechanic. I followed his instructions and continued riding for another 60 Kms and then I found a Honda's service center, there I got my bike serviced and got the carburetor pin tuned with digital meter. But, I could not find a spring for the pin, so he asked me to ride for a few more kilometers and check with Hero's service center situated on the highway. I told them the issue and somehow they managed to arrange a spring for me and fixed it up. It was almost 2 PM and I was supposed to cover 350 Kms more, so I did not wanted to waste my time anymore with halts and started riding towards Howrah. I reached Bengal area at 4:30 PM and stopped for a tea. I was talking to few lorry drivers; they started scaring me with their stories of local gangs and other robbery. They advised me to take a lodge inside the city but not on the highways. I Reached Howrah at 6:30 PM and searched a lot for a lodge for 30 minutes and finally found a big hotel called Oasis, on the Highway. I did not want to enter the city because of the traffic, it was horrible riding inside. The lodge stay was costly, but did not want to take any chance, so I started with my negotiation pitch and finally agreed to pay Rs. 3000/- for one night's stay. But, the room was ultimate luxury. I felt very happy that I completed half way and half way more to go. Dilip Bam Sir, just said keep going, do not stop. (Chalta Jaa, Chalta Jaa). That inspired me a lot.
Day 6: Howrah – Allahabad (783 Kms) 10th April 2015
I woke up at 5 Am in the morning, I was feeling good as I had wonderful sleep and food last night, So started my basic routines like every day, got ready and left Howrah. Heading towards Asansol, I was a bit worried regarding the hostile environment's poof what people told me, so was going a little slowly and carefully. I reached Asansol and took a break for 15 minutes, an RTO officer came to me and asked me from where I had come. I said I started from Mumbai, after listening to this he was shocked and said – 'Itni Garmi Mein?' (In so hot weather?). I said yes. He was inspired with my story and he took a picture of my bike rather than me. Yeah! I was a little upset with that. I started my journey again by heading towards Dhanbad – Jharkhand – Bodhgaya. Dhanbad was very scary and there was literally no people seen on highways except the trucks loaded with coal. It was the moment where I thought; why on this earth I am doing this ride? But, I continued riding and stopped at Bodhgaya at around 3 PM and had a good meal. I wanted to visit Bodhgaya city but, was running out of time as I was most concerned about if it gets dark, and people are hostile and was also worried about the lodge. So I started tiding towards Aurangabad – Allahabad. I reached Aurangabad at 5 PM and had a tea break and then took a long relief breathe as I saw people around. I then started riding towards Allahabad and reached there at 8 PM, I was lucky that I found a guest house on the Highway and took halt there for the night. Now, I wanted to experience some great food and sleep. Took shower and updated about my journey to all my near and dear ones. i Had some Rajma rice, salad and curd. I took a good rest for that night.
Day 7: Allahabad – Delhi (676 Kms) 11th April 2015
I Woke up at 6 AM in the morning and did my daily routines, and started riding towards Agra – Delhi. Riding through Uttar Pradesh was a good experience for me as I could see vast wheat fields, small rivers and canals. I had some great jalebi, chai and aalo puri in my breakfast at Fatehpur. I had the famous Banaras paan too. People over there were friendly and I felt happy about it. The day was really hot and I experienced heat waves too. I had to stop and take breaks in between, reached Kanpur and had some tea. Then I started riding towards Agra, roads were very good with less traffic. I Reached Agra at around 3:30 PM and took a long break with some tea and snacks. Agra had heavy traffic; I struggled a lot to come out of the city. Now I was very desperate to reach Delhi due to summer's heat. I Started riding towards Delhi and roads were awesome I must say. I stopped at Buddh International Circuit (BIC) for a while and I was really on tears, I realized that India has the potential to build such International level Circuit. We have almost everything now, why are we still so behind from other developed countries? Then I moved on and was amazed to see the beautiful Infrastructures at Noida and Delhi. I tried to see the BIC, but unfortunately they were closed by the time for the day. I was close to Delhi now, I asked few people there that how could I manage to get a lodge on the highway, as I have to leave towards Gurgaon tomorrow. They advised me to go towards Airport and I could get some budget lodges there. I followed their advice and reached Delhi International Airport at 8 PM and took an awesome stay just opposite to Airport on the highway towards Gurgaon. It was little expensive but I was very much tired too. So took a halt there for the night.
Day 8: Delhi – Udaipur (680 Kms) 12th April 2015
I woke up at 6 in the morning and did my warm up exercises and basic bike checkup. It was slightly raining in the morning; It did not bother me much, so started towards Jaipur. I had some breakfast in Gurgaon and started back towards Jaipur, I reached Rajasthan Border at 9 AM and then the ride was more fun watching the hills and completely different geographic scenes as the weather was also nice and calm. I reached Jaipur at 11 AM and Bikers of 'Karizma Biker Club, Jaipur' were waiting for me at the entrance of Jaipur city to welcome me. That moment was awesome, that was the moment I felt very special. They welcomed me royally and took me to their place and we had some good chat with cold coffees, Ravi (Lead) of the Jaipur club amazed me with his hospitality. He forced me to stay at Jaipur for the day, but I wanted to continue my ride, so I just had lunch at Ravi's home and left towards Udaipur. As soon as I crossed Jaipur city, heavy rains started, and it was almost 5 PM. I stopped my bike aside and covered my luggage with whatever possible and thought that, it's always not the same smooth road nor the pleasant weather, a true rider has to face all these things and cross them during his ride. I started riding in heavy rains, couldn't see anything at all, I couldn't do more than 50KM/hr. Slowly I was riding till Bhilwara via Naziabad road. Crazy! I reached Bhilwara at 9 PM and another 150Kms were left to reach my target. I was feeling slightly feverish. Took a tablet on the way from my first aid medical kit and started riding towards Udaipur via Chittorgarh, It was pitch dark and cold. My riding Jacked was totally wet, I wanted to reach the destination, though I found plenty of lodges on the way, I finally reached Udaipur at 11:30 PM. Damn! This was one hell of a ride. I took a lodge in the city and took rest for the day.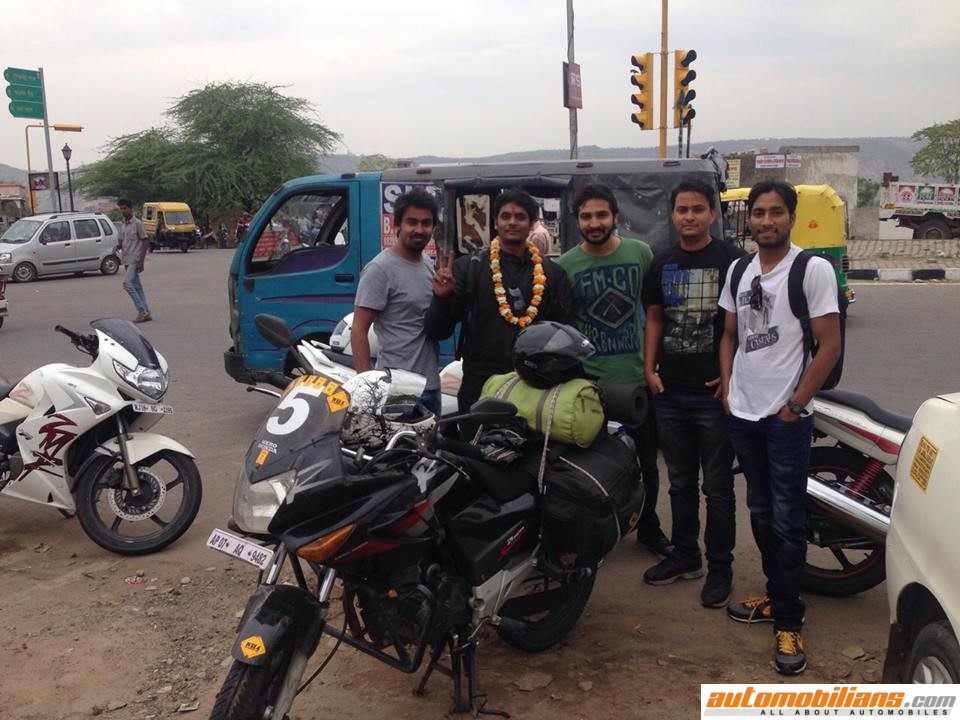 Day 9: Udaipur – Mumbai NH8 (752 Kms) 13th April 2015
This day, I woke up at 6:30 AM in the morning as I wanted to ride slowly. It was the final day of my solo ride as I had been riding for 8 days continuously. I was both happy and sad at the same moment as I would be returning back home and also felt like to keep on riding. Anyways, I started towards Vadodara – Surat. I had some great local breakfast. Trust me, Rajasthan is the place to ride, it has awesome scenery hills, forts and good clean roads. I was riding happily, and reached Vadodara at 12 noon, I had my lunch and started moving towards Surat, by 1:30 PM I reached Surat and weather was too hot that day. I think those were the days the summer was reaching its peak, but still I kept riding as nothing could stop me. There were some diversions and bad roads in between due to 6 lanes' work, but after crossing Surat, all was good. I reached Vapi at 4 PM in the evening, I was riding little fast as the roads were good enough with very minimum traffic. From Vadodara I started posting statuses and my distance statuses on Facebook, which was also an excitement for my friends and family that I was going to finish this ride in some more time. I crossed Vapi and was moving towards Virar. Finally I reached Maharastra Border, wow! that moment was best of all. Now I was just few kms away from the finish line. I reached Virar at 8 Pm and there was a Biker from Karizma Biker Club Mumbai giving me a welcome garland and coconut water for finishing the ride. I reached Thane at 9 PM and from there Bashab (Admin of Karizma Biker club) welcomed me with the complete team of riders. That was OMG! Moment for me, it was literally a grand welcome by the Mumbai Biker's club. Thanks Guys! That was the moment I felt that I really did something big. Best part was the brotherhood they showed towards the riders was incredible. We rarely see that.
I reached Kharghar, Navi Mumbai the place from where I had started on 5th of April. I finally completed my dream – the Golden Quadrilateral Ride in 216 Hours (9 days) riding solo for 5,950 Kms.
For me this wasn't just a RIDE. I got to learn a lot of things about my, our country – India, people, culture and also I developed an extreme level of confidence in myself that if you have passion and confidence, you can achieve anything you dream about. This was not the end; I will keep riding till I have strength in my hands to pull the throttle. Many more rides coming up, as this was just a beginning.
My next ride will be Kanyakumari to Kashmir riding solo this year.
My sincere thanks are to my near and dear ones, who proved to be my strength and support during this ride.
My special thanks are to Mr. Dilip Bam Sir, Devjeet Saha, Mehamood Pasha (My father), Karizma Bikers' Club, Bhardwaj Dayala for the inspiration, Guntur Friends/ Brothers and Gaurav Sharma for supporting me all time.
I am very much glad that Automobilians.com, agreed to publish my ride's article and I want to thank them as this will inspire many more riders out there.
Automobilians.com salutes the spirit, passion and determination of Khiyar who successfully completed the Golden Quadrilateral Solo Ride without any sponsorship. Khiyar completed this ride in Rs. 40,000/- which he had saved from his three month's salaries.