"To travel is to take a journey into yourself", says the American actor, Danny Kaye. And these words are completely true as we experienced it during our travelogue in the Isuzu D-Max V-Cross. Keep reading below to know how!
Well, it all started when I got a call from my friend on one fine day and he invited me and my team to his wedding at Kanpur, Uttar Pradesh. I promised him that I would surely be there with my team for his wedding. I still had 20 or so days to plan on the travelling part. But being an automobile reviewer I thought of travelling by road in a car and making it more fun than instead of just taking a flight.
I told my fellow team members about my friend's wedding and also told them about travelling by road in a media vehicle. They were too excited like me to go on this road trip. I had not yet decided about the vehicle we would be travelling in though. I then went through our portal, Automobilians.com and came across the launch report of India's first Adventure utility vehicle, the Isuzu D-Max V-Cross. I had a smile on my face and called up my friend at Isuzu. I told him about the idea and he immediately agreed on providing me with the V-Cross. The moment I got to hear a yes from his side, made me go crazy and I started smiling more like an idiot.
I was supposed to pick-up and drop back the car at Isuzu's dealership in Pune itself. I with my colleague Saurabh planned the whole route for this road trip, like the route, the hotels where we would stay for every night we travelled from Pune-Kanpur-Pune. So, basically, we had planned Pune to Kanpur via. Manmad, Dhule, Indore and so on till Kanpur.
The car's pick-up day arrived, the day to which I was eagerly looking forward to as I was going to get my hands on this Japanese pick-up truck. I picked it up from the showroom two days prior to our journey.
I went to the showroom along with Saurabh, and the car was shining brightly as it stood gloriously in front of it in the orchid brown shade. There were two of them actually, both standing next to each other in the same shade of colour out of which one was fully loaded with accessories which Isuzu offers as an option. It was equipped with D-Box with bed liner, chrome set, sidebars, door visors, and aftermarket alloys. That was the showroom manager's ride though. With little documentation done, I was given the keys to a new adventure, Isuzu D-Max V-Cross.
I and Saurabh came towards the car and stood in front of it. We started admiring its curves and proportions. Honestly, this vehicle is huge. It is long very long, and wide too. So between ourselves, we discussed that we do really need to take measures while manoeuvring this car. We got ourselves briefed by the manager of the showroom and we left from there. I was in the co-driver's seat as Saurabh had taken the wheel. We then went to his residence to drop him off. It was that happy moment when I was finally going to get to drive it. As I sat in the driver's seat and keyed the car, oh my, the way the engine cranked up and came to life made me sure about one thing that this is a no-nonsense car at all.
A day prior to the start of our road trip, we got some stickers stuck on it and observed the vehicle well, the amount of space it offered inside. This car has a neatly laid out cabin, there is enough of room at the front and the driver's seat is very comfortable and so is the co-driver's seat. The rear seats are very upright in position and we were little tensed about the comfort that they would offer to the rear seat occupants. They cannot be reclined either. If you want to store your luggage, then you have to store it in the loading bay of the car which eventually made the passengers sit more comfortably inside. The loading bay was open and for that, we had to take proper measures.
The next day, the road trip's day came and we got our personal works done by the afternoon. We were four in all to go on this trip. We arranged the luggage properly in the loading bay and yes, my friend to whose wedding we were going, had also given a few things (shagun ka samaan, the gifts which he was supposed to give to the bride and her family) that were supposed to be given at his wedding. We covered the luggage with a cloth and tied it nicely to all the hinges that are made available with the bed liner. With everything done and set, we left my place around 6 in the evening. I was sitting at the back with our photographer, Avdhoot, and Saurabh was driving.
As we kept on going, crunching some miles I really felt comfortable at the back. To be frank, the seats were very comfortable than I had thought. We both were comfortable and to my surprise, there was enough of leg room on offer.
Saurabh kept driving and he started falling for the V-Cross more and more as he kept covering some kilometres. That's because the car was performing very well and felt much planted. We took a halt to have our dinner after completing more than 100 km. With some delicious dinner done, we started again towards Manmad. So far the roads were really good. It was 1 am already and we all were feeling sleepy and Manmad was hardly half an hour away from there. We saw a small tea stall ahead and stopped the car near it. We all had tea; I am a diehard fan of tea, to tell you all. We waited there for a while and Avdhoot took some clicks of the car over there.
As we reached Manmad, we searched for a hotel to stay and luckily we found one immediately near the Manmad railway station. We unloaded our luggage as we couldn't keep it like that in the car's loading bay. Got ourselves the key to our rooms and we just went off to sleep as we laid in our beds.
The next morning, I got up around 8 and we all left to continue our journey towards Indore at 9:30 after loading back our luggage. I was in the driver's seat and continued on the NH52 towards Indore, Madhya Pradesh. I loved every bit of this car and the scenery through which I was driving. the car was cruising comfortably at 100 km/h. Post 88 km, at Dhule, we stopped to have our breakfast. With breakfast done, we started again. We were taking halts on our way to have tea and to take pictures.
At one fine place, we came across a lovely view on our left side. But there was no road to go till there. Well, it didn't even matter for this car. We found a good place to enter as there were many big stones and pieces of glasses everywhere and we did not want to have any puncture at that place. After finding our way in and reaching on that spot we enjoyed the view and took some clicks. We then came to the highway from the same path that we had taken while going in there. Then at around 2:30 in the afternoon we stopped at a dhaba to have our lunch. We ordered shev bhaaji and some rotis. Honestly, I had never had such tasty shev bhaaji before. After having that delicious lunch, we started again to complete the remaining distance.
I kept driving and came across some twisties. The V-Cross took every corner neatly and there was not much of body roll. It handled all of them without any fuss. The V-Cross kept on going like a pro.  We reached Indore at 8 pm and started looking for hotels. Through OYO hotels we used to find some but couldn't stay there as they did not have enough space to park this huge vehicle. Nonetheless, we found a better hotel where there was enough of space to park this beast. We ordered our dinner at the hotel itself and took rest for that night over there.
Next day morning, around the same time as that of the previous day, we got up and had our breakfast at that hotel only. I had poha, one of my favourite dishes and it tasted amazing. So, we started our day 3 with a good breakfast. We left that hotel and after getting on the highway from the city of Indore, we came across a hotel which looked more like a palace and we didn't go ahead without clicking a pic of the car with it.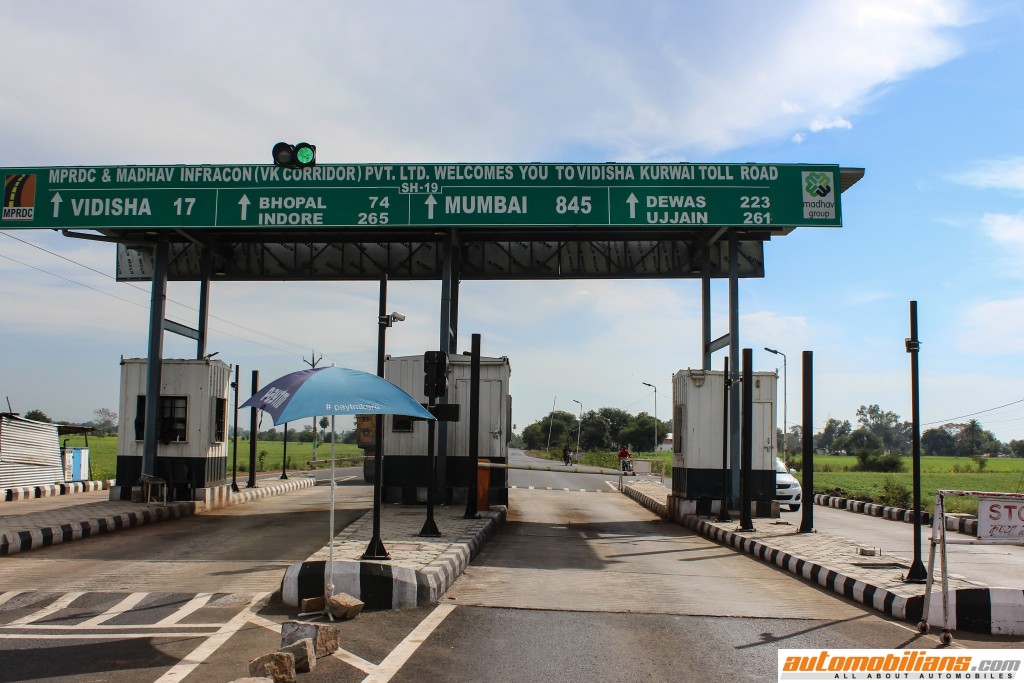 We started again, now heading towards our final destination, Kanpur, Uttar Pradesh. The roads were really good but now narrowed to two lanes from four. There were toll posts at every 30-40 km (I suppose). It was then when we had to spare nearly 10-15 minutes at every toll as they would consider the V-Cross as a commercial vehicle and not a private one because it had a loading bay like other commercial vehicles (as such vehicles were only supposed to pay at those booths). We had to wait till their in-charge officer would come and see the documents of the vehicle and then allow us to go ahead. This happened almost at every toll that we crossed till the time our car was on the Vidisha Kurwai toll road.
We then came across the Tropic of Cancer line which passed through that way. There was a panipuri wala next to it and we looked no further to eat some. Puris were different in shape and bigger in size. I had and have never seen such puris in Pune till now. The taste was also good and there was only tikha pani on offer and not the sweet one. So I just had 2-3 puris. I had read and studied about the Tropic of Cancer only during my school days, and to be there personally, really felt like a very good moment for me and I immediately called up my mom to tell her about it as she is a geography teacher. After taking some selfies and pictures of the car with the post of Tropic of Cancer, we left from there again.
We kept on going and going and we took a halt again to have some tea and biscuits at a tea stall. We also made calls to our groom-to-be friend and to the bride-to-be's family members and told them that we would be reaching Kanpur around 11 pm. V-Cross had really been a great companion till now. Everything was perfect and even the air pressure in every tyre was up to the mark. We kept driving and finally at 11:30 we reached Kanpur. We stopped the car aside and called them up as we were not really able to find the location easily. We waited and within no time four people from the family came and took us along. We were welcomed nicely and all of them were very happy to see us and they were just waiting for us. By reaching our final destination we had completed 1336 km that too without any fuss.
We had our dinner, some delicious dal chawal and laddoos. We then went off to sleep immediately as the next day was the wedding day. Next day morning we got up, got ready and moved out of that place and went to the hotel where our stay for that day and another was arranged. From that place, we did take some luggage along with us of those family members and everything fitted well in the V-Cross's loading bay.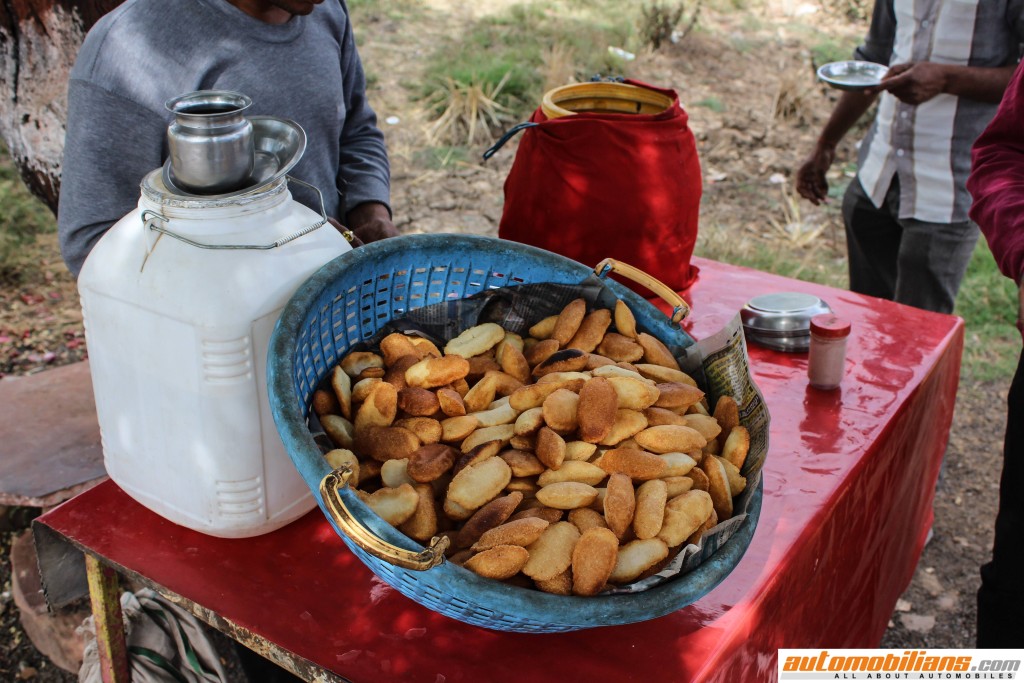 We went to the hotel, unloaded everyone's luggage and got ready for the wedding. We then unpacked the gifts that we had got with us from Pune. Everything was perfect, nothing was damaged at all. The high speeds, the bumps nothing had caused any damage to any of it. We all were happy as "shagun ka saman" was safe and sound. The Isuzu's robust ladder frame chassis and independent suspensions made sure to keep us comfortable all the time and also the luggage that was there in its loading bay. To be honest, it was one of the best weddings that I have been to. We enjoyed a lot, danced with the groom – our friend and also had a lot of different cuisines in our dinner.
The wedding was done, and the day ended well and we went off to sleep in our rooms. Next day morning, we got up early, all fresh and sound we packed our bags and loaded them into the car again. It was the day to leave this city which is known mainly for its industrial areas.
We waved goodbye to everyone over there and we left. It was around 9 in the morning, streets were narrow, and we stopped at a red light. V-Cross had acquired the whole lane as it was just a two-lane street for both the traffic and as soon we stopped, people started honking from behind and shouting. It was at that time when we realized that people over here do not follow any traffic rules at all and are always in a hurry. We waited till the signal turned green, of course, and once it did, we proceeded ahead.
After crossing few signals, there was a check post ahead. The cops stopped us, asked us few questions as the car had a TC number plate. We were asked only two questions about the license and from where we had come and to where we were going. Rest all the questions asked were about the V-Cross as they had not seen such huge and handsome car before. They appreciated its looks and told us to be safe (drive safely). Good cops, ah!
As we kept driving on the same route, we came across a signboard, which had the distance to Jaipur, Delhi, and Agra written on it. Saurabh was driving and he looked at me in the rearview mirror. We stopped the car at the side of the road and spent 10 minutes thinking about what we should do? Should we go back the same way we came from or to go to Jaipur and then go back to Pune. We decided to go back by the same way. He started driving again and I saw a by-pass coming ahead. We then decided to take a U-turn and go to Jaipur, Rajasthan which was 515 km run from that point. Honestly, that was the best and decision made by us at that moment.
After crunching some more kilometers, we were stopped again by few cops at a check post. They checked the license, documents and also asked about the luggage which we were carrying along. They too appreciated the car a lot and left us free to continue on our way ahead.
Breakfast was done at our hotel only in Kanpur. We directly took a halt at one of the dhabas on our way to Jaipur. Veg dhaba it was and some delicious food we had, yet again. Later after some time in the evening, we stopped to check the tyre pressure and to have some tea. The route which we had taken was via. Bikaner-Agra road, the NH19. We really didn't go to the Taj Mahal and went ahead towards Jaipur. It was a single lane, one-way road full of potholes. We experienced the best feedback from the Isuzu V-Cross's suspensions and handling. It stayed composed all the time and not many jerks were felt at all.
Somehow after completing 65 km in two and a half hours on that not-so-good road, we were now on a good tarmac highway. We saw local residents riding and driving in the wrong way, also a few private travel buses. Well, we were finally at our hotel in Jaipur which we had booked through OYO hotels at 8 pm. We were only going to stay there for that night and move out of it the next day after doing some shopping for ourselves and then drive again towards our final destination, home – Pune.
At the hotel, we had some food, had some talks with the manager of the hotel and went to sleep. Next day morning, we got up and decided to stay for a day at Jaipur as the manager of the hotel had advised us to see the forts nearby and not just to go ahead by doing shopping only. We took a pamphlet of the tourist places from that hotel itself and went out to see some. The first place we went to see was the City Palace, an 18th-century palace which is now a museum and a royal residence. After that, we went to the Amber Palace, a 16th-century hilltop fort and palace. It is also called as the Amer Fort.
It was a long way up to the palace. When we asked the locals about the route and if our car could go up, they said that our car was one of the best as it looked like it could take on any terrain. And it did prove out to be true as we went all the way up to the palace's gate and parked the V-Cross at a spot where no other car could reach. The 4×4 system came in handy. but, till that spot, we really did not have to shift the car in the 4H mode as there was enough of power and torque on offer. We went inside the palace to check it out to know some history of it. The palace and fort are so big that it took us two and a half hours to return back to the car. It was already 2:30 pm. We started descending the fort and went towards the next fort, the Nahargarh Fort, another hilltop fort. The best thing about this fort is the route by which you go till that fort. Amazing road, I must say, not a straight tarmac road at all, it is full of twist and turns and it was an ultimate fun to drive the V-Cross over it. V-Cross would simply take every turn with pride and stayed composed at all times. I and Avdhoot enjoyed this ride by standing in the loading bay of this car. We went to the main gate of the fort. Our faces were full of joy and so we decided to return back, to take some more driving pleasure. It was fun, honestly. Another thing that made us proud was that, wherever we went, the tourists and locals admired this car a lot. We answered many questions of theirs. It felt like the Isuzu V-Cross is the point of attraction and not the forts.
Nonetheless, we returned back and came near Jal Mahal. We were admiring its beauty as it is built in the Man Sagar Lake. We had to see it from the Amer road, the main road only as it was closed for tourists that time. And at this time of the day, around 4:30 pm we were hungry, way more than you can even imagine. So, we asked some people about the best restaurant to have food in the nearby area. And M.M. Khan Hotel's name was suggested by almost 99% of the people out there. We rushed towards the hotel and it wasn't far at all from the Jal Mahal, hardly 100-200 meters away. We parked the car and went inside and grabbed some seats. The waiter came to take our orders and we just asked him to get us their speciality dish. He got us a bowl full of Murg Muslam (Chicken Musalam) and also a full plate of Chicken Tandoori. Yum! That was the word which all four of us said after having the first bite.  Really, the food was amazing and the dishes weren't overpriced at all. The avg. price for two was near about Rs. 250/- to Rs. 300/- only. I do recommend you guys to give it a try at this hotel if you ever go to Jaipur.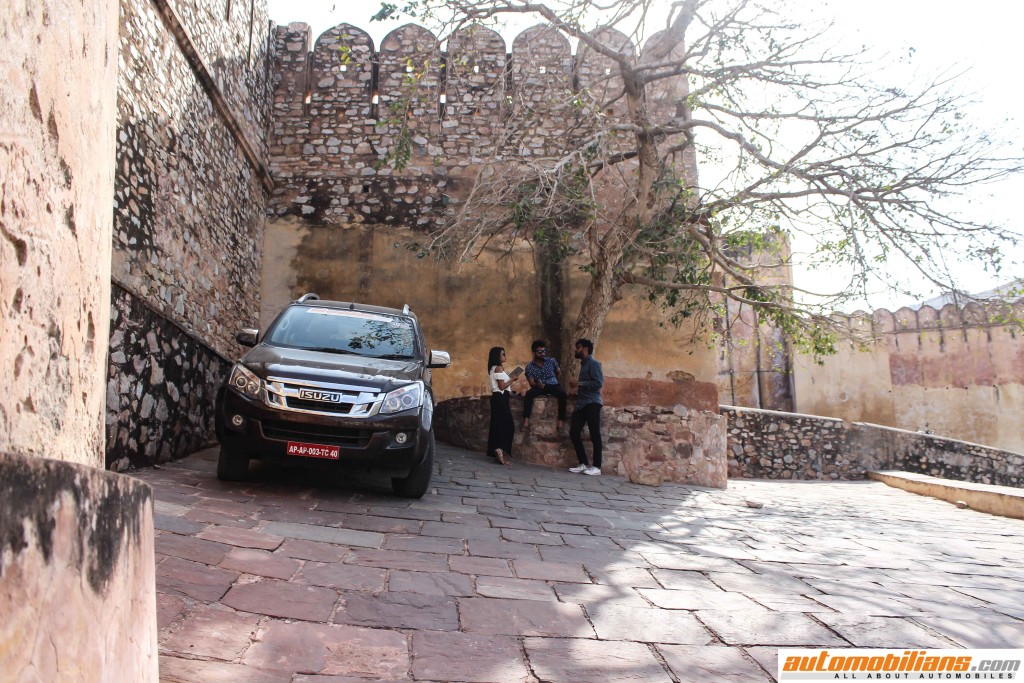 After having our food, and while we were on our way back to our hotel, we got a call from our friend from Pune, Pooja who was riding solo on her Duke 200 and was on an India Tour Ride that time. She was also there in the city of Jaipur and she had called us by seeing our social media posts. We went to her place where she was staying and picked her up. Had some chat about her ride and then she asked us about our day. She was then like – guys you should just go and check out how good the Amber fort looks during the night. We did not waste time in thinking and just took her along and went to Amber fort again. Wow, the view from the main base road was just outstanding. It was all dark and only the fort was lit up with orange lights. It really looked beautiful (See it below).
Next thing we did was going towards the Nahargarh Fort through those twists and turns again and stopped the car at a point with hazards on to see how pretty the city of Jaipur looked during the night time. With a lot of admiration for beautiful views and making memories, we returned towards the hotel by dropping back Pooja at her hostel.
Till now we had completed more than 2000 km and the V-Cross was running just fine, no punctures, no over-heating issues, no rattling noises, nothing at all. The V-Cross is really built-up well and is one hell of a car. We did not have our dinner for that night as we had enough of food during our lunch. It was one good day and I still remember every bit of it.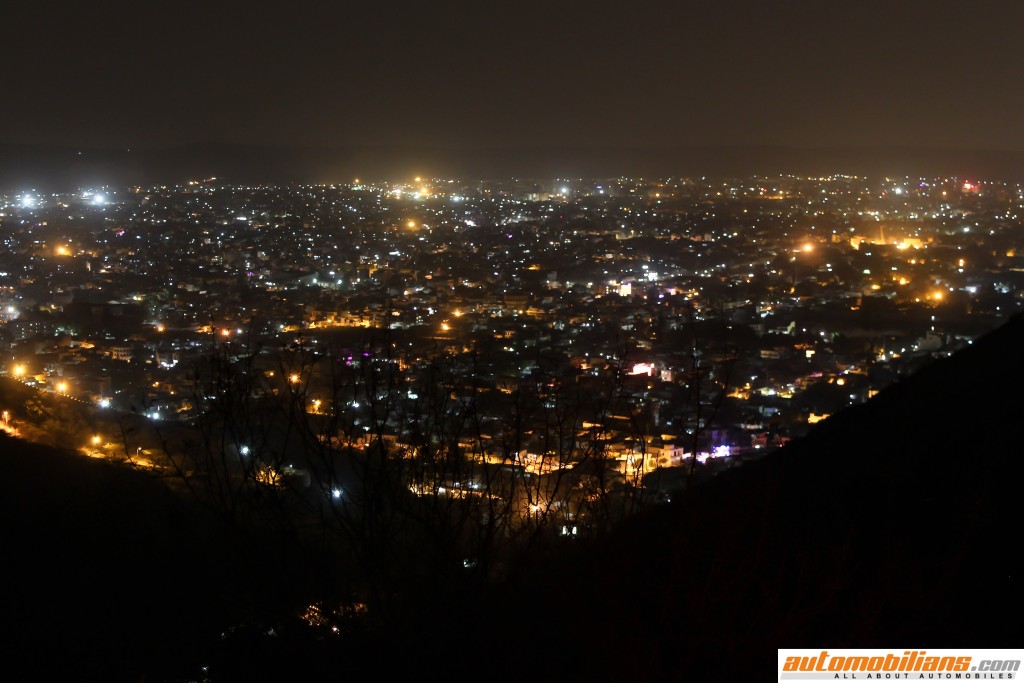 Next day, it was the time for us to bid goodbye to this Pink City and return back to our hometown. It was our 7th day that we had been travelling. But as we were in Rajasthan, where there are sand deserts, we thought of going to some desert sand and as advised by the locals, we headed towards Pushkar. After reaching there, it felt like it was only us in that locality but still we managed to find a desert of sand. We looked no further and drove the car into the sand. We had a lot of fun driving this car in that sand. The shift-on-fly 4WD system works so pretty well that its short gear ratios helped us to drive this car comfortably in the sand without getting it stuck anywhere. We were just not getting done driving this beast in that sand, that we had to go and get it refuelled as there wasn't much of fuel left in the car. We came back to that place and had some more fun in the sand. It was like a playground for this huge AUV. After those driving sessions in the sand, we took the route to Pune via. Udaipur, Gujarat and Mumbai. I started driving and once we got out of the city I continued driving on NH48. The route was scenic. It was then that we realized that to see some beautiful sites it is not always necessary to go to foreign countries as our country, India serves us with many beautiful views. Before we could start driving on the state highway of Udaipur, we were really set back by the view which laid ahead of us on our left side. It looked like some area of Kashmir, huge rocks, a flowing river with lots and lots of greenery. I call it as mini Kashmir though because it was so good and refreshing. We did stop to have our lunch in between before we could see this nature's beauty but really couldn't stop the car to capture some moments with those beautiful views as there was a lot of traffic. But we did get a chance to take a picture of the car with the river with beautiful mountains ahead and Avdhoot did not miss it at all as we had stopped to have tea.
From Jaipur, it was a 22-hour drive. And as it started falling dark, we were on the state highway of Gujarat, it was already late and we just got some tasty dabelis to eat for our dinner. Later on, around 12 in the midnight I stopped the car and handed over it to Saurabh as I had been driving it since morning and since then till now I had driven for 701 km. And for that 701 km, I was all comfortable and did not get any pain in the back or so at all.  The seats were really comfortable. Saurabh took the wheel and started driving again. We did not really stay at some hotel for that night. We just took a halt at a fuel station as we had to drop back this handsome vehicle at the showroom in Pune.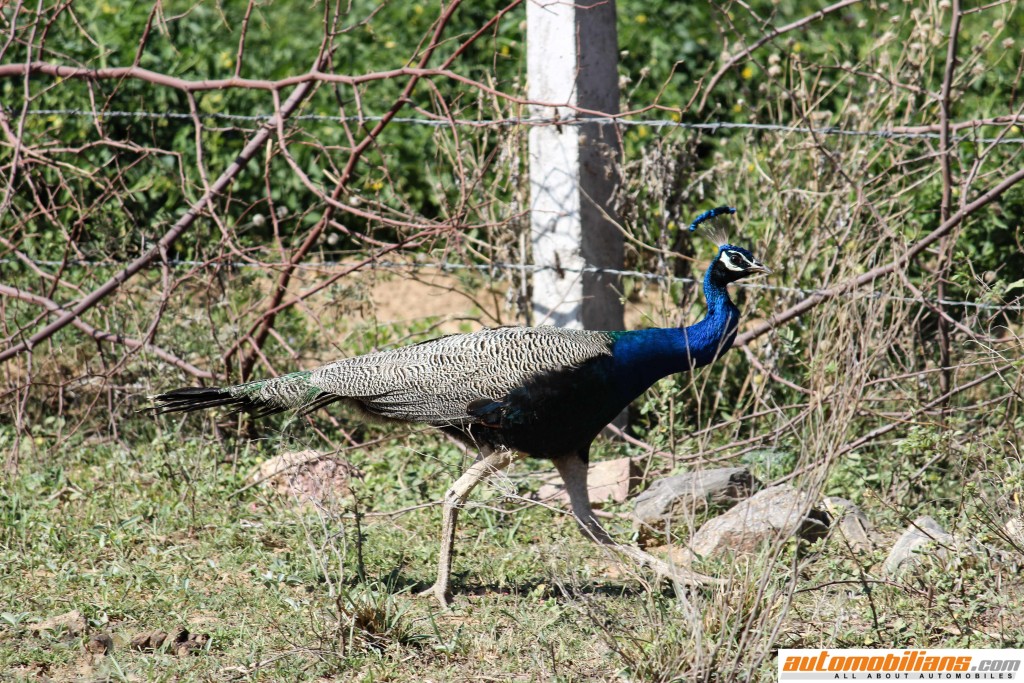 We were on SH145 and came across a toll booth which had a huge queue of cars. It took us 2 hours to reach the booth and leave from there. It was frustrating honestly as we were among all the heavy vehicles. There also, this car did not fail to attract some crowd. Once the booth was crossed, we drove on the SH87 and Halol-Vadodara Road. Later in the morning after having our breakfast at a South Indian hotel and lunch at some veg dhaba again, we saw a banner upfront saying, Welcome to Maharashtra. It was one of the best feelings all of us ever had. We were entering Mumbai. Lovely! In the city of Mumbai, we had sugarcane juices and ate some fruits at local vendors. Around 4, we had reached Pune. Touchdown!
After reaching back to Pune, we had all the memories flashing in front of our eyes. It was an unplanned trip which turned into an epic one. Very adventurous road trip it was and the decision of taking the long way to home and not to return back by the same route was one clever decision made by us. In these 8 days, we had completed a total of 3557 km (including inter-city travels) and during this whole trip, we did have to make a lot of stops at the fuel stations. But still, we were able to manage 11.5 km/l out of its 76 litres of the fuel tank which accounted for a total of 310 litres of diesel. Still, the mileage which it returned was good for such a huge 2.5L truck.
Isuzu V-Cross really proved to be a great companion on this whole journey. It gave no issues; it did not even get any punctures even when we had put it through a lot of tortures. It was comfortable, way more than we had thought and it really gave us some memories to cherish for the rest of our lives. We even had fun by sitting in the loading bay of the car and enjoyed the wind in our faces. We did everything that was related to adventure and there is no doubt at all that this vehicle lives up to its name and tagline of Adventure Utility Vehicle.
If you want to know more the V-Cross, then read our Test Drive Review of it here – Isuzu D-Max V-Cross – Test Drive Review