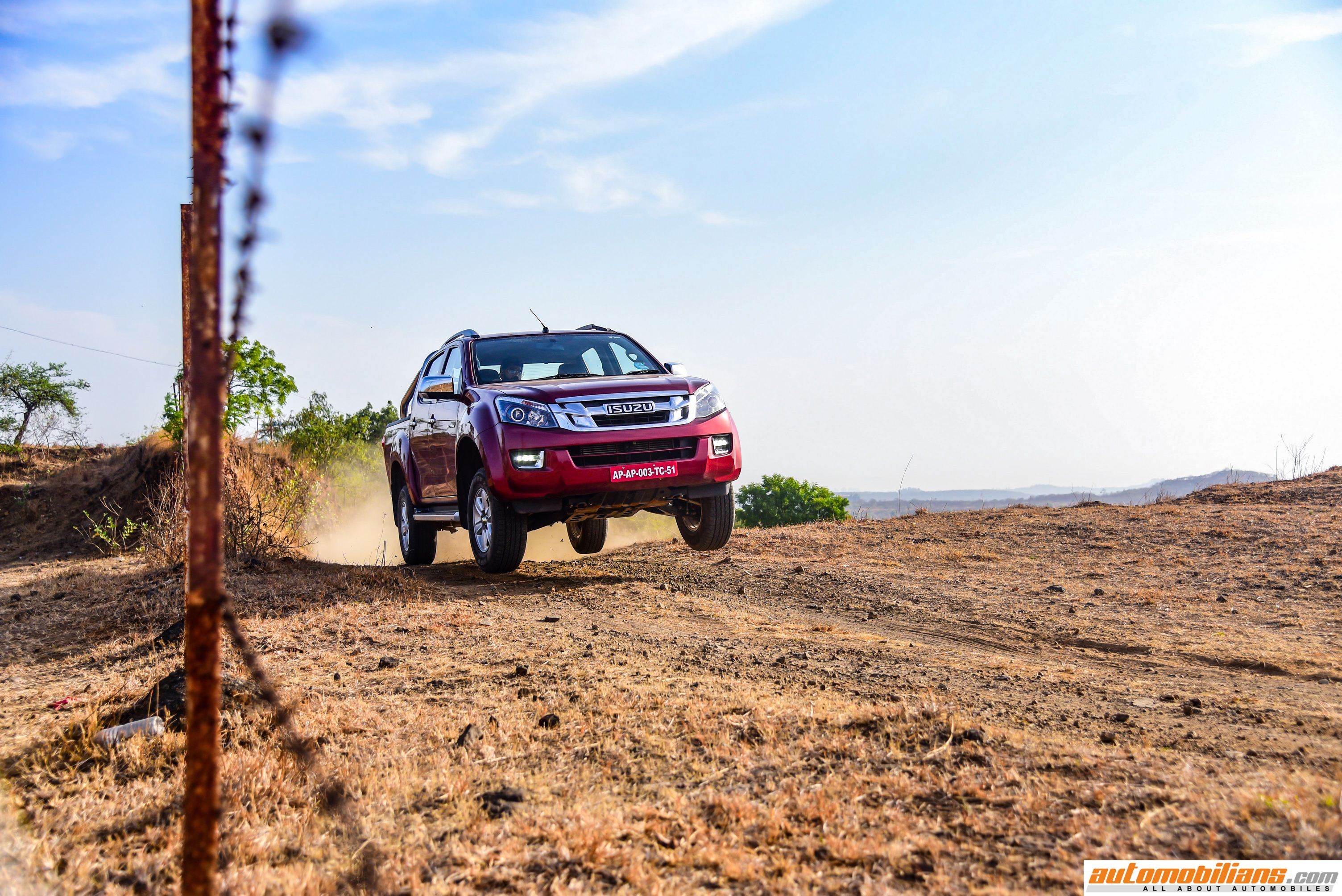 Isuzu, the Japanese motor company, which was established in India in 2012, launched the D-Max V-Cross in India in 2016 after unveiling it at the 2016 Auto Expo. Now, again for this year, the company has launched the facelift version of the V-Cross with not many but with major upgrades and minor tweaks but remains mechanically unchanged and is now made available in a choice of two variants – Standard and High. Currently, the V-Cross, India's first adventure utility vehicle, has been loved by many adventure lovers and off-road enthusiasts and has also generated a lot of interest among petrolheads. Few owners have also modified their V-Cross's that look really great. But the 2016 model missed out on few essential things like a reverse camera which is now made available in this new model. We loved every bit of the 2016 Isuzu V-Cross while we were reviewing it and also during our 3357 km travelogue report of it. The car was tested to its extreme levels and it performed well everytime. The 2016 V-Cross was a fun-to-drive pick-up truck, but has the new 2018 model become more practical and is it worth that extra money (as the 2018 model is marginally expensive than the outgoing model)? We find out! Read on below to find it out!
Price of 2018 Isuzu D-Max V-Cross Facelift – Rs. 14.29 Lakhs (Ex-Showroom, Pune)
Exterior Design: The V-Cross is huge, very huge in size and has a massive road presence. It carries the same design language as that of the old V-Cross. It looks aggressive and elegant in its humongous proportions. It measures 5295mm in length, 1860mm in width, and 1840mm in height, exactly similar to the old model. Both the Standard and High variants get the same huge chrome grille and projector headlights but the standard variant still comes with fog lamps and basic taillights while the High variant gets LED DRLs with chrome accents surrounding them instead of the fog lamps and LED taillights which look really nice. Both the variants now also get side-steps as standard and also a redesigned tailgate with only the handle being treated with chrome which also houses the rearview camera and the High variant also gets a chrome-treated rear bumper and chrome roll bars. So, the overall exterior changes on both the variants are only this much but it is the High variant that looks more attractive. The international model that went on sale last year got a completely new look and so were we expecting on the Indian version, but sadly, what we get as a new model (in terms of design) is the same old V-Cross with minor cosmetic changes. But honestly, even with those little exterior changes, flared wheel arches, sculpted lines flowing from the car's side profile to its tailgate, silver roof rails, chrome treatments and its overall muscular stance, makes you in fall in love with its design again and again as it does have those lifestyle car looks.
Interior Design: The newly added side-steps and the grab handle on the A-pillar ease your way of climbing (as it is not a low vehicle) into this car's cabin. As you get inside, you will notice the similar old dashboard that is neatly laid. It gets beige and black treatment with silver inserts. The 7-inch touchscreen infotainment system doubles as the reverse camera that provides great visibility of the rear during both day and night time. Auto AC with pollen filter works really well and the cup holders located under the aircon vents are a boon. The car's steering wheel along with fewer controls also gets the auto cruise control button (on the High variant only). In the High variant, the seats get the sporty black leather treatment and the driver's seat is 6-way electrically adjustable. The driver's seat does offer great visibility of the road ahead and its surroundings. Both the front as well as the rear seats get soft cushioning and are comfortable. The rear seat still gets the upright sitting position but it seats three people comfortably. They are also foldable with 60:40 split ratios. More attention has been given to the interiors and passengers comfort as this is a dual-cab and so there is lots of space on the inside for you to enjoy your journey with more luxury and utmost comfort and hence the loading bay has been reduced. However, the loading bay of the Standard variant gets a cargo payload of 265kg and 255kg on the High variant. The overall fit and finish of the interiors are top notch. There was no reverse camera before, but now there is. But the car still misses out on parking sensors as this a huge vehicle. Nonetheless, something is better than nothing and the trio of the reverse camera, cabin rear view mirror and the big electrically adjustable and foldable mirrors do their job right of allowing you to carefully drive and reverse this pick-up truck.
Engine & Performance: Under the hood, the 2018 Isuzu V-Cross continues to be powered with the same outgoing car's 2.5L, 4-cylinder, common rail, VGS turbo intercooler diesel engine that produces 134 BHP at 3600 rpm and 320 Nm of torque at 1800-2800 rpm. This diesel mill is mated to a 5-speed manual gearbox that sends all its power to the rear wheels, which is the car's primary drive. The car also gets a shift-on-the-fly 4WD system. You can select between 2H, 4H and 4L driving modes through a rotary knob that is placed near the handbrake. The 2H is the primary mode, in which the car is rear wheel driven and you can shift into the 4H mode while being on the move up to the speeds of 100 km/h. But to shift into the 4L mode, you need to bring the car to a complete stop and engage it in the neutral gear.
While the engine is still the same, there is no difference seen in its performance. The car comes to life with a loud sound and gets settled down to its idling speed in no time. As this is a pick-up truck, its 2.5L engine is installed longitudinally and the car rocks itself on slightest of throttle inputs which in fact give you the hint of its soft suspension setup. The V-Cross has a lot of torque on offer in its low-end rev range and so it moves off the line without any throttle inputs. The car also manages to move off the line without any throttle inputs even in the second gear, thanks to its torquey nature. There is very less turbo lag because of the VGS turbocharger that helps this car to drive well at lower rpms. The turbo kicks in at 1800 rpm but there is still a lot of turbo that is made available from 1000 rpm and so cruising through city traffics in higher gears is no stress for this car. Power delivery is linear and smooth and the car cruises at lower speeds in higher gears comfortably. As compared to the Standard variant, the High variant is slightly heavier, just by 10kg. It returns a mileage of 9.5 km/l in the city and around 12 km/l on the highways in real-world driving conditions. The car does the 0-100 km/h sprint under 12 seconds and its top speed is of 175 km/h, and so the V-Cross is the fastest pick-up truck in India. Of course, the engine moves this huge vehicle without any hesitation and the 2018 V-Cross is a great performer and pretty comfortable cruiser.
Driving Dynamics: The 2018 V-Cross is built on a robust ladder frame platform which is linked with independent double wishbone, coil spring suspensions at the front and soft ride, leaf spring suspensions at the rear. You will still notice a bumpy ride when the loading bay is empty from its rear because of the leaf spring suspensions that are used in cars that carry heavy loads and so is the case here with the V-Cross. The deck carrying capacity of the Standard variant is of 265kg and that of the High variant is of 255kg. But yes, once you load this car with some goods in its loading bay, you will experience a very smooth ride quality. The V-Cross has a wheelbase of 3095mm and front and rear track of 1570mm, which result in larger footprints and greater stability on all terrains. This pick-up truck glides over broken roads and offers a very good ride quality over bad surfaces and on offroads too. The hydraulic steering wheel feels lighter on the move and the car manoeuvres at lower speeds with an ease but it does feel heavier while parking it in a parking lot. The V-Cross stands tall but not much and in fact, it is wider than its height, so there is no much body roll and the huge ground clearance helps you to tackle any terrain with pride. Our test was equally performed on the road and on offroads. The shift-on-the-fly 4WD system worked really well and during our offroad sessions, the 4WD high and low gear ratios made sure that the car didn't get stuck anywhere by generating maximum torque and power. It just worked fine and did not feel sluggish at all. At higher speeds, the ride and handling are simply the best, in fact, better than some 7-seater SUVs that are on offer currently. It is confidence inspiring and to keep you safe every time, the car is equipped with front disc brakes with twin-pot calipers that get ABS with EBD and Brake Assist as standard and now the High variant is also equipped with ESC (Electronic Stability Control) and TCS (Traction Control System) which do their job amazingly of bringing this beast to a complete stop. The stock 245mm R16 wheels offers a decent amount of grip on and off the road. Cruising and filtering through city-traffics is a bit of a task for this vehicle because of its huge proportions but cruising at lower speeds and in bumper-to-bumper traffics, it is not at all hectic as there is a lot of torque kicking in to keep you moving. The turning radius is of 6.3m which is not very impressive but is still expected from such big vehicle. The addition of the reverse camera has resulted in more safety and relaxed reverse driving. The camera has a good picture quality and gets steering guidelines too, but they do not move. The reverse camera is overall a much needed and helpful addition though. The Auto Cruise works fine and only works at and above the speeds of 40 km/h. This new V-Cross is a sure-footed vehicle that keeps you in command and the passengers in complete care at all times. It is a comfortable cruiser on the freeways and a great performer on offroads.
Safety & After Sales Service: The 2018 Isuzu D-Max V-Cross is equipped with lots of safety features like dual airbags for front passengers, ABS with EBD and BA, that is offered as standard on both the variants. The High variant is equipped with ESC and TCS as well. The car also gets engine immobilizer, pedestrian-friendly front fascia, and chassis and cabin with crumple zones. The company has a very thin service centre network across the country and so there are not many service centres that you may get at many places where you would take this car but the company does offer a 3 year/100000 km warranty and also 24×7 roadside assistance.
Verdict/Conclusion: Mahindra and Tata have already tried their hands on this segment with the Scorpio Getaway and Xenon but the Isuzu V-Cross turned out to be a game changer when it was launched as it looked outstanding and also performed well. The new 2018 Isuzu D-Max V-Cross does take that name forward by becoming more modern as it is equipped with more safety equipment. The new V-Cross has become more practical because of the addition of the auto cruise and the reverse camera that helps you in reversing the car without making you get out of the car and checking the rear surrounds. The car looks nice with those minor tweaks and of course, the safety features like ESC and TCS (available in the High variant) make controlling this humongous vehicle more comfortable. Isuzu's legendary 2.5L engine is smooth and refined and has enough power to keep you moving and not get you stuck anywhere. The car has greater stability and it remains planted at all times. The new V-Cross also gets more aftermarket customization options to choose from than before. It also offers a very ergonomic cabin with plush interiors. One look at it is enough to make you fall for it. Though it has become expensive, marginally, it is a great value-for-money UV over other pick-ups and 7-seater SUVs. This diesel truck gives you a feeling which no any other car can and you can simply make the adventure a daily affair with this car by just loading its back with your favourite gears and by going on an adventure trip. The new V-Cross surely lives up to its tagline – Adventure Utility Vehicle as it takes on the extreme terrains and everything in between with pride.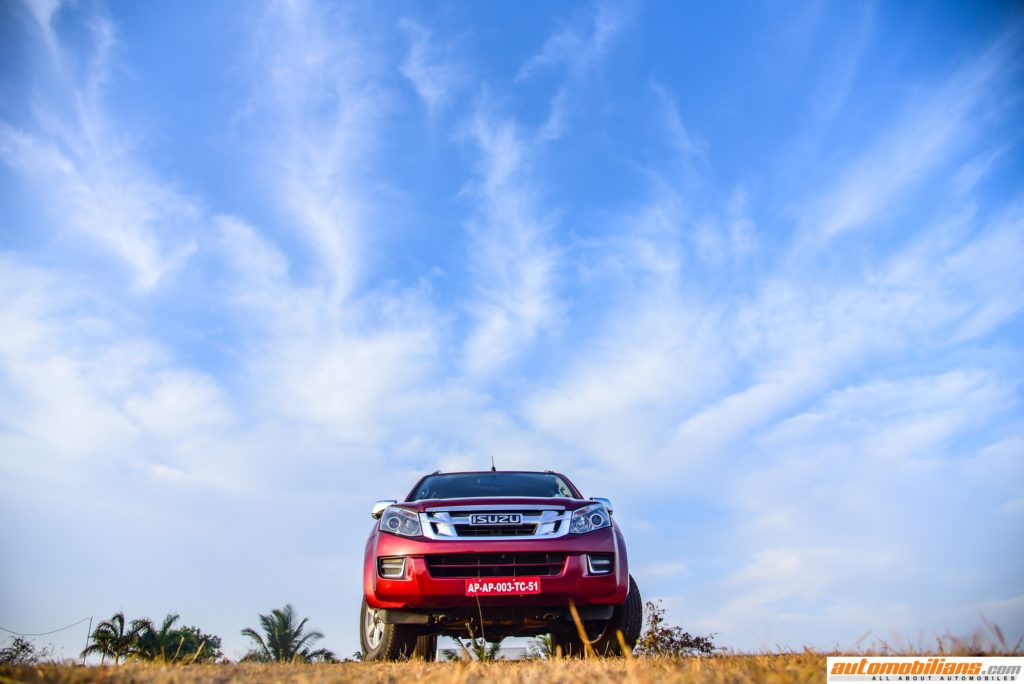 2018 Isuzu D-Max V-Cross High Technical Data:
* Engine: 2.5L, 4-cylinder, Common Rail, VGS Turbo Intercooler Diesel engine
* Power: 134 BHP @ 3600 rpm
* Torque: 320 Nm @ 1800-2800 rpm
* Transmission: 5-speed manual
* Fuel Consumption: 10.75 km/l (avg.)
* Fuel Type: Diesel
* Suspension: Independent Double Wishbone, Coil Spring (Front) and Leaf Spring (Rear)
* Tyres: 245/70 R16
* Brakes: Ventilated Disc with Twin Pot Caliper (Front), Drum brakes (Rear)
* Safety:  ABS with EBD and BA, ESC with TCS, Dual Airbags, Reverse camera, ISOFIX anchorages for the child seat, Engine Immobilizer and Pedestrian friendly front fascia, Chassis and cabin with crumple zones
2018 Isuzu D-Max V-Cross High Dimensions:
* Overall length: 5295mm
* Overall width: 1860mm
* Overall height: 1840mm
* Wheelbase: 3095mm
* Track Front/ Rear: 1570mm
* Ground clearance: 225mm
* Turning radius: 6.3m
* Deck Loading Capacity: 255kgs
* Fuel Tank Capacity: 76 litres
* Kerb Weight: 1915kg
Photographer – Avdhoot Kolhe
Read – 2016 Isuzu D-Max V-Cross – Review
Read – Pune-Kanpur-Jaipur-Pune In 2016 Isuzu D-Max V-Cross – Travelogue