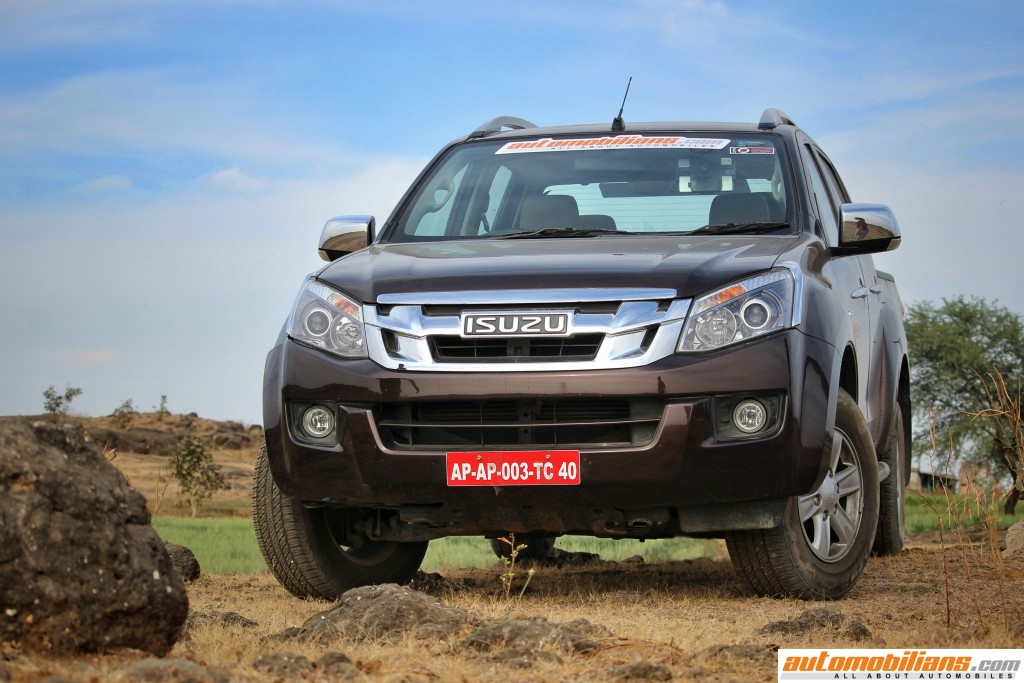 Isuzu, the Japanese motor company which has made engines for the Hindustan Contessa, the Hindustan Ambassador and also for the Swaraj Mazda vehicles got established in 2012 in India. The company introduced the D-Max pick-up truck in various variants to the Indian market. They were mechanically strong but looked basic and so they could only be registered as commercial vehicles and many potential buyers couldn't buy them as it also required a commercial vehicle driver's license. But, at 2016's Auto Expo, Isuzu displayed the Isuzu D-Max V-Cross, a lifestyle, dual-cab pick-up truck and after a few months it was launched in India as India's first adventure utility vehicle. The V-Cross became the talk of the town immediately after it was launched as it was more focused towards the adventure lovers and offroad auto enthusiasts. The V-Cross is meant for private buyers only and the company has achieved this by lowering the car's payload rating.
Price of Isuzu D-Max V-Cross – Rs. 13.40 Lakhs (Ex-Showroom, Pune)
Exterior Design: The V-Cross is very huge. It is wide, it is tall and it is very long. The loading bay is large as well. And with its proportionate dimensions it looks very handsome and has a great road presence. On the front, the huge chrome grille with big Isuzu letters is what catches your attention first. Then there are the projector headlamps to compliment the car's sophisticated design. Moving on towards the side, you will notice that the car is pretty l-o-n-g and the muscular fenders which carry a wedge shaped design, blend in well with the smooth flowing shoulder lines till the rear giving the car more of an athletic look. The rear gets big handle to open the loading bay. The loading bay is lined with waterproof hard plastic with four hooks on either side to tie up your luggage neatly. The tailgate gets huge Isuzu sticker branding and the taillights are stacked vertically. The roof rails and the anti-skid side bars add up to more rugged look of the V-Cross. Our test car came with a lot of chrome treatment which is optional but it did go well with the car's overall stance and design. The overall design of the Isuzu D-Max V-Cross is aerodynamic as it has been developed and tested in the same wind tunnel as the Japanese Bullet Train. And its design does really tell you that it was born to be free and go anywhere.
Interior Design: Once you jump into the car, you will notice a neatly laid out cabin in beige color. The dashboard gets a nice design and gets black and some silver treatment. The 7-inch touchscreen infotainment system with Bluetooth, AUX and USB works really fine and the AC controls have been stacked below it in a circular design. It gets automatic climate control and the AC is a chiller. There are also cup holders located under the aircon vents, pull them out to store your cups. The steering wheel has fewer controls too. Get into the driver's seat and you will be impressed with the amount of visibility this car offers. The front seats are large, well cushioned and very comfortable too. The driver's seat gets height adjustment as well. The rear seats are also comfortable and have soft cushioning as well but they are upright in position and cannot be reclined. But there is enough of space at the back and it can comfortably seat three people. For more comfort, the rear seat is offered with a centre fold-down armrest. They also have a 60:40 split ratio just in case you need to load your extra luggage or something that is very expensive. As this is a dual-cab, so more attention has been given to the passenger area and hence the loading bay has been reduced. However, the loading bay gets a claimed cargo payload of 265kgs and so it can only be registered as a private vehicle. The plastic quality on the inside is up to the mark. They are durable and are fixed well together. The only thing which I missed more on this car is a rear view camera and parking sensors as this a very huge vehicle. Nonetheless, the big electrically adjustable and foldable rear view mirrors do their job right.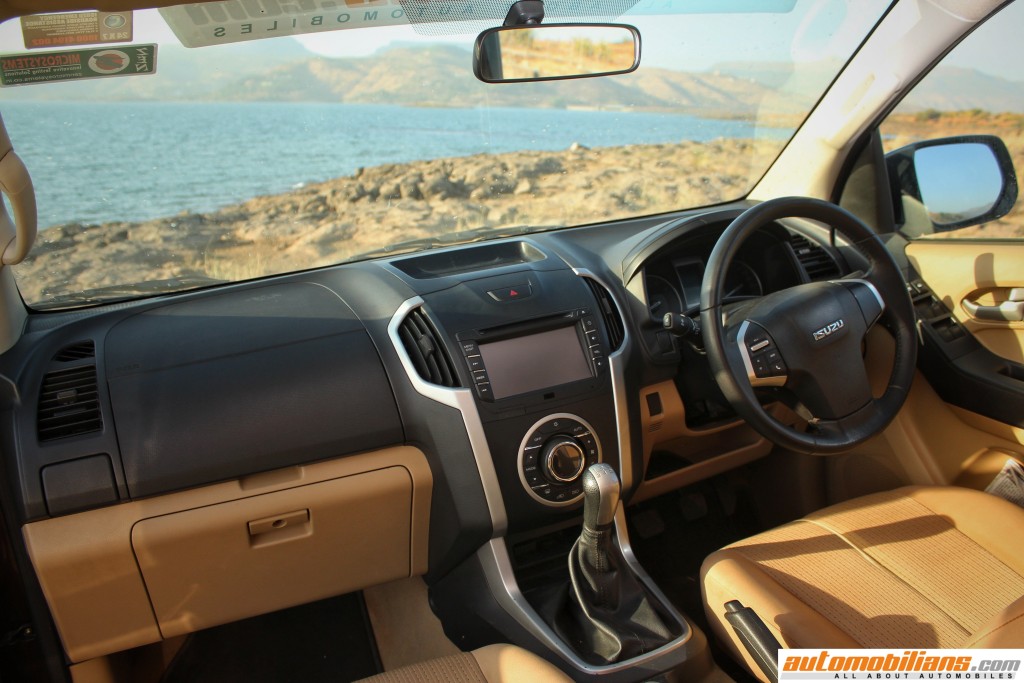 Engine & Performance: The Isuzu D-Max V-Cross is powered by a 2.5L, 4-cylinder, common rail, VGS turbo intercooler diesel engine. It produces 134 BHP at 3600 rpm and 320 Nm of torque at 1800-2800 rpm. It is paired to a 5-speed manual gearbox which sends all the power to its primary drive, the rear wheels. It gets a Shift-on-the-fly 4WD system with high and low gearbox ratios. The driving modes can be selected with a rotary knob between 2H, 4H and 4L. The 2H is the primary drive and you can shift into the 4H mode on the move but to get into the 4L mode you need to get the car to a complete stop and the car engaged in neutral gear. You can shift between 2H and 4H on the move up to 100 km/h.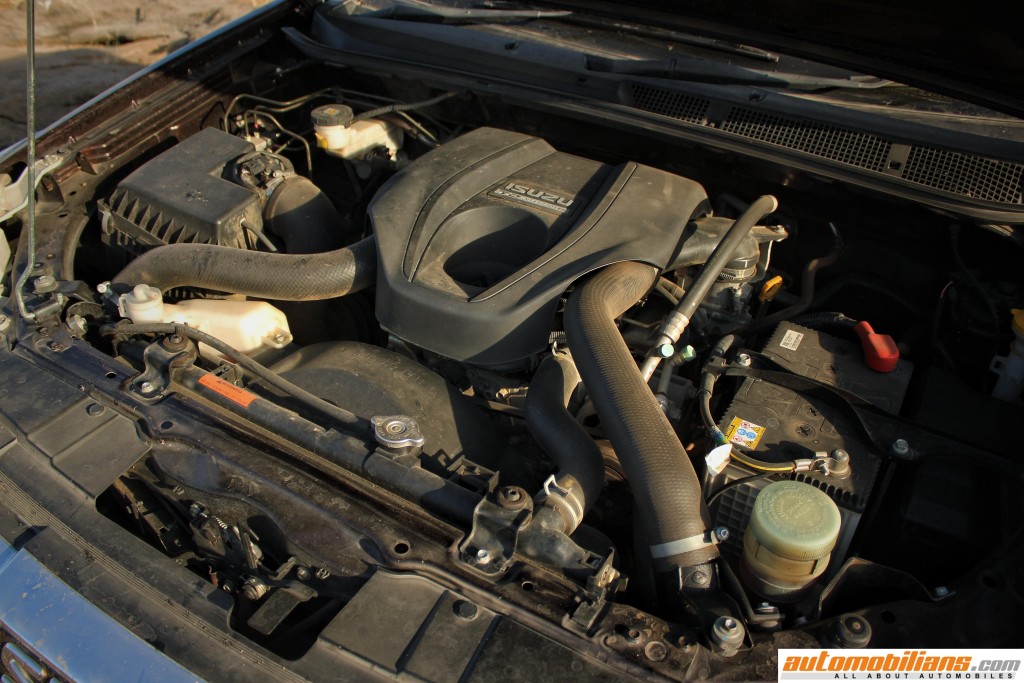 When you key the car, it starts up with a loud and smooth engine noise. In short it tells you that it is a no-nonsense car at all. As you will rev the car, the throttle response produced will rock the car slightly giving you a slight hint of its soft suspensions and longitudinal installation of its engine which is often seen in trucks with rear wheel drive. Press the clutch to shift in to the first gear and once you are off the clutch you will realize that there is no need of throttle input as the car moves ahead without any hesitation. The V-Cross is also comfortable in moving ahead from a standstill in the second gear. The torquey nature of the engine helps it to stay relaxed at all times. There is very less turbo lag as the VGS turbocharger helps the car to perform well even at low engine rpm. All the turbo kicks in at 1800 rpm but the low end is so strong that there is a good punch of torque even at 1000 rpm and so downshifts aren't required at times. It can easily cruise through city traffic. The power gets delivered in a linear manner and you can cruise on a freeway at 40-50 km/h comfortably that too in the fifth gear as far as you don't want to overtake any other car. The claimed mileage is of a little more than 12 km/l but we could only manage to extract a mileage of 10 km/l from its 76 liters of fuel tank. The V-Cross with its healthy performance numbers is surely a nice cruiser.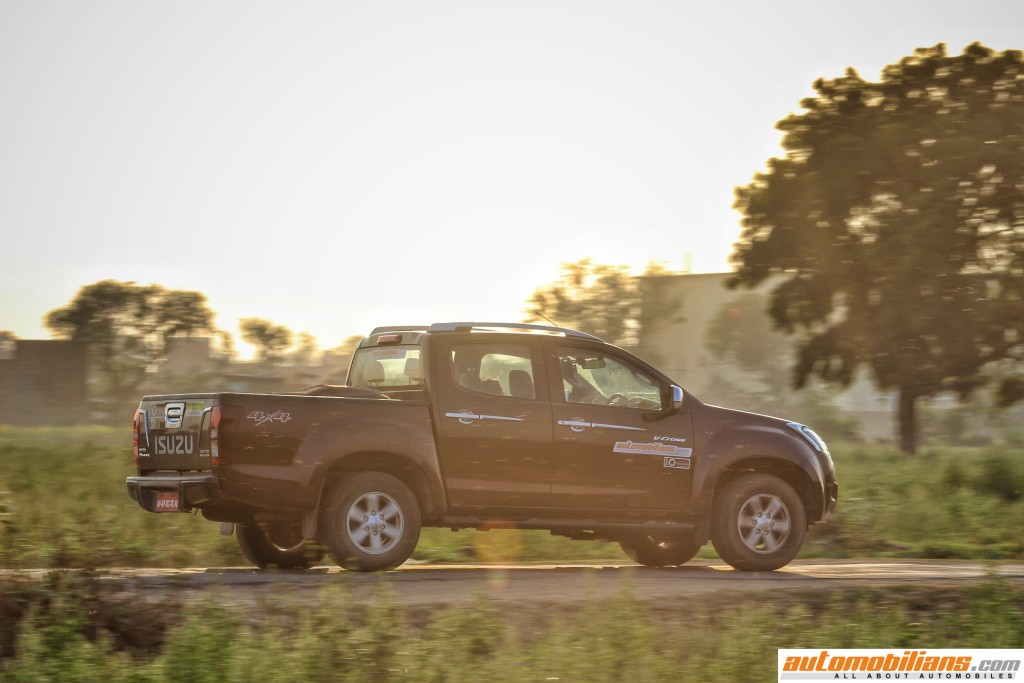 Driving Dynamics: First things first! The V-Cross sits on a robust ladder frame chassis with independent, coil spring suspensions at front and leaf spring suspensions at the rear. Their combination result in smooth ride quality of the car. The V-Cross glides over the road and remains stable at the same time. The wider wheel-track along with the design of suspensions results in to the great stability of the car on all terrains. While you are driving it on the road you will notice a bumpy ride from the rear as this is a pick-up and usually pick-ups like this are built to carry heavy loads. You will notice such ride only when the loading bay is empty. But as it is a pick-up, it really offers a good ride quality over bad surfaces and offroads too. The hydraulic steering wheel feels heavy during parking it into a parking lot. But it feels light and confidence inspiring at higher speeds and on the highways. The 225mm of huge ground clearance helps you to overcome some toughest terrains. The shift-on-the-fly system works really well. We drove it on the desert sand, through the water and also on some very rough terrains. The 4WD high and low gear ratios helped us in such situations by generating maximum torque and power to drive the car through and not get stuck at all. The 4WD system did not feel sluggish or it didn't struggle for traction. It just worked fine. And to compliment its driving dynamics, it is equipped with front disc brakes and gets ABS with EBD as standard which does its job of getting this huge utility vehicle to a perfect stop. The 245mm wheels offer decent amount of group on and off road. This car does not likes to be revved hard or to be driven like a race car, so it feels a bit unstable over 130 km/h. but the 100-120 km/h is a good cruising speed for this car. There is body roll but not much as it is not a very tall car and when you will show it some corners and it will take them all with pride. The only stressful situation which you can experience while driving this car is in the city traffic as this is a very long car and the steering wheel also feels heavy and the turning radius is of 6.3m which is not very impressive. But it is a machine built for your perfect getaways. Though it may not be a very good city commuter but it is a completely comfortable cruiser on the freeways and a great offroader.
Safety & After Sales Service: The Isuzu D-Max V-Cross is equipped with dual airbags for front passengers. ABS with EBD is offered as standard. There is only one variant on offer and it also gets engine immobilizer pedestrian friendly front fascia. The company's service center network is very small across the country so you won't find service centers at many places for this car which is meant to be taken anywhere but the company offers a 3 year warranty and also 24×7 road side assistance.
Verdict/Conclusion: This is not the first lifestyle pick-up truck to be offered in India, there has been the Tata Xenon in the market already. But Isuzu has played well by launching an international pick-up truck in India at the right time that too in a CKD version and not as a CBU which has helped the company to price it very aggressively. The V-Cross offers a really comfortable and enjoyable ride quality and stays composed at all times. It features Isuzu's legendary engine which is smooth and strong. It is an all-round performer and is feature rich along with comfortable and refreshing interiors. It looks simply outstanding and you will fall in love with it the moment you will see it. It may not be very impressive to drive around in the city but it won't let you down on highways and during your offroad sessions. It's a very practical car and gets a lot of aftermarket customization options to choose from to make your car stand out from others. It is the perfect UV to be bought in today's date and the V-Cross makes you feel alive and gives you that kind of a feeling which no other car can. You can go out on a camping, sit on the tailgate, sip some coffee and watch the bonfire burn, wouldn't that be amazing? The V-Cross surely lives up to its tagline – Adventure Utility Vehicle.
Isuzu D-Max V-Cross Technical Data:
* Engine: 2.5L, 4-cylinder, Common Rail, VGS Turbo Intercooler Diesel engine
* Power: 134 BHP @ 3600 rpm
* Torque: 320 Nm @ 1800-2800 rpm
* Transmission: 5-speed manual
* Fuel Consumption: 10 km/l
* Fuel Type: Diesel
* Suspension: Independent Double Wishbone, Coil Spring (Front) and Leaf Spring (Rear)
* Tyres: 245/70 R16
* Brakes: Ventilated Disc with Twin Pot Caliper (Front), Drum brakes (Rear)
* Safety:  ABS with EBD, Dual airbags, ISOFIX anchorages for child seat, Engine immobilizer and Pedestrian friendly front fascia
Isuzu D-Max V-Cross Dimensions:
* Overall length: 5295mm
* Overall width: 1860mm
* Overall height: 1840mm
* Wheelbase: 3095mm
* Ground clearance: 225mm
* Turning radius: 6.3m
* Deck Loading Capacity: 265kgs
* Fuel Tank Capacity: 76 liters
* Kerb Weight: 1905kgs
Photographer – Avdhoot Kolhe