Aprilia, an Italian two-wheeler manufacturer who had launched a drop-dead gorgeous moto-scooter in India, known as the Aprilia SR 150 has now come up with another variant of it, called as the SR 150 Race. The SR 150 took the scooter's market by storm and is still selling in good numbers. So what is the new SR 150 Race exactly? Why the name Race? Well, it is because the company has made it by keeping in mind the need of customers who have racing in their DNA and has given the bike an RS-GP inspired styling, which is Aprilia's MotoGP motorcycle. So, it definitely looks gorgeous and to find out if it performed well on the roads, we spent a few days with it. And below is everything that we found about this new SR 150 Race. But first, if you haven't read our Aprilia SR 150's test ride review, then head to that page and then come back here as it will help you to understand the differences between both of them in an easier way.
Price of Aprilia SR 150 RACE – Rs. 71,102/- (Ex-Showroom, Pune)
It's Styling: The Aprilia SR 150 and the new SR 150 Race have the same body work. But the Race is offered in a new color option which is the Maze Grey color. Aprilia usually offers this color scheme on its top-spec bikes. But to see this color scheme on this moto-scooter is really great. It is bright and also gets bright graphics in red and green. They all together make the SR 150 Race stand out from all other vehicles on the road. It immediately grabs your attention and the rims and rear suspension painted in Fluo Rosso simply look outstanding. The front brake caliper gets some nice golden treatment as well. The Race also has a double-barrel headlight assembly and the pronounced beak on its front wheel. Handlebar has integrated turn indicators and also the front disc brake fluid reservoir giving this bike more of a premium look. The taillight is also trapezoidal in shape. The SR 150 Race has a tall saddle height like the standard variant as its tail section is a bit upswept. Rest everything, the dual-tone seats, the size of the footboard and side panel integrated pillion footpegs remain to be the same. But the overall combination of design and color tells us how beautifully this scooter has been made. The SR 150 Race also rides on big 14-inch alloy wheels at both front and rear which are now painted in red. The overall fit and finish of all the body parts are top-notch.
It's Switchgears and Instrument Cluster: Like the Aprilia SR 150, the SR 150 Race also boasts a twin-pod analog instrument cluster which shows speedometer, fuel gauge, and odometer. There is no trip meter and no LCD display. We would have loved to see their addition on this new variant. The speed is shown in both km/h and mph. The switchgear is made of good quality plastic and is easily accessible. They function smoothly and all necessary switches are present that are supposed to be there on a 150cc scooter.
Convenience: The Aprilia SR 150 Race also does not offer a great amount of under-seat storage.  Only an S or M size helmet can be kept in that storage compartment. But there is a provision for USB connector to which you can connect your phone and charge it.
It's Ergonomics: As the Aprilia SR 150 Race has an upswept tail, it, therefore, has a tall saddle height of 775 mm similar to the SR 150, the standard variant. The seat's cushioning is up to the mark and is comfortable for both the rider and pillion. The rider is offered with a nice sitting posture as the handlebar is positioned perfectly according to its saddle height. The dimensions of the front inner panel and the footboard may look smaller but they do fit in each and every rider's legs properly. The integrated pillion footpegs are easy to fold in and out but they do cause a hindrance to the rider's legs. Its commanding sitting position makes it the best daily commuter.
It's Engine and Performance: Aprilia SR 150 Race is powered by the same power-plant as that of the SR 150. It is a 154.8cc, 4-stroke engine which produces the same amount of power figures, 10.4 BHP @ 6750 rpm and max. torque of 11.4 Nm @ 5000 rpm. But the gearing of the CVT of the Race has been tuned in such a way that it has more responsive acceleration.
The CVT having been tuned differently, the Race is quicker off the line. But at the twist of the throttle of the SR 150, it effortlessly reached 80 km/h and clocked 100 km/h within its expected time. During out test ride review of the SR 150, we had strongly believed that it would even do 120 km/h, the speed at which its speedo max-outs. The SR 150 Race, on the other hand, feels a little sluggish after reaching 90 km/h and keeps progressing slowly. The reason behind it is, as said before, the difference made to the gearing of the CVT of the engine. So, as the gearing has changed, acceleration has become quicker. So, in short, the new SR 150 Race is quicker than the SR 150 but it is not faster than the SR 150 (top-speed). Vibrations do come in post 75 km/h but if you will pin in the throttle slightly they will disappear. The Race has very responsive throttle and rides pretty well through city traffics. As the Race is more of a performance oriented scooter, it, therefore, returns a mileage between 35-39 km/l in real riding conditions.
It's Riding Dynamics: The Race rides on 10-spoke, 14" alloy wheels which are larger than any other scooter available in the market. It gets 32mm telescopic forks at the front and hydraulic coil spring suspension at the rear. Front wheel gets the 220 mm disc brake with twin-piston caliper treated in golden color and the rear wheel gets the 140 mm drum brakes. The tyres are of the Vee Rubber which are also seen on the standard variant and they offer amazing grip on both wet and dry surfaces. The rear suspension of the Race is slightly on the stiffer side but there is an improvement on the brakes. The Race's both brakes are more effective and have a great bite over the standard SR 150. The Race feels very nimble to ride and it maneuvers well. It handles well, and it's a very fun scooter to ride. And to check out its acceleration and brakes, we gave the SR 150 Race in the hands of our stunt rider and the scooter would easily go for long distances on one wheel as the torque would kick in early and the scooter would remain stable with the application of its brakes as they had a good bite.
It's Verdict/Conclusion: Aprilia has made a good moto-scooter (SR 150) even better (SR 150 Race). It looks good as it has Aprilia's MotoGP livery and also better acceleration than before. It is a nimble handler and is quick off the line too. It is a little expensive than the standard SR 150 but at that price tag, you do get to own a moto-scooter which is more fun to ride and Race on. You can just make it your perfect getaway's companion and it will always keep you smiling. It is not that practical scooter like other scooters but it will make sure to help you arrive at your workplace or any other destination with a lot of style as the Race carries the attitude of a Racer very well.  Even, the after sales service won't be an issue as this scooter is sold and serviced at various Vespa and MotoPlex showrooms. So, if you are looking to buy a scooter, we would suggest you to go and test ride the SR 150 Race first!
Aprilia SR 150 RACE Technical Data:
* Engine: 154.8cc, 4-stroke, air-cooled
* Power: 10.4 BHP @ 6750 rpm
* Torque: 11.4 Nm @ 5000 rpm
* Transmission: CVT (Automatic)
* Top Speed: 104 km/hr
* Fuel Consumption: 35-39 km/l
* Fuel Type: Petrol
* Suspension: Telescopic Fork (Front), Hydraulic coil spring suspension (Rear)
* Tyres: Tubeless Vee Rubber 120/70 14" (Front & Rear)
* Brakes: 220 mm disc with twin-piston caliper (Front), 140 mm drum brake (Rear)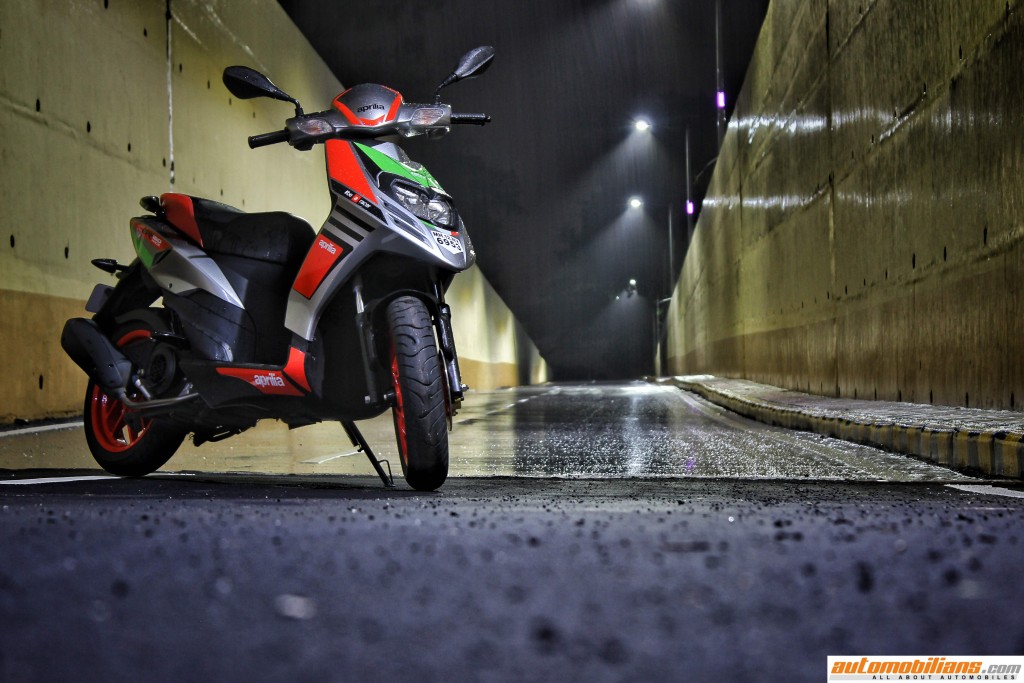 Aprilia SR 150 RACE Dimensions:
* Seat Height: 775 mm
* Ground Clearance: 160 mm
* Kerb weight: 122 kg
* Fuel Tank Capacity: 6.6 Litres
Rider – Saurabh Sutar | Photographer – Avdhoot Kolhe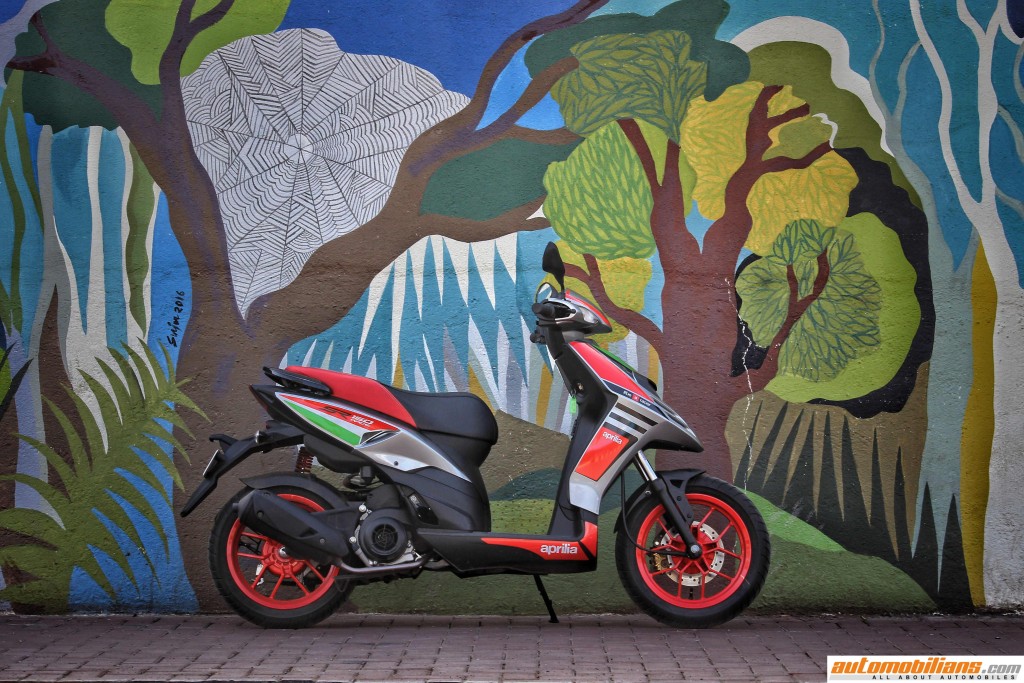 Note – The stunts were carried out on a closed road and in a controlled environment. Do not try to imitate.