Aprilia, an Italian two-wheeler manufacturer who is actually known for its scarily fast and gorgeous looking superbikes has launched a drop-dead gorgeous moto-scooter in India, known as the Aprilia SR 150. Scooters have gained a lot of attraction in India since the recent past and Vespa is one of the most liked scooters by the youngsters of our country. Aprilia created a wave of excitement amongst the youngsters and other scooter fans by launching it in India at an attractive price tag, racing-like looks and with a 150cc heart. It is the first model of the Aprilia to be manufactured in India with 90% localization at its Baramati plant in Pune. When we got our hands on it, we were amazed and surprised by this scooter's performance. Read on below to know more about it.
Price of Aprilia SR 150 – Rs. 65,000/- (Ex-Showroom, Pune)
Its Styling: As it is an Aprilia, it gets a sporty design and it looks aggressive and confident. On the front there is a double-barrel headlight assembly and the noticeable beak like design over its front wheel gives it a racer-bike-like styling. The handlebar gets integrated turn indicators and the taillight is trapezoidal in shape. The tail section is a bit upswept which results into the taller saddle height. The seats are dual-tone in color, a match of red-black. The foot-board is neither too wide nor too long but goes along with the sporty design of the scooter. When looked from the side, it gets a floating design and the side panel integrated pillion footpegs tells us how beautifully this scooter has been made. The SR 150 stands tall on 14-inch black alloy wheels at both front and rear.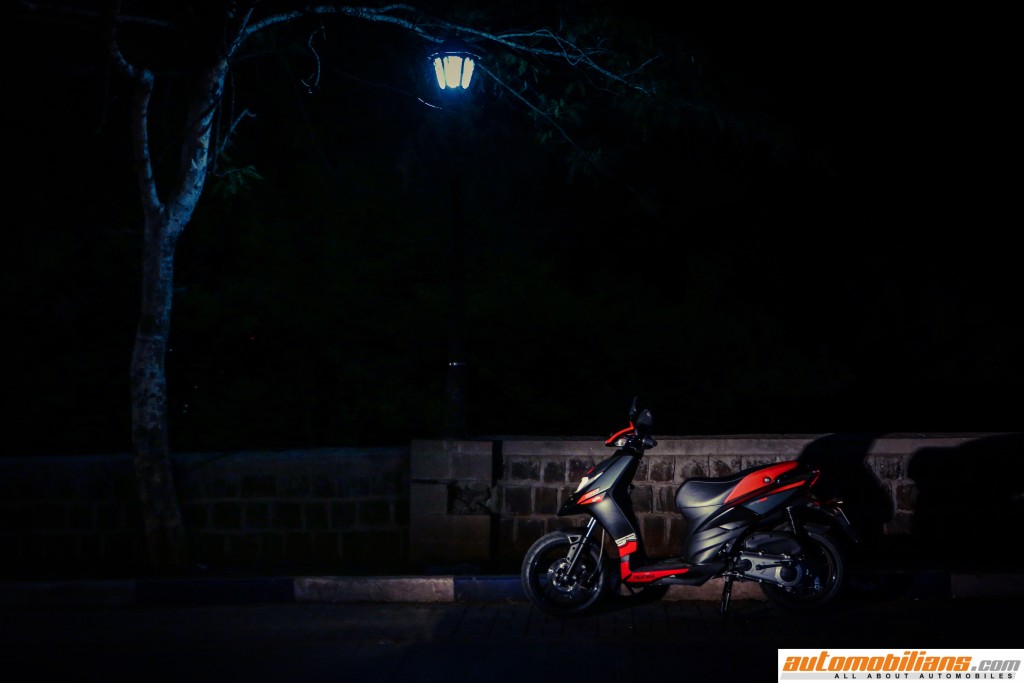 Its Switchgears and Instrument Cluster: The Aprilia SR 150 boasts an easy-to-read instrument cluster as it gets two analogue meters, of which the smaller one on the left is the fuel gauge and the other houses the speedometer and odometer. As this is an Italian scooter, it shows speed in both km/h and mph. Its simple and the next model may include an LCD unit, says the company. The switchgears are easily accessible and function smoothly and pass light switch has also been added to this scooter. The palm-grips felt soft and smooth to hold and manoeuvre.
Convenience: The Aprilia SR 150 does not offers a great amount of under-seat storage but it can fit in an S or M size helmet easily whereas we could fit in our camera's bag properly in it. Other than that there is also a provision of USB connection which lets you charge your phone on the go. Bag hook is also present so as to lessen your shoulder's burden.
Its Ergonomics: The Aprilia SR 150 gets a stepped up seat because of its upswept tail section and so the saddle height is of 775 mm. The seat's cushioning is not very soft but is quiet comfortable for your daily commutes. The combination of handlebar and the seat lets this scooter offer a great sitting posture and can be more of your choice for your weekend getaways as it also has a footboard. The seat's height can be an issue for the riders of shorter heights. The footboard and the front panel have proper proportions to fit in the legs of the taller riders comfortably too. The switchgears are in an easy reach of the rider. The integrated pillion footpegs are comfortable but they do hit the rider's leg.
Its Engine and Performance: Aprilia SR 150 gets the same 150cc engine as that of the Vespa or we can also say that the engine of Aprilia SR 150 has been taken from the Vespa as the parent company of both Aprilia and Vespa is Piaggio. This has helped Piaggio and Aprilia to price this moto-scooter so aggressively. The engine of the Aprilia SR 150 has been tuned differently to give out different power figures. It produces 10.4 BHP @ 6750 rpm and max. torque of 11.4 Nm @ 5000 rpm.
The engine having been tuned differently, the power delivery of it  is linear and smooth. At the twist of the throttle it effortlessly reaches 80 km/h and 100 km/h clocks in before your expected time. The speedo max-outs at 120 km/h and we do strongly believe that if this moto-scooter is shown a straight patch of tarmac, it will even reach up to that speed limit. Yes, there are vibrations but not much at all, just twist the throttle slightly and you will get rid of those vibrations. The throttle response is very responsive even at lower speeds and cruising through city traffics becomes easier on this moto-scooter.  It returns a mileage between 38-42 km/l in real riding conditions.
Its Riding Dynamics: It offers great performance and in terms of handling, this bike-like scooter does not disappoints you at all. This scooter rides on bigger 10 spoke, 14-inch alloy wheels and it gets telescopic and hydraulic shock absorbers at front and rear respectively. It is equipped with 220 mm disc brake at front and 140 mm drum brakes at rear. The tyres are of Vee Rubber which offer extreme grip on all types of surface. It cornered well, and once you get the judgment of the brakes it becomes very easy to handle this moto-scooter at higher speeds. The disc brake is very effective. Aprilia SR 150 gets 160 mm of ground clearance so it's a go-anywhere scooter with those bigger tyres and when you lean on harder at corners, it won't scrape any of its under-body part, like the exhaust or stands. It was quick all the time and is actually a nimble handler. Maneuvering on this scooter is joyful, it's like you are playing around. It just flew over potholes and the ride never felt unsettled even when the suspension setup is slightly on the stiffer side. It always gave us the feel of riding a motorcycle and not a scooter by the way it performed, handled and cornered.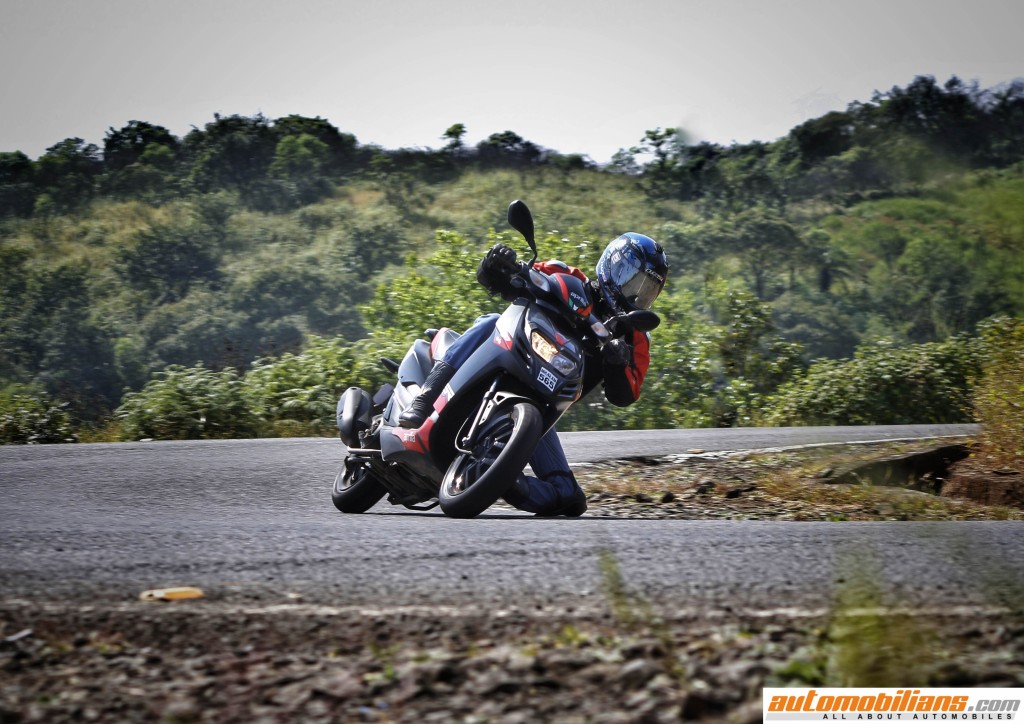 Its Verdict/Conclusion: Aprilia SR 150 is really a great product to come out of the Aprilia's stable. It is a nimble handler; it's fast and looks great too. It is an Italian scooter and is priced so well that it just attracts you towards it. After sales service won't be an issue as this scooter is sold and serviced at various Vespa and MotoPlex showrooms. It is not very practical like other scooters as it does not offers great under-seat storage or front storage but yes it will help you to arrive in style at your destination and it surely lives up to the name of Aprilia. If you are looking for a vehicle that is a scooter but performs like a bike, then the Aprilia SR 150 should be your pick. It costs only 65k, ex-showroom, Pune and this is an introductory price, and it may not last for too long, so take the advantage of it and the Aprilia SR 150 is available at all Vespa and MotoPlex showrooms across the country. Check out our Aprilia SR 150's MotoVlog below to know more about it!
Aprilia SR 150 Technical Data:
* Engine: 154.8cc, 3 valve, air-cooled
* Power: 10.4 BHP @ 6750 rpm
* Torque: 11.4 Nm @ 5000 rpm
* Transmission: Automatic
* Top Speed: 100+ km/hr
* Fuel Consumption: 38-42 km/l
* Fuel Type: Petrol
* Suspension: Telescopic Fork (Front), Hydraulic shock absorber (Rear)
* Tyres: Tubeless Vee Rubber 120/70 14" (Front & Rear)
* Brakes: 220 mm disc with twin-piston caliper (Front), 140 mm drum brake (Rear)
Aprilia SR 150 Dimensions:
* Seat Height: 775 mm
* Ground Clearance: 160 mm
* Curb weight: 122 kg
* Fuel Tank Capacity: 6.5 Litres
Riders – Tejas Soma, Viraj David, Saurabh Sutar
Photographers – Avdhoot Kolhe, Abhishek Shinde