The Jaguar F-TYPE SVR was first unveiled at the 2016 Geneva Motor Show. It was developed after the Project 7, which was made in limited numbers and that car gave the SVO division of Jaguar Land Rover an idea of pushing the limits of the F-TYPE a bit further. The F-TYPE SVR is the first Jaguar to wear the SVR badge. This car borrows its engine calibration from the limited-edition Project 7 and gets a bump in its performance output as compared to the standard F-TYPE R. And because of the Project 7, many changes came in which not only reduced the weight of this Jag but also made it the fastest street-legal Jaguar. We cannot deny the fact, that the F-TYPE SVR is a monster wearing a tuxedo because of its supercharged 567 BHP engine with an all-wheel-drive system that helps this car to do the 0-100 km/h sprint in just 3.7 seconds. This car is draped in carbon fibre bits and gets that sophisticated F-TYPE exterior with minor tweaks. This for sure is the 2017 model, which has been on sale in India since last year on made-to-buy terms. Since then we hadn't been able to get our hands on this beauty until now! While the 2018 model's bookings have already begun and will be launched soon in India, we thought of giving you a brief idea about the F-TYPE SVR regardless of its model year. Read on below to know more about it and also to know what else you can expect in the 2018 model.
Price of Jaguar F-TYPE SVR – Rs. 2.65 Crore (Ex-Showroom, India, the price of 2018 Jaguar F-TYPE SVR)
Exterior Design: The 2017 F-TYPE SVR was made available in both Coupe and Convertible variants. The one which we drove was the Coupe, a   hard-top version. The exterior design is similar to the F-TYPE R and S variants. But there are a few carbon fiber bits that can be seen on the rear view mirrors, the lip of the front bumper, the Jaguar badge on the sides, which is treated in carbon fibre and also the hood gets a pair of functional carbon fibre vents. The front bumper also gets bigger side vents and an SVR badge on its centre grille. The rear is same as that of the other F-TYPEs and gets an SVR badge and a pair of twin exhaust system made of titanium and Inconel (a nickel-chromium alloy) which is 16 kg lighter than the exhaust system that is used in the Coupe R version. And it has a very snarly growl that will not make you feel to take your foot off the accelerator pedal until you've heard the pops and crackles that it makes when you let go your foot off its throttle. There is an optional carbon fibre active aerodynamic spoiler provided by Jaguar which makes it stand out from the rest of the F-TYPEs that proves very helpful when you are nearing to its top speed limit. But yes, the car does come with a standard spoiler which is electronic just like the standard F-TYPE. The car even gets 20mm wider and stickier Pirelli P Zero tires and there is also SVR logo printed on all its forged four 20-inch alloy wheels. The wheels are 13.8 kg lighter than the standard F-TYPEs. The front bumper is wider at the bottom and it covers most of the tires and there it also incorporates larger intakes that aid cooling. There is also a rear diffuser that reduces drag, and manages airflow and improves the car's stability. Jaguar has surely paid attention to make it look stand out from the rest of the F-TYPEs and its gracefully aged design still looks refreshing. The 2018 F-TYPE SVR, on the other hand, gets minor tweaks like DRL LED headlights with integrated indicators and revised taillights and also a revised front bumper.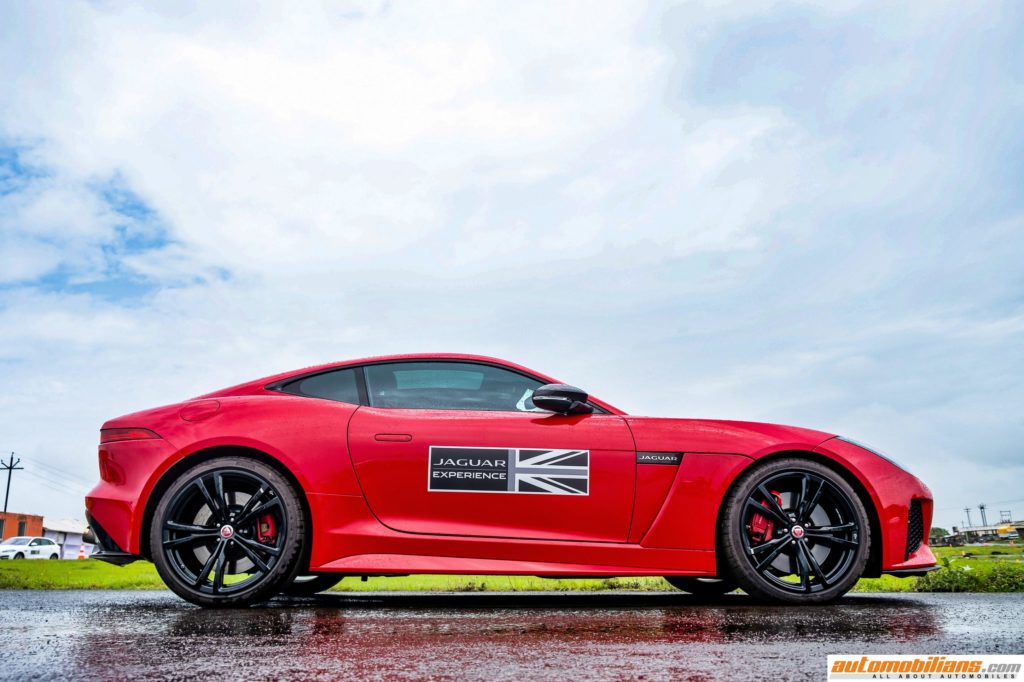 Interior Design: The interior feels premium because of the leather, carbon fibre and micro-suede used inside. Though they are quite similar to the standard F-TYPEs, Jaguar has still made it look and feel extremely beautiful. The centre console comprises of Jaguar's 8.0-inch InControl Touch and InControl Touch Plus infotainment systems that look the same as the other F-TYPE models but gets carbon fibre casing and SVR logo imprinted on it. It gets quilted performance leather seats as standard with black leather stitched in red (as seen in the car which we drove). The seat's head-rest get embossed SVR logo and also a small SVR logo is present on the three-spoke steering wheel. Paddle shifters are larger than the other F-TYPEs and are made of aluminium and make changing gears easier. The SVR logo pops-up on the small TFT display placed between the analogue speedometer and the tachometer as soon as you turn on the car. The dials and the buttons feel premium to look at and to touch. It is equipped with MERIDIAN surround sound system. As soon as you will step into this car, you will definitely be greeted with a lovely ambience. The only thing that disappoints in this car is its boot space which comes with the optioned spare wheel. The seats in the 2018 F-TYPE SVR are constructed using lightweight magnesium and they save another 8 kg of weight.
Engine and Performance: The F-TYPE SVR features a 5L supercharged V8 engine which has been borrowed from the Project 7. It has been remapped to produce 567 BHP @ 6500 rpm and 700 Nm of torque @ 3500-5000 rpm. The car boasts an all-wheel-drive system and the engine is mated to an 8-speed ZF Quickshift automatic transmission with manual shifting, similar to the R model but it is recalibrated for reduced shift time and increased torque availability. The all-wheel-drive system does add weight, but there is enough power and torque on offer to neglect that additional weight. We did not really get a lot of time to spend with this car or to take it on some hilly roads or straight patches. But where we drove it, also helped us to get to know what kind of a beast this car actually is. Once you tap on the accelerator pedal, the car will push you back in the seats and you won't even be able to understand when it moved off the line as it is quick as a rocket. That 567 BHP, in fact, additional 17 BHP, as compared to the R model, and 700 Nm of torque helps this fastest street-legal Jag to achieve the 0-100 km/h sprint in just 3.7 seconds. It is not only capable of going fast from 0-100 but it is also capable of doing a top speed of 322 km/h. You can expect the same engine to be featured in the 2018 model.
Driving Dynamics: As said before, we didn't get to drive it much/for a very long time as we drove it at The Art of Performance Tour that was held in Kolhapur at Mohite's Racing Academy. We drove it on a straight patch for a to and fro speed run. The car felt planted, stable, and amazingly fast, thanks to the upgraded chassis, new dampers and antiroll bars. Revised suspension setup includes stiffer rear suspension knuckles, upfront there is forged aluminium double wishbone setup and multilink at the rear. Adaptive damping is also revised on the car which keeps the cars motion, body roll and pitch in check so as to firm up or soften the suspension as needed. This results in a firm yet comfortable drive. The electric-assisted steering is butter smooth, sharp and very responsive. In fact, all new revisions make steering and accelerating this car at the same time possible without making you lose even a bit of your confidence. The car remains stable at all times. As we were driving it on a track that too on a wet surface, hard cornering wasn't a task either. The car felt planted and taking tight turns proved out to be confidence inspiring and a beautiful experience. That's because the all-wheel-drive system splits 63% of the torque to its rear wheel and the remaining 37% to its front wheels. Another thing that keeps the car stable and glued to the road is its Pirelli P Zero 265/35 R-20 front and 305/30 R-20 rear tires, which are 20mm wider than the R model and also its brakes. There are also carbon ceramic brakes on offer as an option. The Dynamic mode of the car wasn't tested but it will be tested in the 2018 model when we will get our hands on it. And obviously, to keep you smiling all the time there is the car's very delicious aural soundtrack which when switched on with the help of an active-exhaust button makes it an auditory bliss.
Safety & After Sales Service: The F-TYPE SVR is equipped with top of the line safety features, you name it and it is there. It comes with ABS, cornering lights, self-leveling headlights, turn signal integrated mirrors, DRLs, engine immobilizer, stability control, emergency braking assist, remote anti-theft alarm system, traction control, blind spot warning accident avoidance system, dual front airbags combined with head protection chambers side-mounted airbags, it also has passenger airbag occupant sensing deactivation. Expect the same safety features to be there on the 2018 model or maybe more.  Though being a CBU model, after sales service won't be a problem at all as JLR has many service stations across the country.
Verdict/Conclusion: No doubt, Jaguar has done a great job with the F-TYPE SVR. It is 17 BHP stronger and a bit costlier than the F-TYPE R, but this fastest street-legal Jag is worth that entire cost. The SVR is not a newbie's car for sure, and the driver should be more than experienced to tame this beast. With all the revisions, great driving dynamics and comfortable ride quality make it also a good everyday usable car, but then you are not actually making justice to the car by doing that. This beast truly belongs to the race track and you can only unleash its full potential there. There are also many optional carbon fibre parts on offer that help in its weight reduction. It excels in terms of aerodynamic design, luxury, power delivery, braking, steering accuracy and that's what helps it to hit that sweet spot between luxury and sports. The F-TYPE SVR with its pretty looks, razor-sharp performance and an exceptional soundtrack make it a far superior sportscar. With all done and said about the 2017 F-TYPE SVR, we shall soon get back to you with the 2018 F-TYPE SVR's review as soon as the car gets launched in our country.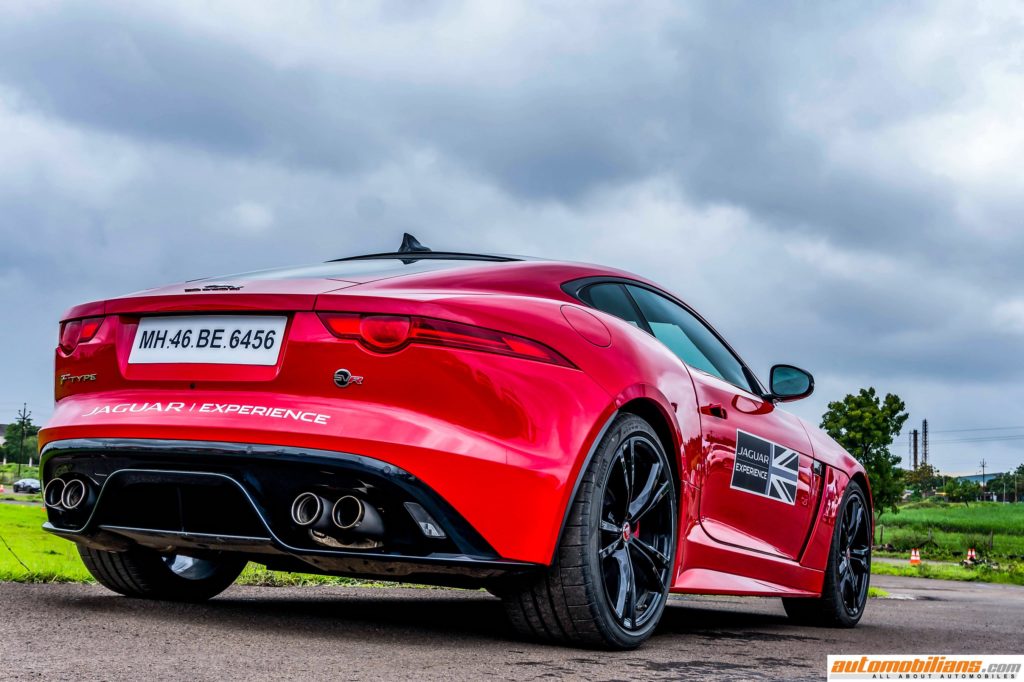 Words: Ranveer RajeBhosale
Pictures: Abhiraj Mali & Adwait Budhale
Read More – 2015 Jaguar F-TYPE R Coupé – Test Drive Review