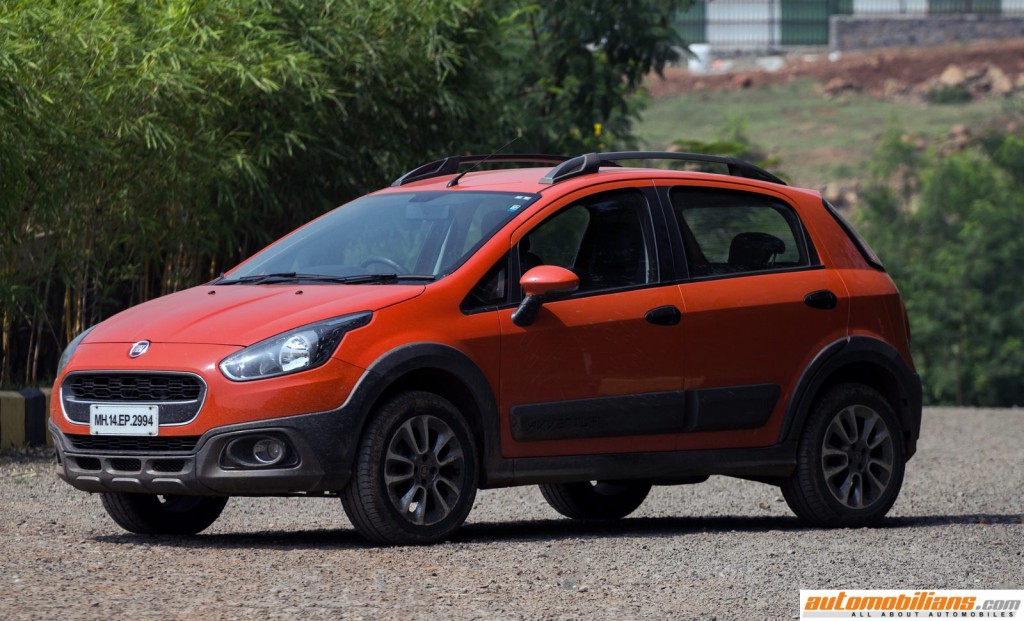 The 2015 Fiat Avventura is basically a Fiat Punto Evo's modified crossover version. Fiat introduced the Punto in India in 2008 and in 2009 it got a few cosmetic changes which also added up the name Grande to the Punto. Later in 2014, a facelifted version of Grande Punto was launched in India and then it was and it is still called as the Punto Evo.  The Avventura is more like a compact SUV which competes with the likes of Ford EcoSport, Renault Duster, Toyota Etios Cross and VW's Cross Polo. The Etios Cross and VW Cross are just the crossover versions of their hatchbacks with added plastics on all of its sides. In case of Avventura it's not the same. Fiat being an Italian company, the name Avventura too is an Italian name which means Adventure. But does this crossover version of Punto Evo lives up to the word adventure? We find it out. Read on!
Price of 2015 Fiat Avventura 1.3L Diesel Emotion – Rs. 8.66 Lakhs (Ex-Showroom, Delhi)
Exterior Design: On the styling front, you will notice that all of the front, side and rear plastic sits on the Punto Evo's body. The added curved plastics, in contrast with the body of the car, and the aesthetics which resemble those designed for the Fiat Panda Cross (which is sold in European market) give the car more rugged, sporty and aggressive looks. The best addition to this car which we found out is the cleverly engineered tail-gate mounted rear spare wheel which sits on the arm attached to the rear bumper and also locks up with the boot lid. The whole mechanism of opening and closing this spare wheel and then the boot is very well engineered and adds up to more SUV kind off look. There is also an addition of a red radium reflector strip at the base of its rear spare wheel. The spare wheel's mechanism and design on this car has been inspired from Fiat's Idea Adventure crossover which is on sale in the European markets. The spare wheel cover is made available on all trims and matches with the body's paint colour. Being based on the Punto Evo, Avventura's bumpers are newly designed with integrated rugged aluminium claddings and also its side skirts are tough wwith integrated big Avventura badges. The car gets bespoke 16-inch alloys and a good ground clearance of 205 mm. On the top, the roof rails are made of aluminium which helps in keeping a balanced center of gravity and also keeps the car controlled very well. Overall, the Avventura is one elegant and better looking crossovers' and compact SUVs, with all new good and proportionate plastics and aluminiums.
Interior Design: As you will get inside this car you will notice a regular Punto Evo's interiors. But, the interiors in this Avventura being carried from the Punto Evo are well revised and are now refreshing. The first thing that will grab your attention inside this car are the high-terrain gauges like the digital compass and both horizontal and vertical inclinometers which are placed above the central AC vents. The compass and inclinometers work well and come in handy during offroadings. Nice move by Fiat over here. It also gets dual-tone dashboard. The seats are neat as they are a mix of faux leather and fabrics. They are comfortable and the front seats can be arranged in every possible way especially for driver's comfortable driving position, it proved out to be a positive point. It can be moved forwards, backwards and its height can also be adjusted. The steering wheel feels nice to hold and steer. The center console and rest other things are in easy reach of both the front occupants. There is also a single rear AC vent along with a small storage compartment for the rear passengers but there are no any bottle holders anywhere inside the car, but still we could store a bottle and a cloth in the door's storage compartment. Interiors of this car are therefore pleasant and refreshing.
Engine & Performance: The Fiat Avventura comes with two engine options which are again borrowed from the Punto Evo. One is the 1.4L F.I.R.E. petrol engine and the other one is the 1.3L Multi-Jet diesel engine. We reviewed the diesel car. The 1248cc turbocharged diesel block churns out 93 BHP of power at 4000 rpm and 209 Nm of torque at 2000 rpm. So all the turbo kicks in past 2000 rpm. This specific engine powers over 6 million different company cars worldwide which sets a benchmark for engines. But the same engine here isn't very finely tuned in terms of power but surprisingly, it performs pretty well and drives smoothly. The engine is mated to a 5 speed gearbox which has short throws and the shifts also do not happen much quickly. The gearing makes the car more driver-friendly when cruising through cities and the mid-range acceleration makes the car drive smoothly on highways. The claimed top speed of the diesel variant is 165 km/h but we managed to do 170 km/h without any fuss and the car was just running smoothly without any vibrations. We did the 0-60 km/h sprint in 8.35 seconds and the 0-100 km/h sprint run in under 15 seconds. Along with the acceleration test we also did the brake test. The car came to a standstill from 60-0 km/h in only 2.22 seconds and it stopped in only 16.76 meters. The 100-0 km/h brake test made the car to come to a complete halt in 3.41 seconds and the distance it took to stop was 49 meters (Note – Acceleration test and Brake test were carried out by using a VBox). These power and time numbers impressed us a lot. The other good thing about this car is that it returned us a mileage of 14 km/l in city and 17-18 km/l on highways while the ARAI claimed fuel efficiency is 20.5 km/l. Therefore, on the performance part, Avventura does not lets you down at all.
Driving Dynamics: As we have told you about the diesel Avventura's engine and performance in the above para, the driving dynamics of this car remains to be more on a better side. To keep its dynamics on a more perfect side, Fiat has worked a lot on its suspension set up and has added an anti roll bar as the car's height has been raised by 10 mm. The suspensions are now therefore on a stiffer side. The potholes and offroad's bumps are swallowed by an ease by these suspensions and the car cruises through any kind of offroad terrain without making any irritating noises. To keep it more stable and gripped on the roads, the Avventura gets fatter 205/55 R16 tyres. We did an air jump in this car, and this car's suspensions took that jump's bump very well and tyres kept the car gripped to the road as soon as it landed on its all four wheels. The brakes are discs at front and drums at rear on this car and they just perform very well to stop the car as it also gets ABS (only in diesel variant). The offroad driving, normal driving and driving in heavy rains didn't make the any difference to the car and it just went on digging its way out of mud, slush and flowing waters. And through these conditions the Punto's hydraulic steering wheel in this car was just fantastic all the way and felt perfectly connected with its wheels. But see that you don't push it into extreme slush, slippery mud and any water body as it does not comes with any 4WD option.
Safety and After Sales Service: Fiat Avventura gets front airbags with early crash sensors only in the Avventura Emotion variant, which is the top end variant of the diesel Avventura. The Avventura also gets passenger airbag deactivation option, ABS with EBD, 3-point ELR seatbelts, FPS, exact door open indicator, immobilizer with rolling code (FCS) and automatic door locking system. These many safety features are only offered on the Avventura's top-end diesel variant and the top-end variant of the petrol Avventura even misses out on dual airbags. Strange! But true.  On the after sales service side, Fiat after parting its way from Tata has been making efforts to make sure that they deliver a very good after sales service. But no matter what, service stations being in limited numbers, Fiat does not fail to impress its customers in returning a good service. Fiat also offers a warranty of unlimited kilometers for 3 years on this car.
Verdict/Conclusion: Finally the Avventura lives up to its name and it is a perfect crossover and a better option than the Toyota Etios Cross and Volkswagen Cross Polo. The Avventura is great in city traffics and is a perfect weekend gataway car too. The Avventura is a great effort by the Fiat. It lives up to what it is made for, an air jump, some muddy water splashing and finally up to its name – Adventure (Avventura). There are a few drawbacks of this car according to today's modern age but its smoother ride quality, lovely interiors and well-designed exteriors makes it a more desirable car and it is also the most promising car to be offered by Fiat.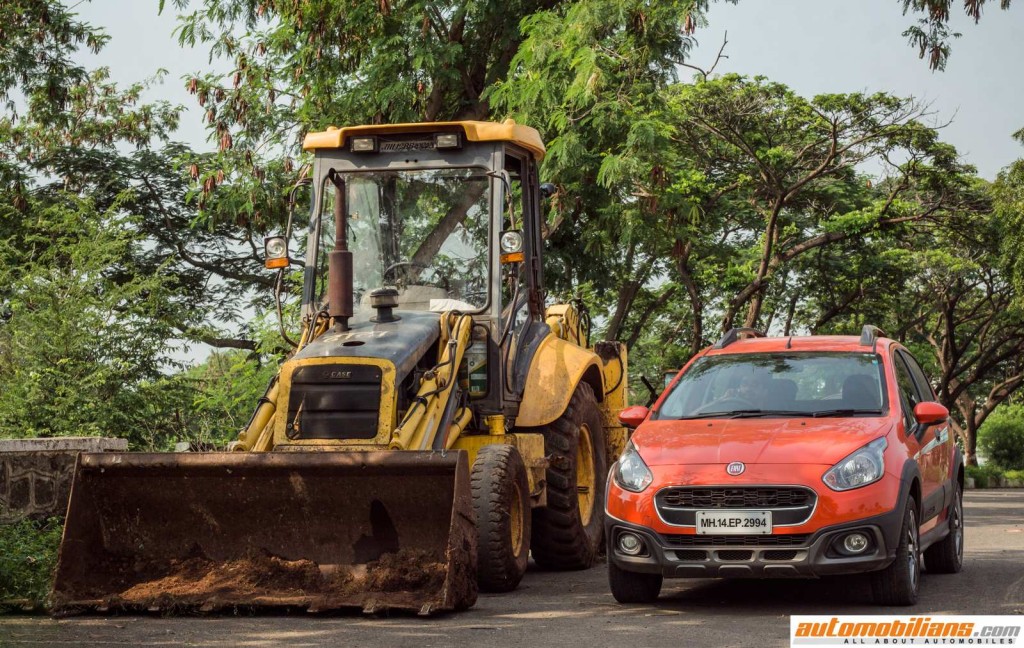 2015 Fiat Avventura Technical Data:
* Engine: 1.4L F.I.R.E. petrol, 1.3L Multi-Jet diesel
* Power: 90 BHP at 6000 RPM (Petrol), 93 BHP at 4000 RPM (Diesel)
* Torque: 115 Nm at 4500 RPM (Petrol); 209 Nm at 2000 RPM (Diesel)
* Transmission: 5-speed manual (Petrol & Diesel)
* 0-100 km/h: 13.89 seconds (Petrol – Company claimed)
* 0-60 km/h: 8.35 seconds; 0-100 km/h: 15 seconds (Diesel – Vbox tested)
* 60-0 km/h: 2.22 seconds (16.76 meters); 100-0 km/h: 3.41 seconds (49 meters) {Diesel – VBox tested}
* Top speed: 170 km/h (Petrol & Diesel)
* Fuel Consumption: 14.4 km/l (Petrol), 20.5 km/l (Diesel) {ARAI approved}
* Fuel Type: Petrol & Diesel
* Suspensions: Independent wheel suspension with McPherson struts, double telescopic dampers and stabilizer bar (Front), Torsion Beam, double acting telescopic dampers and helical coil springs (Rear)
* Tyres: 205/55/ R16
* Brakes: Ventilated Disc (Front), Drum(Rear)
* Safety: ABS with EBD, dual airbags ABS with EBD, 3-point ELR seatbelts, FPS, exact door open indicator, immobilizer with rolling code (FCS) and automatic door locking system (only Diesel)
2015 Fiat Avventura Dimensions:
* Overall length: 3989 mm
* Overall width:  1706 mm
* Overall height: 1542 mm
* Wheelbase: 2510 mm
* Ground clearance: 205 mm
* Fuel Tank Capacity: 45 litres
* Kerb Weight: 1190 kgs (Petrol Active); 1195 kgs (Petrol Dynamic); 1240 kgs (Diesel Active); 1245 kgs (Diesel Dynamic); 1255 kgs (Diesel Emotion)
VBOX Equipments provided by – ZEN Microsytems