The 2015 Jaguar F-Type is a two-door, two-seater premium sports-car which was first initially launched as a soft-top convertible car and then as a hard-top Coupé car. The F-Type is based on a shortened platform of the Jaguar XK convertible and thus is a replacement version for the Jaguar XK. There also came a limited edition of the F-Type. It was called as the Project 7 and it was based on the F-Type convertible sports-car. Only 250 production cars of Project 7 were made with an all 100% aluminium body. This Indian owned British manufactured 2015 Jaguar F-Type R Coupé V8 is Premium, Fast, Gorgeous, but not Silent. This magnificent cat is the absolute powerful production Jaguar model of the current F-Type range on offer including the F-Type Convertible.
Price of 2015 Jaguar F-Type R Coupé – Rs. 1.96 Crore (Ex-Showroom, Pune)
Exterior Design: Design-wise, this F-Type R Coupé is an extremely gorgeous looking car. The new sweeping panoramic glass roof looks more impressive than the convertible and it makes the car look more astonishing. The roof panel is available as aluminium and carbon-fibre too. The car be standing still somewhere or whether you be driving it around the town, it will for sure earn you a lot of respect with its jaw-dropping looks and royal appearance. On the front, its long stretched bonnet with those Bi Function HIDs with integrated LED DRLs strips on its side in L shape simply looks outstanding. On the side, near the hood it gets a chrome outlined air vent with Jaguar embossed on it. The bigger 20″ wheels on this car also make it look more distinctive. On the rear, that tail with stretched LED taillights adds another compliment of beauty to this car. The design is completely aerodynamic and it also includes front splitters, side skirts and rear bumper venturi for the management of proper airflow.  And yes, there also rests a spoiler on the tailgate which gloriously rises when you exceed 100 km/h speed line to reduce the lift up to 120 kgs and it reacts accordingly. The dimensions are all the same as the F-Type convertible sports-car except for its front and rear tracks. It's 4470 mm long in length, 2042 mm wide with mirrors open and only 1314 mm tall (only 3 mm taller than the convertible), so it sits quite low. The front track (front axle) of the car is 1586 mm wide and is 11 mm lesser than the convertible whereas its rear track (rear axle) is 1627 mm wide which is also 22 mm lesser than the convertible. Overall this premium sports-car is a very good looking Coupé with powerful shape and beautiful proportions and also some design inspiration from the old British iconic Jaguar E-Type. This F-Type R Coupé is a complete aluminium car which is the torsionally rigid production car ever built by Jaguar and it is 80% stiffer than its convertible sibling.
Interior Design: The flush-mounted door handles helps you to get in to this sports car. As you enter in the car, you will notice a complete sporty interior like the convertible. The interior is kind of pretender but is very decent. The cockpit of this car is architectured well and everything is simply driver-oriented. Instrument panel is clear and simple. It houses two round analogue pods out of which the left one features the speedometer and the right one is the tachometer and between these two round pods is a TFT screen. Then the three-spoke flat bottomed steering wheel covered with leather has all the control buttons with paddle shifters mounted on it behind for driver's sequential selection of gears. The 'R theme' on the inside of this car is simply wonderful. The interior lights can be turned on and off by touching them with your fingers. The twin-needle stitched premium leather on the dashboard strikes the right luxury's note. It looks neat and feels very nice. The performance body-hugging seats with 'R' badge embossed on the headrests add up for more lateral support during dynamic driving. During such driving the passenger is provided with a pillar near the gear shifter in the center to hold and sit comfortably. The seats are very comfortable and can be adjusted in 14 ways for your pleasurable journey. The center console houses the engine's start/stop golden button, volume controller, gear shifter, driving mode's switch, active-exhaust's button, ECO mode's button, traction control's button, spoiler's open/close button and the handbrake. In the center console above sits the 8-inch multimedia touch-screen which provides you a lot of information. Between this screen and the below center console buttons and gear are the AC switches which when switched on deploys the center AC vents above the screen from the dashboard. There are not many storage compartments inside the car but now as this is not a convertible, it gets a larger boot. The boot offers a storage capacity of 407 liters but there is already a spare wheel in it so it can only fit two medium bags of your luggage. The boot can be opened and closed by a button on the car's key. The car is equipped with Meridian Surround 12 speakers which is fabulous and helps you to keep your mood refreshed all the time. This British car is like a 7-star architected premium hotel on the inside.
Engine & Performance: The 2015 Jaguar F-Type R Coupé gets a 5L V8 Supercharged Automatic engine. It produces a thumping 550 BHP of power at 6500 rpm and an incredible 680 Nm of torque at 3500 rpm. The engine is mated to an 8-speed automatic gearbox. There is a lot of power on the tap. The car keeps on feeding you with its power right from the time you press the accelerator pedal till you touch it to the floor. To add more fun to this powerful driving, there is an active-exhaust button which when pressed makes an incredibly delicious aural soundtrack. It makes you grin like an idiot all the time. Its soundtrack is a Sonic Heaven. When this exhaust note blasts out of the car's four exhaust pipes, it feels like Jaguar has actually built an auditory bliss of an orchestra inside the car's V8 engine bay. It wakes up the entire town with its gargling sound of its burned petrol and it roars like an animal and is not at all silent; after all it's a Jaguar.
It performs very well at lower speeds and even at higher cruising speeds. This sports-car is always ready to perform restlessly as if it's in search of some prey. On hard acceleration it pushes you back in the seats and blurs the surroundings for you. It does the 0-60 km/h and 0-100 km/h sprint in just 2.4 and 4.3 seconds respectively (VBox Tested – Manual shifts; claimed 0-100 km/h – 4.2 seconds). It does a top speed of 300 km/h. This Jaguar returns a fuel efficiency of 4-5 km/l, but does it really matters? On normal driving with active-exhaust off, the exhaust note made is much lower. This F-Type R Coupé with that crackling and backfiring sound is itself a symphony and in terms of performance it sets new standards.
Driving Dynamics: This Jag is furiously quick and fast. The car's front and rear track combination helps it to stay stable in every situation.  The car is now 80% stiffer than it soft-top sibling and so it's felt as soon as you drive it. The ride quality is a bit on stiffer side because of it and the suspension setup is too on the stiffer side. Driving this car on rough road feels quite harsh. But show this British bombshell some highways and it will impress you with it smoothest ride quality more than its pretty face. When you foot the accelerator flat, the Supercharged V8 moves the 1650 kgs of weight of the car enthrallingly at higher speeds on open roads and is able to steer faithfully too. The spoiler handles the lift of the car at such higher speeds generously and just helps you to keep going. The hydraulic steering is quick and responsive. The feedback from the steering is very good. The Dynamic stability mode in the car keeps the car stable and going in the straight line even when you oversteer. The torque vectoring system is an excellent feature which lets you push the car to its limits and it eliminates most of the understeer in tight turns and you can confidently corner hard by keeping the speed up with all your confidence. If you're brave and are used to cornering without any electronic system's help, then you surely will unleash a beast by kind of oversteer induced drifting through such corners. The front and rear track combination thus plays a major role in such situations. The large steel brakes are sharp and are the major role players in bringing this cat to a standstill. The brake test, 100-0 km/h was done and the car came to a halt in only 2.4 seconds (VBox Tested). The car's extraordinary rigid build quality enables the F-Type R Coupé's sharp steering and sensitive adaptive dampers respond well according to the road surface. In terms of Driving Dynamics, the F-Type R Coupé excels in it.
Safety & After Sales Service: The 2015 Jaguar F-Type R Coupé gets safety features like the dual front impact airbags along with dual front side impact airbags, occupant sensing airbag, ABS, EBD, electronic stability control, traction control, engine immobilizer, reverse parking camera and panic alarm. In terms of after sales service, this car is brought in our country via the CBU route and Jaguar is increasing the number of their service networks in the country so after sales service won't be a big issue for this beauty.
Verdict/Conclusion: The Jaguar F-Type R Coupé V8 is one mean sports-car. It excels in terms of its aerodynamic design, greater steering accuracy, ride quality, enthralling power delivery and it excels more in terms of its thrilling and exceptional soundtrack. It's a mad rocket car and I was grinning like an idiot all the time while being behind its wheel with that active-exhaust button on. This car sets new standards in terms of all its qualities and performance and hits a sweet spot between Luxury and Sports. And I repeat it again; the 2015 Jaguar F-Type R Coupé V8 is Premium, Fast, Gorgeous, but not Silent. Jaguar F-Type R Coupé – A Symphony itself.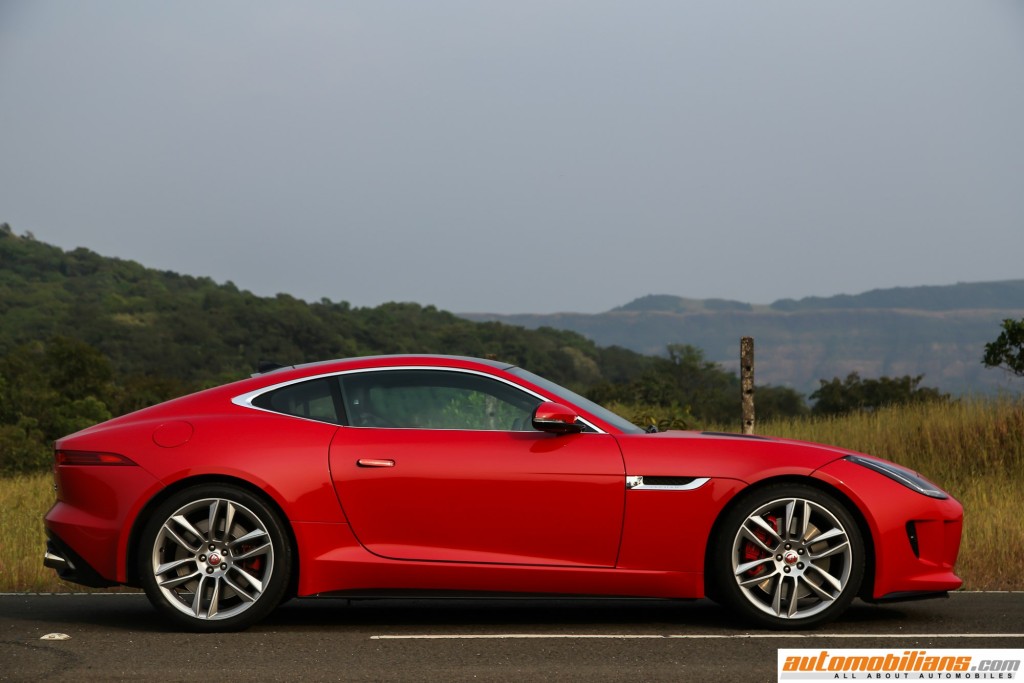 2015 Jaguar F-Type R Coupé Technical Data:
* Engine: 5000cc, 8-cylinder, Supercharged Automatic
* Power: 550 BHP at 6500 RPM
* Torque: 680 Nm at 3500 RPM
* Transmission: 8-speed automatic
* 0-100 km/h: 4.2 seconds (Claimed)
* 0-60 km/h: 2.4 seconds (VBox Tested)
* 0-80 km/h: 3.3 seconds (VBox Tested)
* 0-100 km/h: 4.3 seconds (VBox Tested)
* 100-0 km/h: 2.4 seconds (VBox Tested)
* Top Speed: 300 km/h
* Fuel Consumption: 5 km/l
* Fuel Type: Petrol (Preferable – High Octane, VPower)
* Suspension: Forged Aluminium Double-Wishbone with Adaptive Dampers
* Tyres: 255/35/20 (Front), 295/30/20 (Rear)
* Brakes: 380 mm Disc with Red Calipers (Front), 376 mm Disc with Red Calipers (Rear)* Safety: Dual front impact airbags along with dual front side impact airbags, Occupant sensing airbag, ABS, EBD, DSC, electronic stability control, traction control, engine immobilizer, reverse parking camera and panic alarm
2015 Jaguar F-Type R Coupé Dimensions:
* Overall length: 4470 mm
* Overall width: 2042 mm
* Overall height: 1314 mm
* Wheelbase: 2622 mm
* Front Track: 1586 mm
* Rear Track: 1627 mm
* Boot Volume: 407 liters
* Turning Circle: 10.9 meters
* Kerb Weight: 1650 kgs
* Ground clearance: 120 mm
* Fuel Tank Capacity: 70 litres
VBOX Equipments provided by – ZEN Microsytems