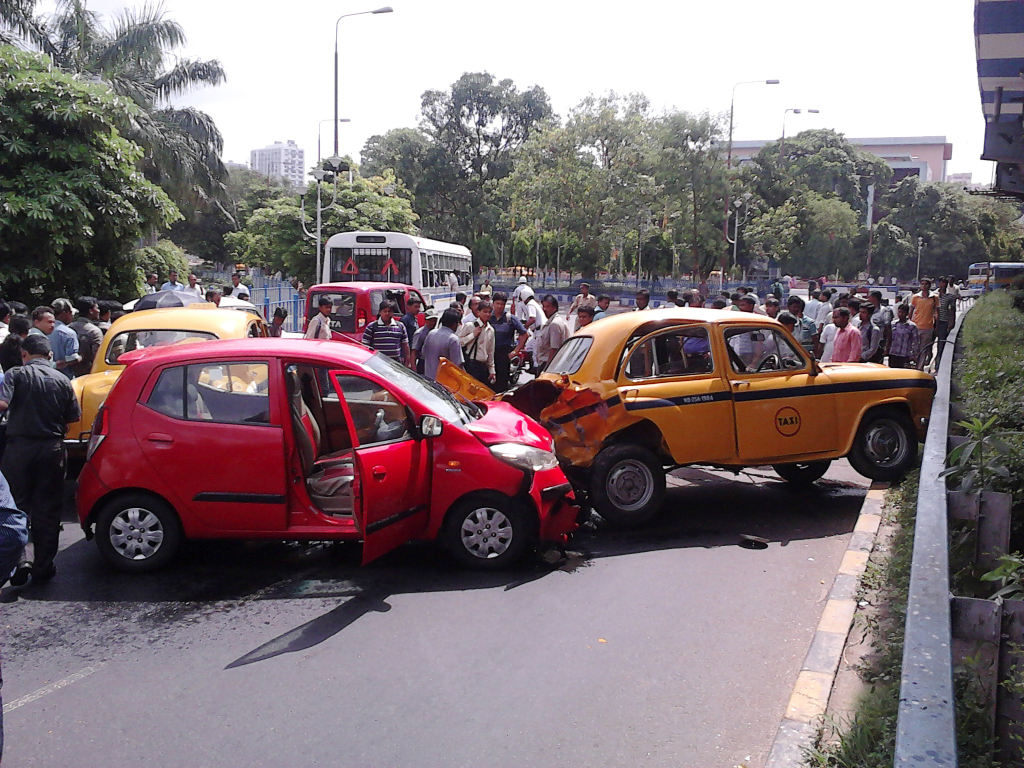 Seeking to come down heavily on traffic offenders, Indian government on Saturday proposed steep penalties of up to Rs. 3 lakh along with a minimum 7-year imprisonment for death of a child in certain circumstances, besides huge fines for driving violations.
The new Road Safety and Transport Bill 2014 also proposes a fine of Rs. 5 lakh per vehicle as well as imprisonment for faulty manufacturing design, besides cancellation of licences for rash and negligent driving.
The Bill, unveiled on Saturday by Road Transport and Highways Ministry for seeking suggestion from stakeholders, proposes penalty of up to Rs. 1 lakh or imprisonment for six months which may extend to one year or both in case of using vehicle in unsafe conditions.
First offense for drunk driving will attract "Rs. 25,000 fine, or imprisonment for a term not exceeding 3 months, or with both, and a six-month license suspension. Second offense within three years will result in Rs. 50,000 penalty or imprisonment for up to one year or both and a one year license suspension.
"Any subsequent offense shall result in the cancellation of the license, and impounding of the vehicle which may extend for 30 days," it said.
If school bus drivers are caught driving drunk, Rs. 50,000 fine will be imposed with imprisonment for three years while "immediate cancellation" of license will take place in case of drivers in the age-group of 18 to 25 years involved in such incidences.
Causing death of a child in certain circumstances will result in "Rs. 3 lakh fine, and imprisonment for a term not less than 7 years" while violating traffic signal three times will result in Rs. 15,000 fine, license cancellation for a month and a compulsory refresher training, the draft Bill said.
It also provides for graded point system for imposing fines.
The ministry has sought comments from public and stakeholders on the Bill and will thereafter finalise it for presentation to Parliament during the ensuing winter session.
The Bill is aimed at bringing down fatalities in road accidents by two lakh in the first five years.
There will be "4 per cent GDP improvement on account of increased efficiency and safety of road transport".
The "Vision" of the Bill also states that 10 lakh jobs will be created by increased investments in the sector.
India reports around 5 lakh road accidents annually with a death toll of about 1.4 lakh.
Commenting on the Bill, Road Transport and Highways Minister of India Nitin Gadkari said, "Providing safe, efficient, cost effective and faster transport across the country is our mission."
"Our new Bill gives emphasis on E-governance to bring in transparency in the transport sector. Our new 'golden hour' policy will provide immediate relief to accident victims and will help save lakhs of lives," he said on Twitter.
The Golden Hour policy provides for treatment to road accident victims within one hour.
Gadkari had said on Friday that the government was expected to introduce the Bill in the winter session of Parliament and ensure its passage.
As per the draft Bill, there will be an independent agency – 'Motor Vehicle Regulation and Road Safety Authority of India'.
Motor vehicles are to be regulated through improved designs and simplified single-window automated driving licence systems including unified biometric systems to avoid license duplication.
Other features include unified vehicle registration system, single National Road Transport & Multinational Coordination Authority and Goods Transport and National Freight Policy.
It encompasses provisions for safety of vehicles including implementation of safety equipment of motor vehicles.
It also includes technologies such as intelligent speed adaptation, driver alert control, eye drowsiness detectors, distance closure rate detection and green box monitoring.
The Bill has been drafted in sync with the best practices of six advanced nations – US, Canada, Singapore, Japan, Germany and the UK.
By: Press Trust of India.