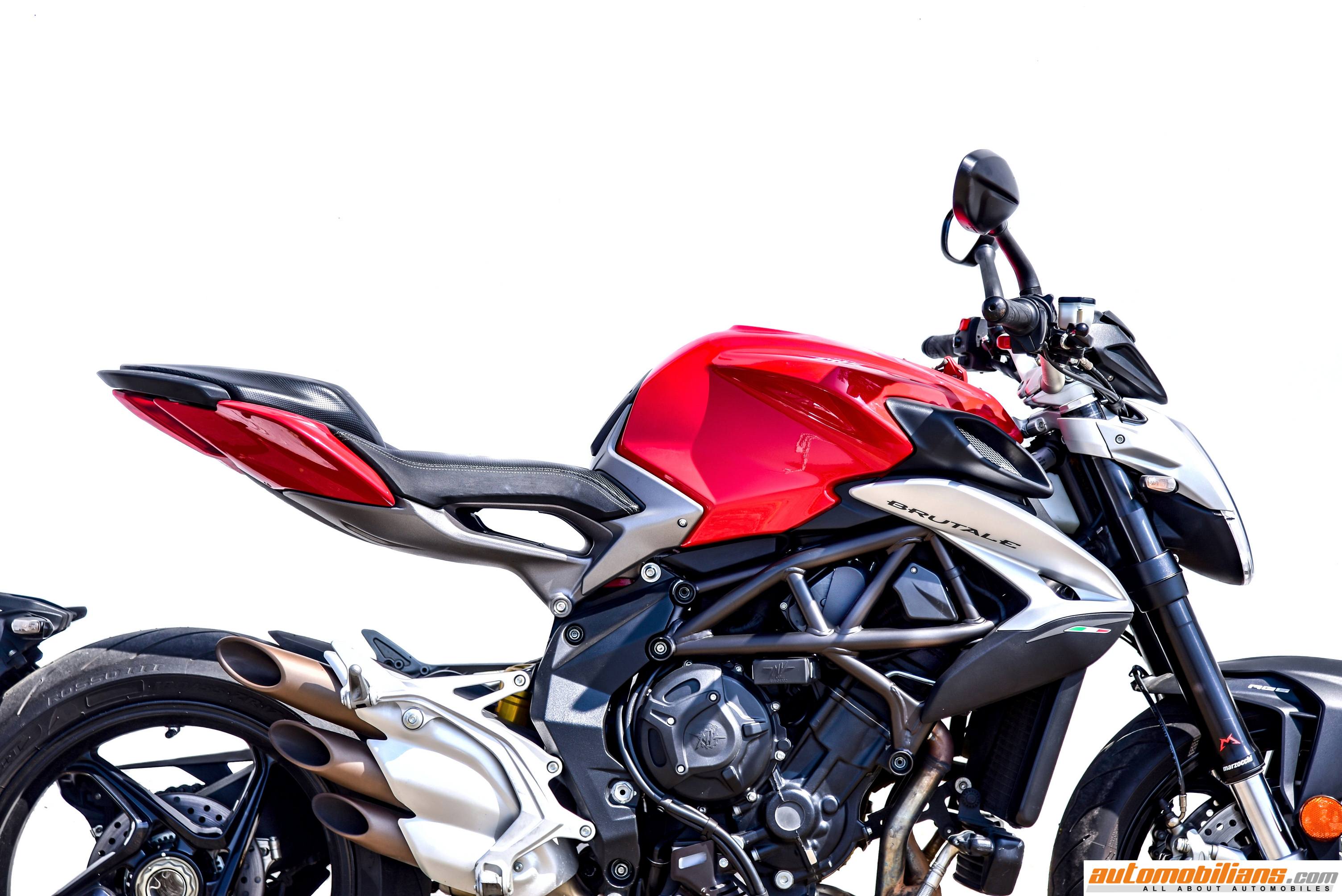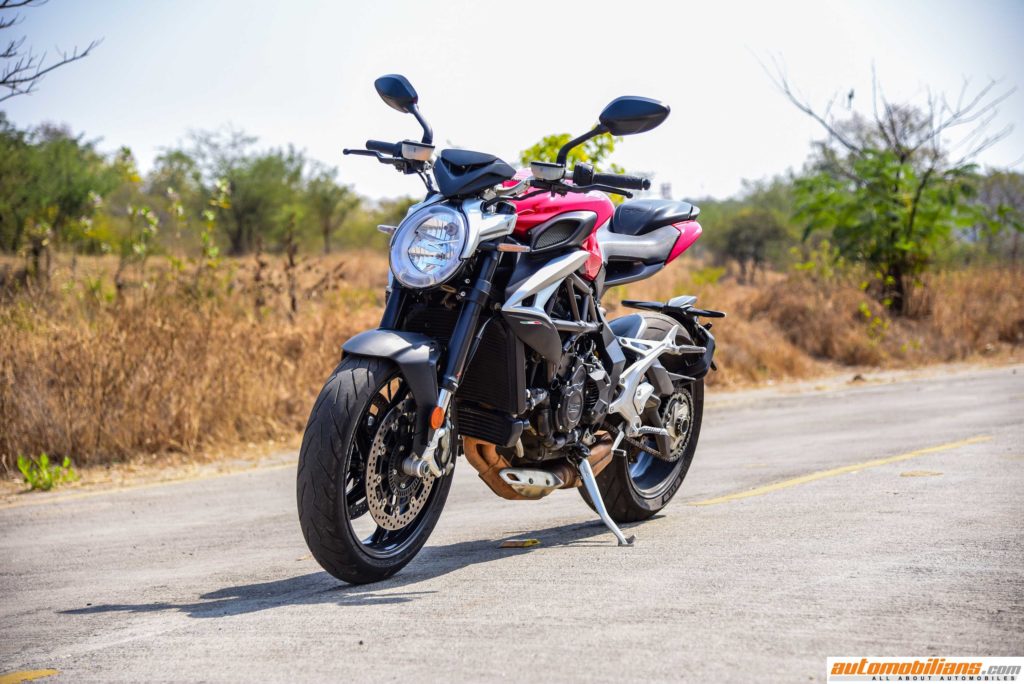 MV Agusta, an Italian motorcycle manufacturer company, has been making beautiful and exotic bikes since 1945. In 2001, the company started off with the production of the Brutale series that saw various inline-four and inline-three cylinder engines. Its start-off redefined the concept of naked bikes in the market. In 2012, the Brutale 800 was introduced and later on the Brutale 800 RR, in 2015. But, in 2016, at the EICMA motor show, a new Brutale 800 was unveiled which was launched in India a few months back at a very premium price tag which also marked the company's entry into the middleweight bike segment in India. Its launch in India delayed because of its homologation issues, but this is one of the most desirable Italian motorcycles' that is brought in India as a Semi Knocked Down (SKD) unit by Motoroyale (a Kinetic initiative) and is currently assembled at the Kinetic's manufacturing facility in Ahmednagar, Maharashtra. This Brutale 800 gets a lot of upgrades, makes 10 PS less power and also weighs more over its predecessor. While the company says it is the best Brutale ever, we thought of finding it out as this bike's predecessor was a complete maniac and of course, if it's still any brutal or not and also if it lives up to the legacy of MV Agusta! Read on below, to find it out.
Price Of MV Agusta Brutale 800 – Rs. 15.59 Lakhs (Ex-Showroom)
Its Styling: I must say that this motorcycle is a real piece of artwork. It looks drop-dead gorgeous and is one of the best looking motorcycles in its segment. The old Brutale was cleverly designed and so is this one as its design profile remains to be somewhat the same. The bike not only looks compact but is too, thanks to its big chest and narrow waist design language. The new droopy LED headlight with newly designed cowl is eye-catchy and gives an aggressive look to the bike from the front. The re-designed wide fuel tank with air intakes adds up to the bike's muscular look. The exposed trellis frame, revised fenders, floating seat design, revised signature three-pipe exhaust, a new tail section, sleek aluminium subframe design, a scooped our part below the rider's seat (or rather I would say a hole under the rider's seat), single-sided swingarm, cast aluminium five-spoke wheels, new handlebar, concealed pillion grab rails, rear number plate hanger which also holds the rear indicators give this sport-naked motorcycle a sharper yet smoother look even with only a few bits of bodywork. It is clearly and easily noticeable that how much attention has been given to the detailing of this bike. The Brutale 800 does continue to carry forward the tradition of MV Agusta's precision and beautiful design language. The Brutale 800 looks distinctive and is also a crowd pleaser.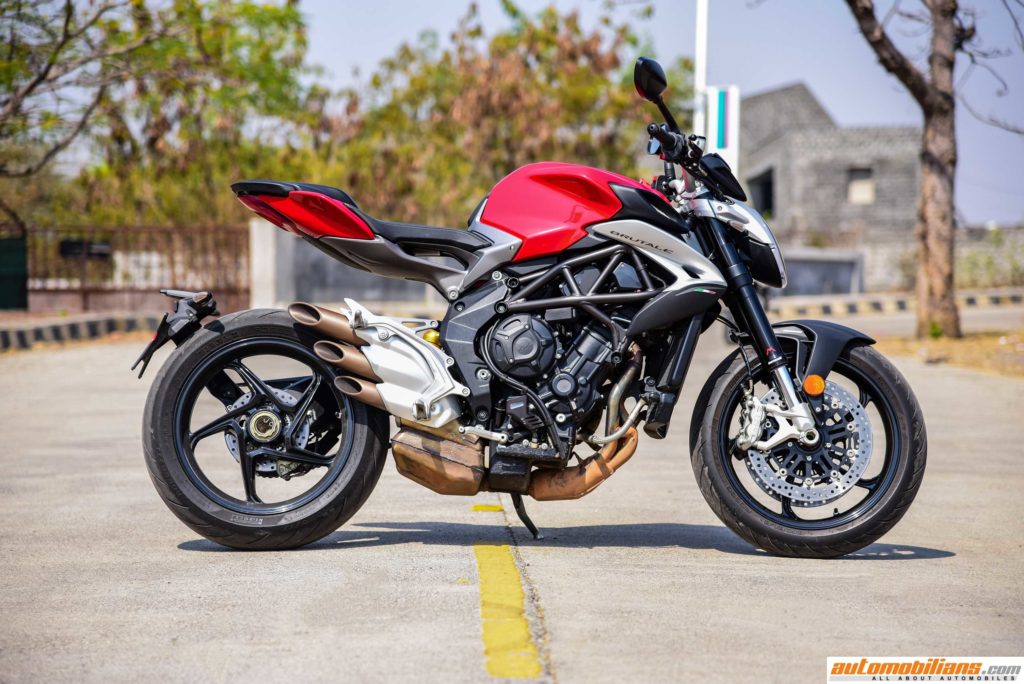 Its Switchgear and Instrument Cluster: Along with the bike's revised design, its instrument cluster and switchgear have also been updated. The instrument cluster is now larger and all-digital with white backlit and it isn't a full-colour TFT unit. It is a single-piece LCD console that shows all the essentials – speedometer, tachometer, clock, shift light, engine temperature, gear position indicator, riding mode (engine map), ABS and traction control with their levels. The console does miss out on a fuel gauge and there is just a warning light. The ten warning lights are placed below the dash and are too tiny and faint to see in the direct sunlight. The switchgear isn't much rider friendly as the rubber-covered switches are painful to use, especially the ones placed on the left handlebar, which have remained to be the same. The right switchgear houses a new engine-kill/starter switch and a new engine map switch which are easier to use. Generally, the horn switch is placed at the bottom of the switchgear below the indicator switch, but here it is vice-versa which eventually makes you confused while you are on the move. As the left switchgear is similar to the old MV bikes, so it really is a task to change the ABS and TC levels. In terms of electronics, the Brutale 800 gets four riding modes – Normal, Sport, Rain and Custom. It also gets 8 TC levels, 3 ABS levels and a bi-directional quick shifter (that helps you in the quick shifting of gears without using the clutch). It will for sure take you a little time to get used to this bike's switchgear.
Its Ergonomics: The riding position offered on this bike is a bit upright than before. The new wide handlebar is placed at a proper height and is in the perfect reach of the rider and your feet are placed slightly further back. The seat height is at 830mm, which is not really very much accessible to the shorter riders. The seat gets a nice floating design and is a piece of artwork but the rider's seat is not large and is too soft, thanks to its gel padding. It has been narrowed near the fuel tank so that the shorter riders can plant their feet on the ground during a complete standstill. Basically, once you are astride this motorcycle, you will feel as if you are seating on the base plate of the seat and not on the seat as it lacks on padding. Even the pillion seat is not very comfortable but gets concealed grab rails which do their job very well. The seat's minimal padding does not make this bike suitable for long distance riding and is only suitable for shorter rides even when it offers a good riding position.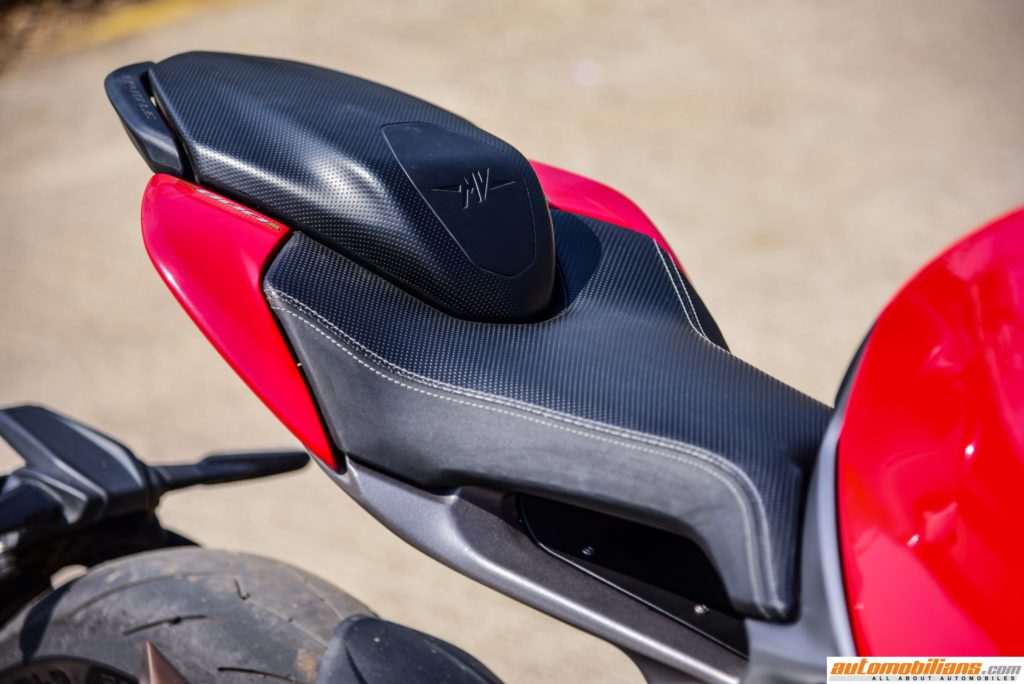 Its Engine & Performance: The Brutale 800 is powered by a Euro IV compliant, 798cc, liquid-cooled, inline-three cylinder engine. It churns out 108.5 BHP @ 11,500 rpm of power and a peak torque of 83 Nm @ 7,600 rpm. Due to the Euro IV emission norms, the Brutale 800 loses on compression and so it does on the power, as it has gone down from 121.3 BHP to 108.5 BHP. The torque has gone up by 25% and now hits 1,000 rpm earlier than before and 90% of the torque is available from as low as 3,800 rpm to the redline. The engine is mated to a 6-speed gearbox with bi-directional quick shifter and is managed by Motor & Vehicle Integrated Control System (MVICS) system.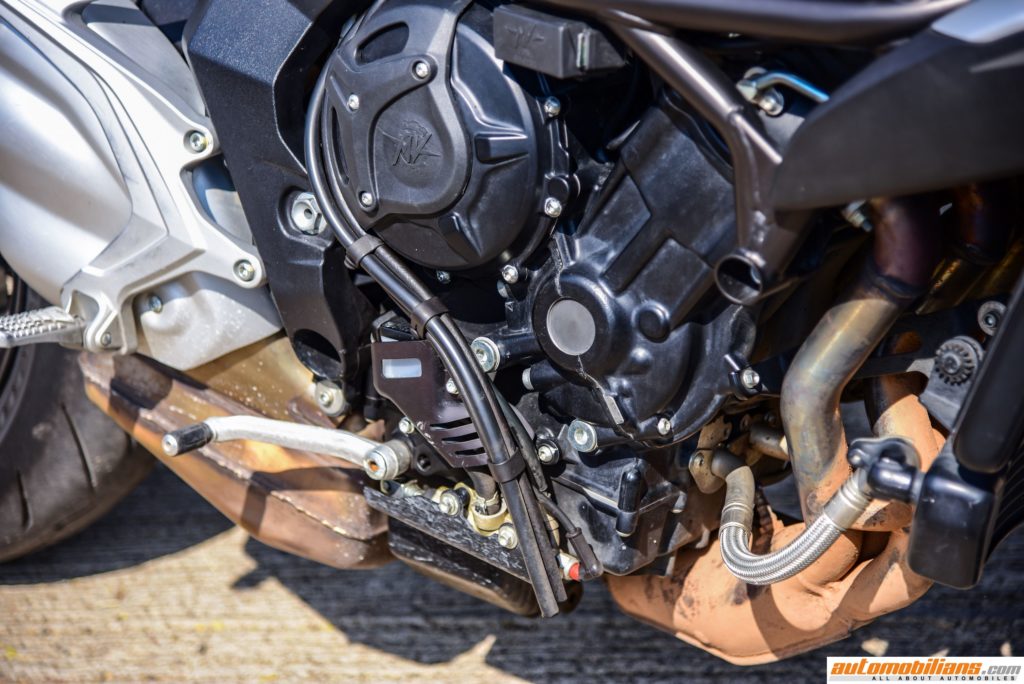 This Euro IV compliant engine has improved in terms of refinement as compared to its old model. But it still remains to be a maniac and you don't really get to notice the loss in its power. The bike is equipped with lots of electronics and it also comes with four riding modes – Normal, Sport, Rain and Custom. The throttle response remains to be sharper and the Sport mode is not advisable to be used in the city as the throttle's on-off transitions are instantaneous. This bike is a beast as it aims towards the sky always in first and second gear as you will wring open the throttle. But yes, the motor does offer a cleaner and smoother ride from its low-end and the torque delivery is smoother too. It is the strongest in its mid-range and it also lets you pick up the pace in third gear from the speeds as low as 25 km/h. Normal riding mode is the best where the extra torque kicks in even at slower speeds. And of course, if you want to customize the riding mode according to your preference, then there is the Custom mode for you which allows you to select from the three ABS levels, eight TC levels and engine braking control. Not to forget, the front wheel will still come up! To complement such a motor, there is MV's signature three-pipe exhaust that makes a distinctive deep noise which rises to several decibels as the revs start climbing above 5,000 rpm. The exhaust note produced by this motorcycle is really addictive and shifting gears above 10,000 rpm mark make the exhaust to make a gunfire-shot-like sound which is amazing. You can expect a mileage of around 13 km/l in the city and around 18 km/l on the highways (in real world riding conditions) from its 16.5-litre fuel tank.
Its Riding Dynamics: Just like the engine, its chassis has also got a revised structure and a new geometry. This chassis has also resulted in a slight increase in the bike's wheelbase because of the slightly longer single-sided swingarm. The combination of a wide and tall handlebar, gel padded seat and lower and rear-set footpegs offer a commanding riding position. Its big chest, narrow waist design makes it look (and is) compact in size, also making it a nimble handler because of its crisp and sharp steering geometry and also because of its 175kg dry weight. Now, as far as its suspensions are concerned, the Brutale 800 is equipped with fully adjustable 43mm Marzocchi USD forks at the front and a fully adjustable Sachs monoshock at the rear. They are mainly tuned for handling purpose and they do their job in that case very well. But, they aren't at all suitable for our roads as the setup is on the stiffer side and the motorcycle throws you around even on the slightest of the undulations on the road. Nonetheless, it handles very well and is very responsive. The steel trellis frame really gives you the best handling experience and the factory fitted Pirelli Diablo Rosso III tyres offer excellent grip. The bike is well balanced too, in terms of both front-end geometry and weight distribution. It is a quick responding motorcycle, easy to flick around and also fast into a lane. Stopping power comes from the dual 320mm disc brakes with four-piston callipers at the front and from a 220mm rear disc with a two-piston calliper at the rear, and they are super sharp and offer great feedback. Overall, this bike offers good riding dynamics that are more suitable for shorter distance rides only because of its stiffer suspensions and not-so-well-padded seats.
Its Verdict: The Brutale 800 does lives up to the legacy of the MV Agusta and also continues to be brutal as before but is manageable. It looks absolutely stunning and handsome. It is sharp, agile, compact, and responsive and of course, it is fierce as well. It's a bomb and is surely not for the beginners and is only for the experienced riders who like fast bikes with full of emotions. It has a very brutal performance and it likes to keep its front wheel in the air more than on the ground. It offers a great riding position with performance oriented suspension setup and great brakes. It is fun to ride this bike in the city and in the hilly areas. Once you tame this beast, the beast inside it comes to life and puts that wide grin on your face. And of course, it is offered at a very premium price tag in that middleweight segment but then for that price you actually buy a piece of MV's legacy and gladly, this motorcycle continues to take the name of Brutale ahead.
MV Agusta Brutale 800 Technical Data:
* Engine: 798cc, liquid-cooled, inline-three cylinder engine, Euro IV
* Power: 108.5 BHP @ 11,500 rpm
* Torque: 83 Nm @ 7,600 rpm
* Transmission: 6-speed
* Fuel Consumption: 15.5 km/l (avg.)
* 0-100 km/h: 3.8 seconds (est.)
* Top Speed: 237 km/h (claimed)
* Fuel Type: Petrol
* Frame: Trellis frame
* Suspension: fully adjustable 43mm Marzocchi USD forks, 125mm travel (Front), fully adjustable Sachs monoshock, 124mm travel (Rear)
* Tyres: 120/70 R17 (Front), 180/55 R17 (Rear), Pirelli Diablo Rosso III (both)
* Brakes: Dual 320mm disc, 4-piston caliper, ABS (Front), Single 220mm disc, 2-piston caliper, ABS (Rear)
MV Agusta Brutale 800 Dimensions:
* Length: 2045mm
* Width: 875mm
* Height: 1100mm
* Wheelbase: 1400mm
* Seat Height: 830mm
* Fuel Tank Capacity: 16.5 litres
* Dry weight: 175kg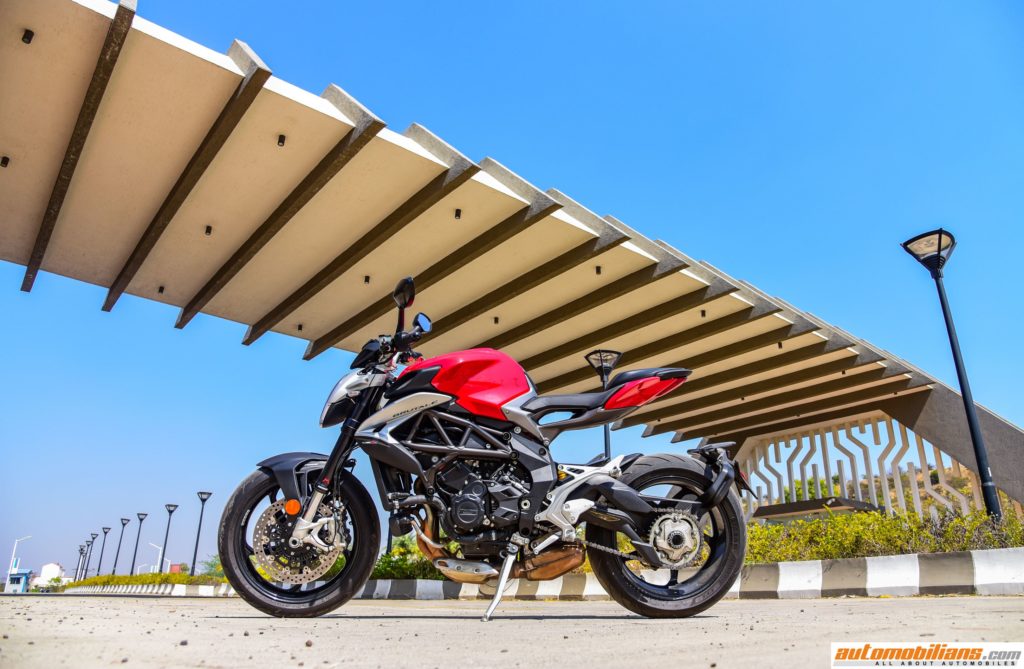 Riders – Viraj David, Bhushan Bhosale | Photographer – Avdhoot Kolhe