The full range of updated Jaguar F-Types will make its debut at the LA Auto Show later this month and will grow from six to 14 derivatives. In anticipation, Jaguar has revealed an all-wheel drive version of its gorgeous sports car as well as a partnership with the Bloodhound Project, which aims to raise the land speed record to over 1000 miles per hour.
The XJ and XF can already be bought with all-wheel drive, but a Jaguar AWD F-Type will be a first in terms of Jaguar's sports cars. A coupe example was tested on Nov. 6 at the Hakskeen Pan in Northern Cape, South Africa. It reportedly scooted from zero to 60 in 3.9 seconds and reached a limited top speed of 186 miles per hour.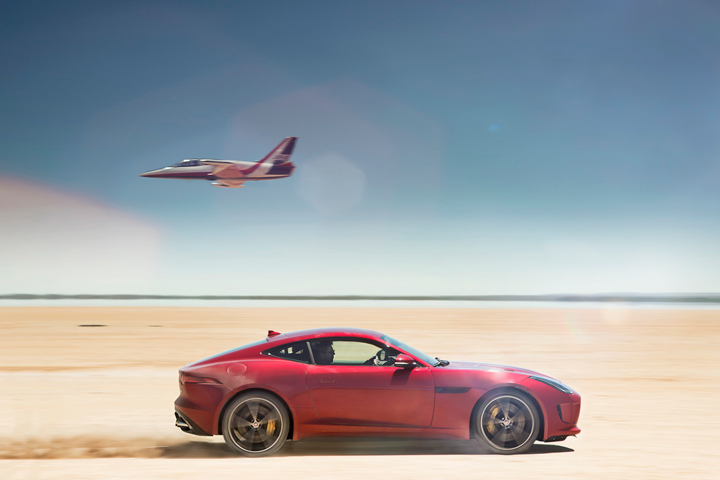 The reason for the South Africa trip wasn't so much a comprehensive performance test but a trial run for the Jag's upcoming role as a communications car for the Bloodhound SSC that will make a land speed record attempt next year. In the test, the AWD F-Type Coupe made a pass at top speed with a jet flying in the opposite direction, testing the communications systems that will keep the driver of the speed record car and the ground crew in contact.
In the actual record attempt next year, the Jag will do the same thing, but up against the Bloodhound record car that will be driven by Andy Green. He set the current record back in 1997 at 763.035 miles per hour. Regardless of the record results, an AWD Jaguar F-Type is a fine choice for those kind of desert conditions. We can't wait to see how good it is once it gets on the road.