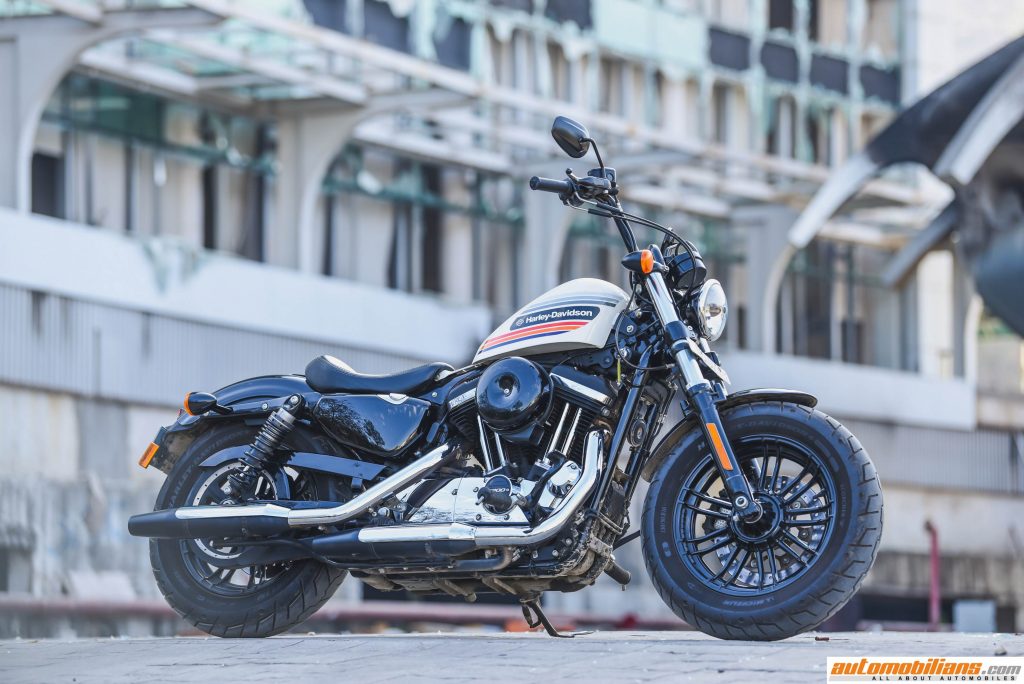 Harley-Davidson, a motorcycle company that has a huge fan following across the globe has added a Special version of the base Forty-Eight to its Sportster line-up, calling it as the Forty-Eight Special. The Forty-Eight Special gets some custom touches here and there that gives it more of a vintage look, the 70's look to be precise. Black and chrome finish mix all over this motorcycle and all those details are what makes it stand apart from its predecessor. But should you be spending on a motorcycle that has few custom-touches, a raised handlebar, and a retro-ish look? How does it ride? Is it a rider-friendly motorcycle? To find answers to these questions, keep reading below as I tell you everything about it.  
Price of Harley-Davidson Forty-Eight Special – Rs. 10.98 Lakhs (Ex-Showroom)
Its Styling: What majorly differentiates between the Forty-Eight Special and its predecessor are its large visual changes. The peanut-shaped tank and solo-seat have always been the highlights of the Forty-Eight and are now of the Special too. The tank is treated with 70's inspired custom artwork that boasts multiple different coloured stripes with the badge sitting in between with a black background. A dark custom style treatment, mixes of black-out and chrome finishes have been carried out all over the motorcycle which looks well balanced. The split 9-spoke cast aluminium wheels at both front and rear look nicer as they are treated completely with black paint. The major change on this cruiser compared to its predecessor is it's Tallboy handlebar. They get a 7.25-inch rise and offer less pullback. Overall, the Forty-Eight Special looks delicious and with that bulldog-like stance, it looks tough.
Its Switchgear and Instrument Cluster: The motorcycle features a slammed circular speedometer. It is analogue and partly digital that barely shows a few information. It shows odometer, clock, dual trip meter, and rpm meter. You can shuffle through these options one at a time using the switch offered on the left switchgear. There are warning lights too, offered under the speedometer that shows low fuel warning light, low oil pressure light, engine diagnostics readout, and LED indicator lights. The switchgear offer, engine start/stop, hazard indicator, low/high beam switches. But, the switchgear and instrument cluster look a bit outdated now.  
Its Ergonomics: The Tallboy handlebar is the biggest addition to the Fort-Eight Special and the motorcycle is offered with forward-set foot-pegs. The solo-style seat comes with a gentle scoop and is comfortable enough. The combination of all these offers the rider with an upright sitting position with hands raised and exposed to the wind. All of this also drastically changes the ergonomics of the motorcycle from a café style to an outlaw-custom style. And of course, there's a gap between the seat and the tiny peanut-shaped fuel tank that differentiates it from the Harley-Davidson Iron 883 from the same Sportster family.
Its Engine & Performance: The Forty-Eight Special gets no mechanical changes at all and is still a Forty-Eight at heart with a 1200 Evolution engine. It is a fuel-injected, 1202cc, air-cooled, Evolution, V-Twin engine that produces 97 Nm of torque at 4250 rpm. Now, as per the Harley-tradition of not disclosing the power figures, the power output of this motorcycle also remains to be a mystery. But I believe the power figure to be between 60-65 BHP. The engine is mated to a 5-speed manual gearbox that is crisp.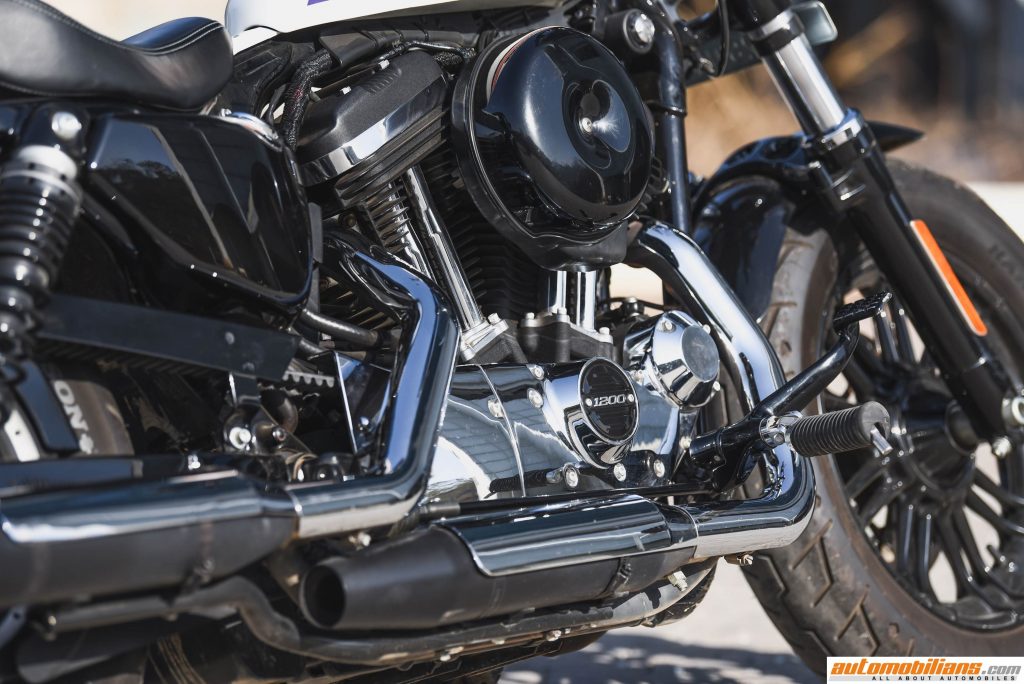 It has a sporty performance and good acceleration too. The gear shifts happen smoothly and the gearbox has a clunky feel to it that adds up to the old-school charm of the motorcycle. The engine is not the fast-revving one and hence its power is limited. But you do have a lot of torque on offer that helps you in sprinting away on this 252 kg motorcycle from the city traffic when the traffic lights go green. 80-100 km/h is the desired speed range in which the motorcycle just runs fine after which the vibrations start kicking in. The tiny fuel tank fits in 7.9 litres of fuel which means several stops at fuel stations. I did manage to get around 14-16 km/l mileage during my test runs. The engine heats up pretty soon in bumper-to-bumper traffic and its warmth can be felt by the fellow travellers too. The clutch is on the heavier side and does not get adjustable lever at all. It will make your hand pain but with the time you will get used to it. Overall, the performance is admirable but not very impressive.  
Its Riding Dynamics: The Forty-Eight Special has been equipped with a muscular front end with triple clamps (forged aluminium) and cartridge style 49mm forks upfront and with a pair of emulsion shocks at the rear. The 16-inch split 9-spoke cast aluminium wheels at front and rear are fitted with 130/90-16 and 150/80-16 Michelin tyres respectively. They do their job nicely and offer superior grips on wet roads too. Scraping the footpegs while cornering will be an everyday thing as the motorcycle offers only a decent amount of lean angle. Also, the ground clearance is of only 110mm which results in scraping the underbelly over tall speed-breakers all the time. The motorcycle is fitted with dual-piston, single-disc brakes at both the ends. They do not have enough bite and the ABS which is a standard fitment seemed to struggle at times. Maybe dual discs at the front would have done the job nicely. But the Tallboy handlebar, forward-set footpegs, low seat make manoeuvring this huge motorcycle an easy task. You can slip through the traffic easily.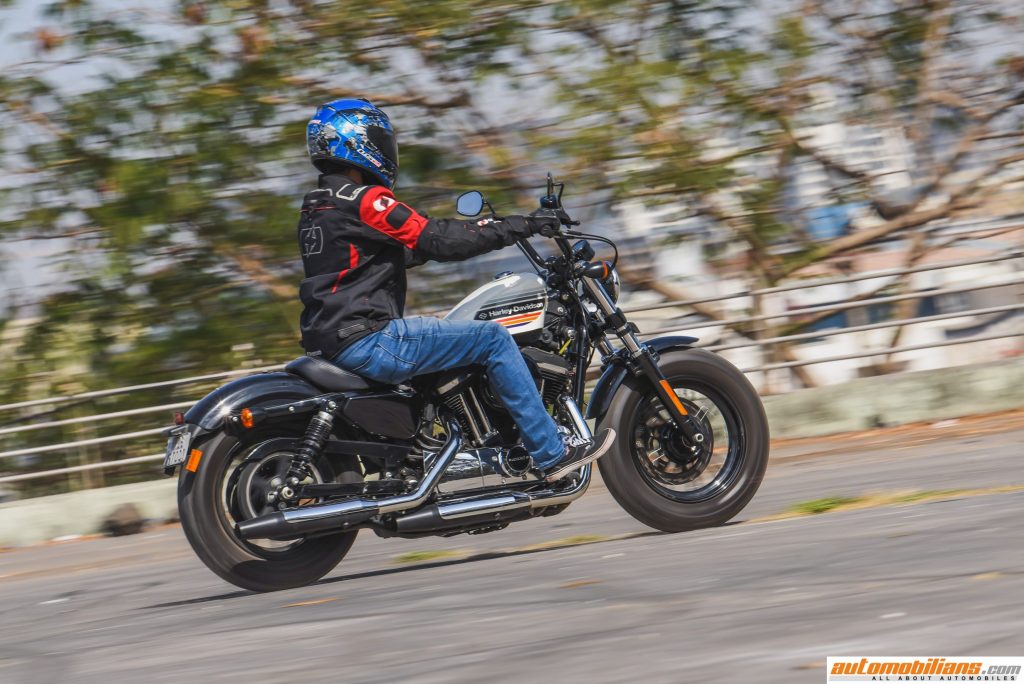 Its Verdict: The Harley-Davidson Forty-Eight Special comes with a price tag of Rs. 10.98 lakhs (ex-showroom) which is a lot for the motorcycle that does not have a lot to offer. But if you are the one who wants to own a Harley with head-turner looks, nimble handling nature, and lot of road presence then you shouldn't hesitate to consider it as your next motorcycle. It is offered in three colour options – Vivid Black, Billiard Red and Stone Washed White Pearl. The Forty-Special has a character of its own and is a true retro in a modern world.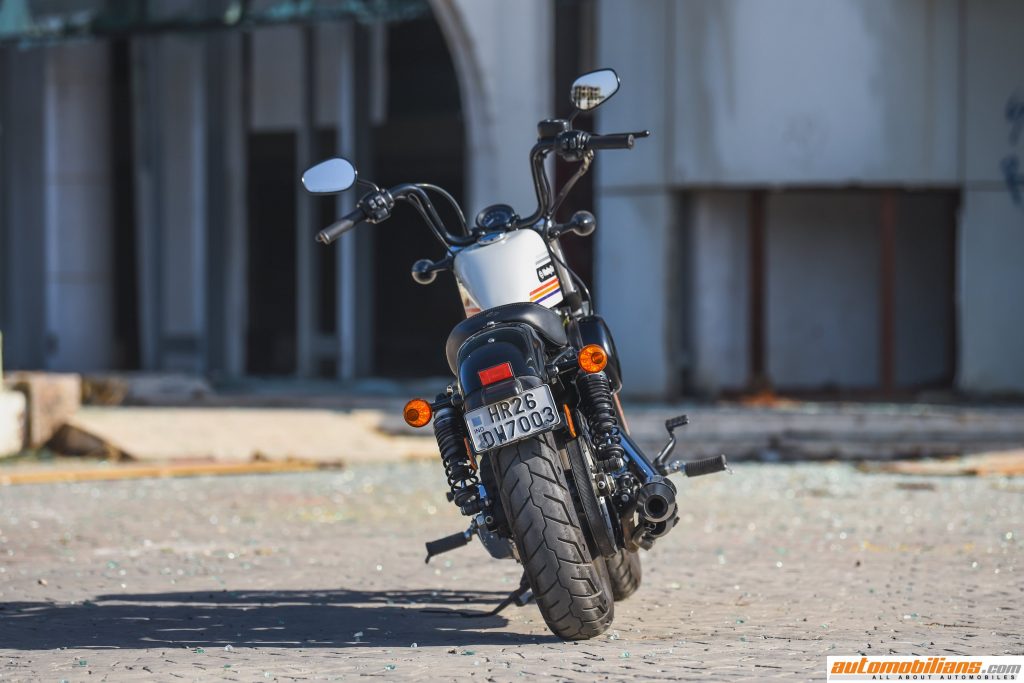 Harley-Davidson Forty-Eight Special Technical Data:
* Engine: 1202cc, air-cooled, Evolution, fuel-injected, V-Twin engine
* Torque: 97 Nm @ 4250 rpm
* Transmission: 5-speed
* Fuel Consumption: 15 km/l (avg.)
* Top Speed: 150+ km/h
* Fuel Type: Petrol
* Frame: Tubular frame
* Suspension: Telescopic forks (Front), Emulsion Rear Shock with screw adjuster (Rear)
* Tyres: 130/90 R16 (Front), 150/80 R16 (Rear), Michelin (both)
* Brakes: Dual-piston, single-disc (both), ABS (standard)
 Harley-Davidson Forty-Eight Special Dimensions: 
* Length: 2165mm
* Wheelbase: 1495mm
* Seat Height: 110mm
* Fuel Tank Capacity: 7.9 litres
* Kerb weight: 252 kg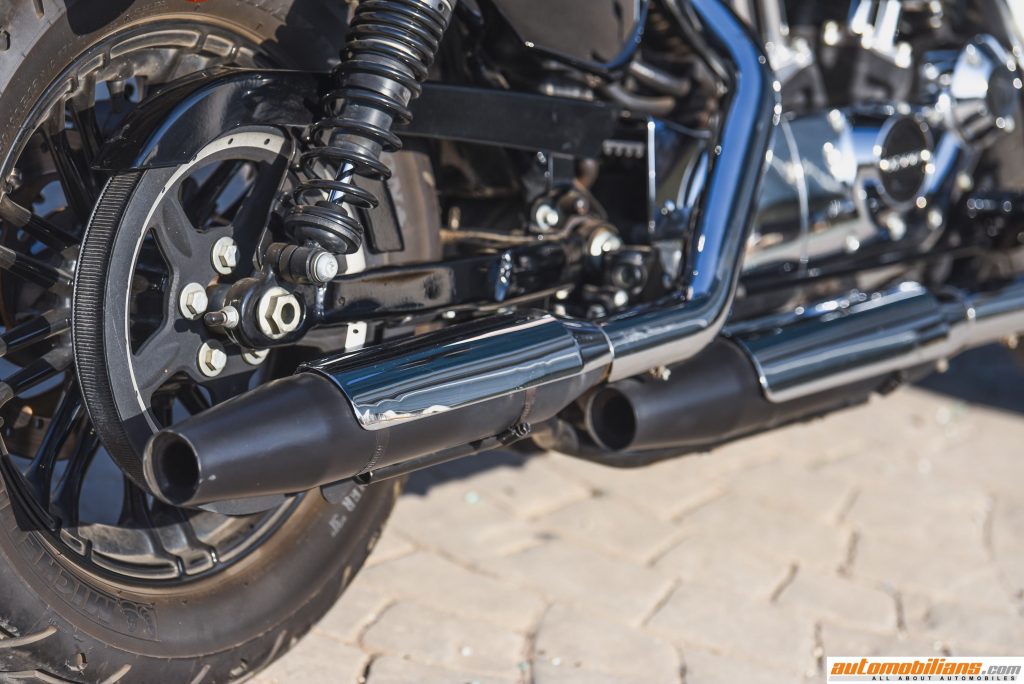 Rider – Viraj David | Photographer – Avdhoot Kolhe