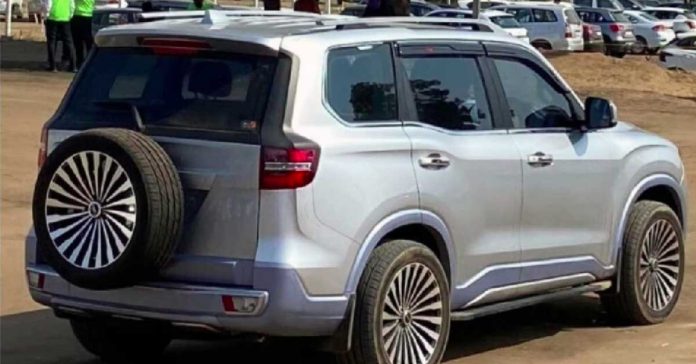 Mahindra Scorpio N is a popular SUV that combines the practicality of a 7-seat SUV with off-roading capabilities.
It has been in massive demand ever since its launch last year.
That is the reason why digital automobile artists choose it as a default product for modifications.
In the current fleet of Mahindra, we see the Bolero Neo with this arrangement. But the automobile designer has taken some time out to imagine the Scorpio N with the spare tyre hanging on the boot lid. Let us take a look at the details of this unique illustration.
Mahindra Scorpio N with Tailgate-Mounted Spare Tyre
It shows the rear quarter view of the Mahindra Scorpio N. However, it is not a regular model but has a few digital modifications. This includes engraved side body claddings and beefier wheel arches. The main talking point, however, is the multi-spoked chunky alloy wheels. More importantly, the 5th tyre is mounted on the tailgate of the SUV. In addition to that, the top section of the taillamps is blacked-out.
Such digital renditions of popular cars are becoming increasingly popular among digital automobile artists. They often develop their own unique versions of successful products to reveal a completely new side of that product. Some people even get some ideas from such renditions about modifications that they can perform on their cars. But we urge you to make sure that you check about the legality of these modifications with your RTO.
Specs
Mahindra Scorpio N comes with a 2.0-litre mStallion direct-injection turbo petrol engine that produces 200 PS and 380 Nm. It even offers a 2.2-litre mHawk diesel engine that is available in two tunes. It produces 132 PS / 300 Nm in the lower variant and a massive 175 PS / 400 Nm of peak power and torque in higher variants. There are manual and automatic transmission options to choose from along with the 4×4 drivetrain. The prices of the Scorpio N range between Rs 11.99 lakh and Rs 23.90 lakh, ex-showroom.