The Scrambler was the brand name for Ducati's series of single cylinder scrambler motorcycles which were produced for the American market from 1962 to 1974. Basically these motorcycles featured 250cc to 450cc displacement engines during that time. Ducati Scramblers were derived from Ducati Diana and then later on they were converted for dirt-track racing in America by Michael Berliner. Well, since then, the Scrambler has evolved a lot since then and is a fun machine which is not at all heavy on pockets. Old Scrambler was made to go on dirt-tracks but this Scrambler Icon is more of a modern machine with retro-styling and some off-roading capabilities.
Price of Ducati Scrambler Icon – Rs. 6.97 Lakhs (Ex-Showroom, Delhi)
Its Styling: The Ducati Scrambler Icon carries a very simple and decent design language. The teardrop steel tank with interchangeable aluminum side panels, front and rear mud-guards comprise to its body parts. So, there is no much of body work but the bike looks really handsome in that '62 yellow paint job. The circular headlight with integrated circular LED guide-light makes it look more modern. It also gets a modern instrument cluster meter which is a single round pod with an LCD screen. It has exposed throttle, brake and clutch cables that clearly reminds you of the bikes back from the '70s and it may look odd for some people but it surely adds up to that classic feeling.  Like the front, its rear too has got a modern look with a nice LED taillight. The big number plate and rear fat tyre adds up to an appealing look. What grabs more attention of anybody on this bike is its exposed L-Twin engine under the tubular steel trellis frame whose belt covers and heat cover get an aluminum treatment. The side-mounted exhaust pipe and the Pirelli dual sport knobby tyres fitted on both front and rear 10-spoke alloy wheels make the bike look more bold and attractive. And oh! There is also a passenger grab rail under the seat. This light-weight motorcycle surely looks outstanding with all its styling cues and it definitely carries an attitude of a go-anywhere bike.
Its Switchgear and Instrument Cluster: It gets a single round pod as an instrument cluster and it shows the speedometer, time, two trip-meters, service indicator, etc. and also a tachometer but in an inverted downward manner. It gets no fuel gauge but there's a low-fuel warning light which blinks when there is only 30kms of rideable fuel left in its 13.5 litre tank. This single-pod is surrounded by an interchangeable aluminum cover. The switchgears look similar to that of the Ducati Diavel's and they feel premium to operate. All the switches are to its left, even the headlights switch is on the left. The right switchgear only has the engine on and kill switch button.
Its Ergonomics: The saddle of the Scrambler Icon is at a height of 790mm which is low and accessible to riders' of all sizes. The seat is a single piece long unit. The handlebar is high and wide. The rider's footpegs are centre-set and thus the combination of seat height, high handlebar and footpegs' position result into an upright-sitting posture of the rider. The seating position is very comfortable and the rider can easily maneuver this bike and make quick turns too. The ergonomics contribute to easy and comfortable riding to both in city and on highways'.
Its Engine and Performance: This light-weight machine gets an 803cc, L-Twin, Desmodromic distribution, 2 valves per cylinder, air cooled engine. It gives out 75 BHP @ 8250 rpm and enough torque of 68 Nm @ 5750 rpm. The bike weighs 186kgs but its weight has been balanced well, thus giving out a great power-to-weight ratio. The power figures look decent but when you ride this bike and accelerate, it gives you a jerk and the torque kicks in strongly making it move off the line quickly.
The engine is mated to a 6-speed gearbox and it delivers sleek upshifts and downshifts. You hit the triple digit speed in 2nd gear itself (redline shifts) and you are still left with four more to reach till its top speed of 200 km/h. 0-100 km/h sprint comes up in 4.3 seconds. The real fun of riding this motorcycle is with its traction control off. The torque kicks-in so strongly every time that the bike lifts its front wheel every time when you upshift. But we will recommend you to ride this bike with its TC on. There are vibes on this motorcycle right from the time you start it and harshness can also be felt as it has only 2 valves per cylinder. The L-twin engine is not very smooth and refined but it really doesn't matters because of its addictive power output. At the same time, the engine heats up really fast as it is only oil and air cooled and throws out a lot of heat which can be very irritating to the rider. But the Desmodromic distribution, as this bike has a short stroke and high revving nature makes sure the 2 valves per cylinder loses no power. Hence, there is no power loss.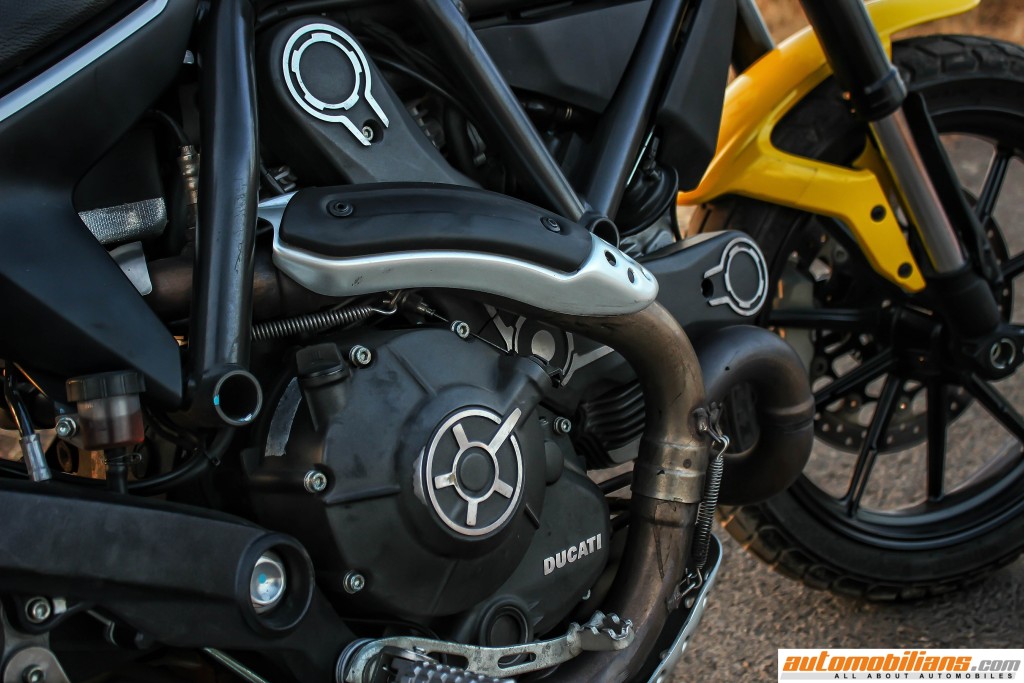 Its Riding Dynamics: As said before, this Scrambler Icon has a good power-to-weight ratio and so it performs very well. The upright sitting posture helps you to ride this mad motorcycle with lot of ease. The very much responsive throttle and great torque output lets you ride this motorcycle anywhere you want to. The engine redlines at 9000 rpm but doesn't mind to be revved a little more. The gear ratios are short, and are very suitable for your daily city riding. The Pirelli dual sport tyres offer ample of grip on and off the road. They give you a lot of confidence to push the motorcycle harder even at the tightest of corners (with TC on) and let you go faster during your off-road sessions. As the motorcycle is sleek and thin, maneuvering becomes easier. It allows you to change lanes quickly, even at higher speeds. But you experience a lot of wind blast above 120 km/h as there is no windscreen present. But a small Plexiglas windscreen is offered as an accessory. The front wheel is equipped with 330mm disc, radial 4-piston calliper with ABS and the rear with 245mm disc, 1-piston floating calliper with ABS. ABS is offered as standard on this motorcycle. The brakes have a great feedback and do no drama while bringing this bike to a halt. As far as the suspensions are concerned, the front gets the upside down Kayaba 41mm fork and the rear gets a slightly stiffer, single Kayaba, pre-load and rebound adjustable shocker. It is attached to the aluminium double-sided swingarm. The suspensions do their job very well and soak up every bump on the road. They are more tarmac oriented but they are great performer on rough sections too. The traction control and ABS keep the bike in control but the bike still manages to behave madly under hard acceleration.
Its Verdict: The bike impressed us a lot with its on-road and off-road performance. It's small, nimble a complete fun motorcycle to ride. The Scrambler gets a lot of variants and a lot of customization options. Yes, this bike does have drawbacks like over-heating and lack of wind protection but its affordable price and enjoyable ride lets you overlook it. You can commute on it daily, go on early morning weekend rides and also go on tours. It's made for all of them. This bike is a good stepping stone for riders who are looking forward to enter the world of big motorcycles. The Ducati Scrambler Icon is an eye-candy which will never fail to put a smile on your face.
Ducati Scrambler Icon Technical Data:
* Engine: 803cc, L-Twin, Desmodromic distribution, 2 valves per cylinder, air cooled, fuel injected engine
* Power: 75 BHP @8250 rpm
* Torque: 68 Nm @ 5750 rpm
* Transmission: 6-speed
* 0-100 km/h: 4.3 seconds
* Top Speed: 200 km/h
* Fuel Consumption: 16-18 km/l
* Fuel Type: Petrol
* Frame: Tubular steel Trellis frame
* Suspension: Upside down Kayaba 41mm forks (Front), Adjustable Kayaba single Monoshock (Rear)
* Tyres: 3.00″ x 18″ (Front), 5.50″ x 17″ (Rear)
* Brakes: 330 mm disc, radial 4-piston calliper with ABS (Front), 245 mm disc, 1-piston floating calliper with ABS (Rear)
Ducati Scrambler Icon Dimensions:
* Length: 2100mm
* Width: 845mm
* Height: 1150mm
* Wheelbase: 1445mm
* Ground Clearance: 160mm
* Seat Height: 790 mm
* Fuel Tank Capacity: 13.5 litres
Kerb weight: 186kgs
Riders –  Viraj David, Saurabh Sutar
Photographer – Avdhoot Kolhe