Land Rover India has announced the prices for its new road-focused SUV, the Range Rover Velar. The prices start from Rs. 78.83 lakhs (ex-showroom) and go upto Rs. 1.37 Crore for its fully loaded top-end model. It is the fourth model in the Range Rover family and sits between the Range Rover Evoque and Range Rover Sport.
For the Indian market, the new Range Rover Velar will be made available with three engine options, a 2L diesel, a 2L petrol and a 3L diesel. The 2L diesel is a 4-cylinder engine which produces 177 BHP and 430 Nm of torque. The 2L, 4-cylinder, petrol engine produces 247 BHP and 365 Nm of torque. The 3L, V6, diesel engine produces 296 BHp and 700 Nm of torque.
The Velar boasts an aggressive and a compact design. It gets striking proportions and boasts the typical Range Rover floating roofline and a continuous waistline design. It gets matrix-laser LED headlights and LED taillights. It also gets Range Rover's foil stamped grille upfront and brilliantly designed bumpers at front and rear with metal and copper inserts.
The interiors get a lovely design and everything seems to be crafted well. There are two 10″ Touch Pro Duo infotainment system screens and a fully digital instrument cluster. But, it will be made available as a 5-seater only.  The Velar gets lots of safety features like the Hill Descent Control, Driver condition monitoring, Adaptive Dynamics, optional rear differential locking, Terrain Response 2, Reverse Traffic Detection, Low Traction Launch, Autonomous Emergency Braking, and many more.
The Range Rover Velar will be launched in the month of Januay 2018 and the deliveries of the Velar will begin from the end of January 2018.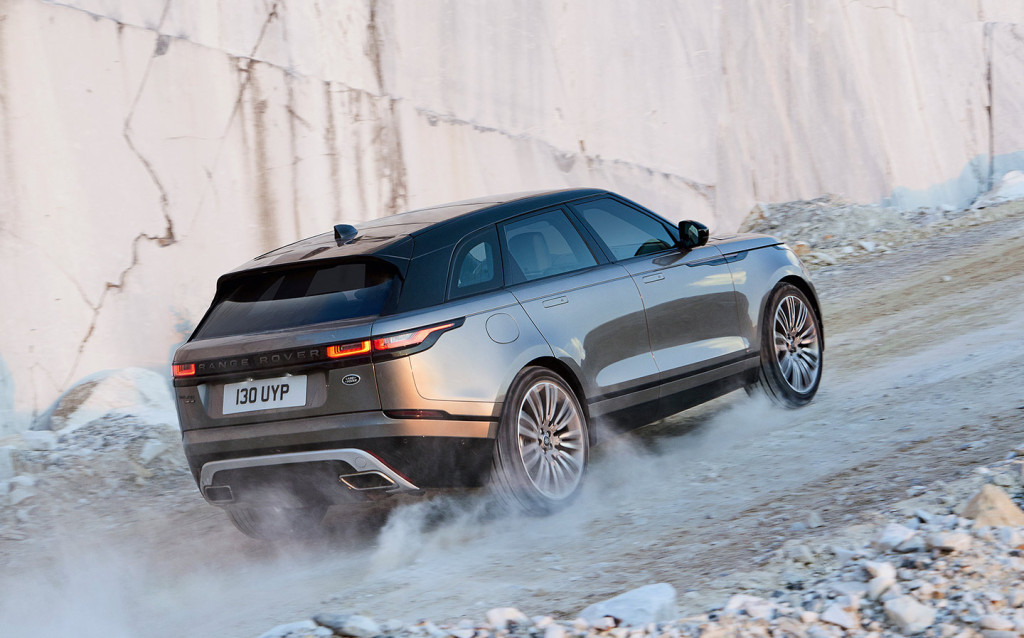 Prices of the Range Rover Velar, variant-wise are as follows: (all prices are ex-showroom, India)
2L Petrol –
2L Petrol – Rs 78.83 lakhs
2L Petrol R-Dynamic -Rs. 80.76 lakhs
2L Petrol S – Rs. 83.25 lakhs
2L Petrol R-Dynamic S – Rs. 85.18 lakhs
2L Petrol SE – Rs. 85.21 lakhs
2L Petrol R-Dynamic SE – Rs. 87.14 lakhs
2L Petrol HSE – Rs. 89.93 lakhs
2L Petrol R-Dynamic HSE – Rs. 91.86 lakhs
2L Diesel –
2L Diesel – 78.83 lakhs
2L Diesel R-Dynamic – Rs. 80.76 lakhs
2L Diesel S – Rs. 83.25 lakhs
2L Diesel R-Dynamic S – Rs. 85.18 lakhs
2L Diesel SE – Rs. 85.21 lakhs
2L Diesel R-Dynamic SE – Rs. 87.14 lakhs
2L Diesel HSE – Rs. 89.93 lakhs
2L Diesel R-Dynamic HSE – Rs. 91.86 lakhs
3L Diesel –
3L Diesel – Rs. 1.10 crore
3L Diesel R-Dynamic – Rs. 1.13 crore
3L Diesel S – Rs. 1.16 crore
3L Diesel R-Dynamic S – Rs. 1.18 crore
3L Diesel SE – Rs. 1.18 crore
3L Diesel R-Dynamic SE – Rs. 1.20 crore
3L Diesel HSE – Rs. 1.24 crore
3L Diesel R-Dynamic HSE – Rs. 1.26 crore
3L Diesel First Edition – Rs. 1.37 crore