Skoda Auto has launched its third generation model of its flagship car, the Skoda Superb in India at Rs. 22.68 Lakhs (Ex-Showroom, Mumbai).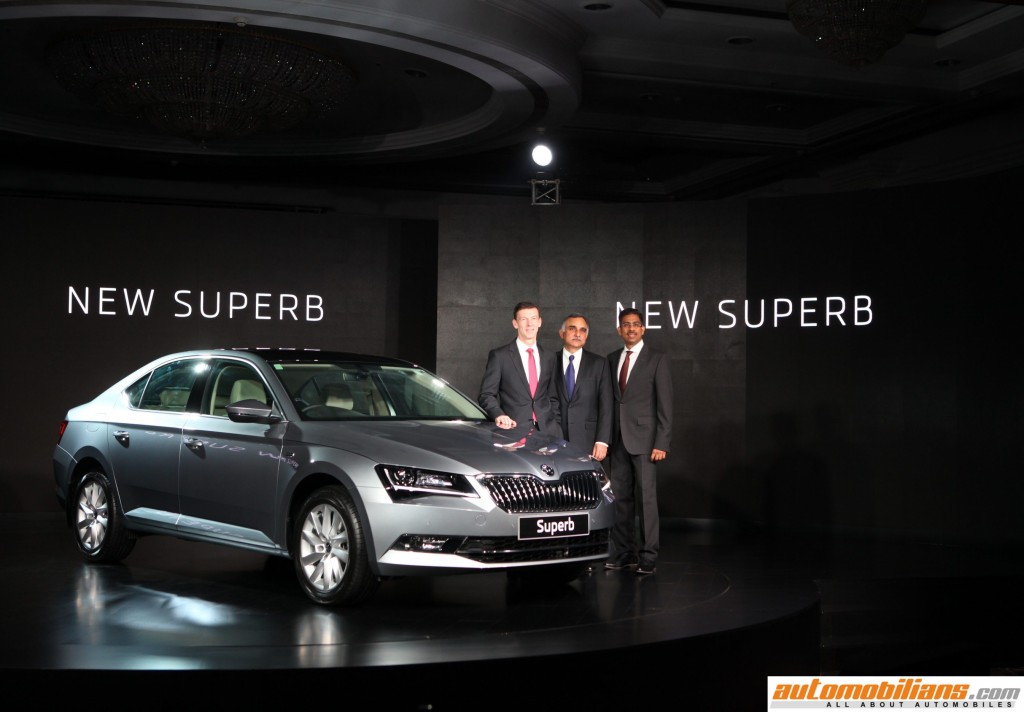 The new 2016 Superb will be powered by the new 1.8L TSI/132 kW (180PS) and the 2L TDI/130 kW (177PS) engines.
The new Superb gets balanced proportions, flowing lines, coupé-like silhouette, clear-cut edges, crystalline lights, longer wheelbase and wider track for more space, maximum safety with 8 airbags, innovative connectivity with SmartLink technology. The new Superb is 20% more powerful than before and 30% more efficient because of better aerodynamics and efficient engines. The car is built on the new MQB platform technology; XDS+ as standard and weighs up to 75 kg lighter than its predecessor. The car's drag coefficient has also gone down to 0.275.
Features like Virtual Pedal is there for contactless opening of the boot lid, 3 Zone Climatronic and Two easy-to-reach umbrellas for driver and passenger in the doors of the car.
Because of the increased wheelbase and track, the car gets more space and comfort on the inside.
The petrol Superb is offered in both manual and automatic trims and the manual trim is powered by a 1.8L TSI engine which produces 180 PS and 320 Nm of torque while 7-speed DSG automatic gearbox which is mated to the same engine produces lesser torque of 250 Nm. The new petrol engine has 12% more efficiency than before.
The 2L TDI diesel engine is available in only the automatic trim which produces 177 PS and 350 Nm of torque which is mated to a 6-speed DSG gearbox. The new diesel engine has 27% more efficiency than before.
2016 Skoda Superb Engines & Prices:
| | | | | |
| --- | --- | --- | --- | --- |
| Engine | Fuel | Transmision | Variant | Price (Ex-Showroom, Mumbai) |
|  1.8L TSI 132kW | Petrol | Manual (MQ350-6F) | Style | 22,68,305 |
| 1.8L TSI 132kW | Petrol | Automatic (DQ200-7F) | Style | 23,91,984 |
| 2L TDI 130kW | Diesel | Automatic (DQ250-6F) | Style | 26,39,650 |
|  1.8L TSI 132kW | Petrol | Automatic (DQ200-7F) | L & K | 26,89,281 |
|  2L TDI 130kW | Diesel | Automatic (DQ250-6F) | L & K | 29,36,850 |