1. New Volkswagen Vento to be available with 1.6-litre MPI,1.2-litre TSI with 7-Speed DSG and 1.5-litre TDI engines available in both 5-Speed manual & 7-Speed DSG automatic transmission
 2. Offers up to 7% higher fuel efficiency for Petrol and 2% higher for diesel models, as per ARAI
3. Available at all Volkswagen showrooms across India from June 23, 2015 onwards, ex-showroom prices start at Rs. 7.70 Lakh (ex-showroom Mumbai, without Octroi & local taxes)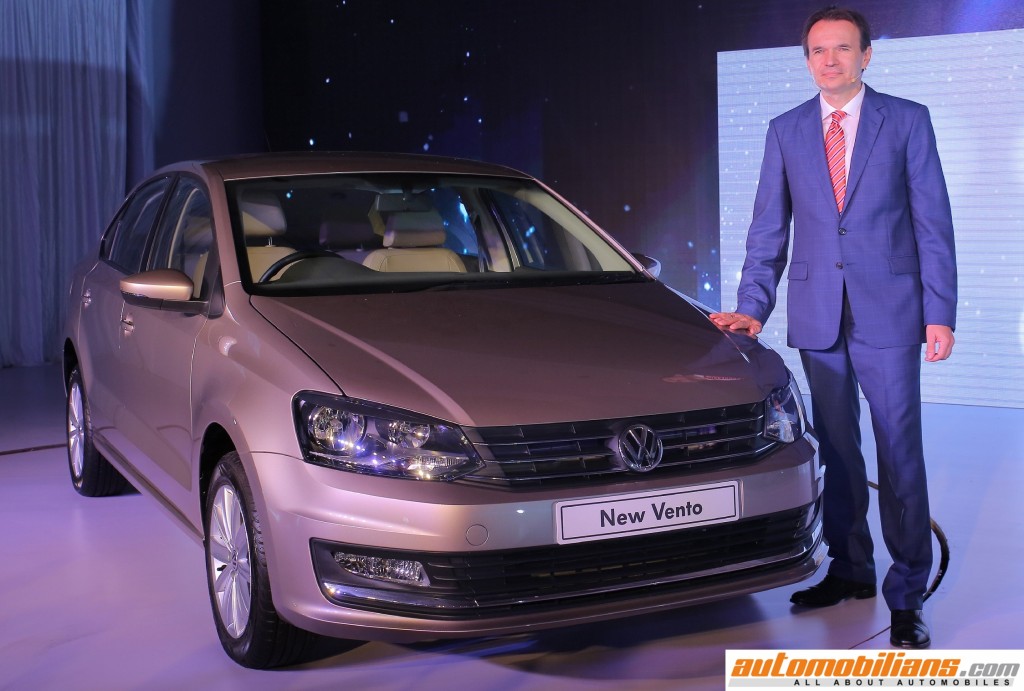 Volkswagen, Europe's largest carmaker, announces the launch of the new Vento, one of the most refined, well-built, safe and technologically advanced sedans available in India. To suit a wide range of requirements and driving preferences, the new Vento is available with a range of four-cylinder engines – 1.6 MPI, 1.2 TSI and 1.5 TDI power plants, all of which offer an excellent blend of power, performance and fuel economy.
Safety is of paramount importance for Volkswagen, and the new Vento comes fitted with ABS (in Comfortline & Highline), ESP & Hill-hold function (in DSG variants) and dual front air-bags as standard in all the variants.
The new Vento's 1.5-litre four-cylinder TDI turbo-diesel engine produces 105 PS of power and 250Nm of torque, which provides impressive on-road performance, clocking a fuel economy figure of 21.50 kmpl, as per ARAI.
The 1.2 TSI engine produces 105 PS of power and 175 Nm of torque, delivering a fuel economy of 18.19 kmpl. The 1.6 MPI engine produces 105 PS of power and 153Nm of torque, with a fuel efficiency of 16.09 kmpl, as per ARAI.
With driver safety, comfort and world-class driving experience forming the crux of Volkswagen's product design philosophy, the changes on the New Vento include electrically foldable ORVMs with integrated LED turn indicators and more powerful front fog lamps with integrated cornering lights, for the benefit of the driver. Lending a stylish touch to the premium sedan are the new front grille, alloy wheels and chrome lining on the boot lid, exhaust tip and door handles.
The interiors of the New Vento continue to raise the bar with the subtle style and sophistication that is characteristically Volkswagen. The New Vento now offers the cruise control mode that further enhances the driving experience. Other changes include an all-new cooled glove box and new interior colour themes of 'Walnut desert beige' (in Highline) and 'Cloud – Titanschwarz' (in Trendline and Comfortline).
Speaking at the launch of the new Vento, Mr. Michael Mayer, Director, Volkswagen Passenger Cars, Volkswagen Group Sales India Pvt. Ltd. said "We at Volkswagen Passenger Cars are committed towards providing the Indian customers with stylish and technologically advanced products that strive to provide the highest levels of build quality and driving experience. The Vento has always been among our best received products in the market, and with the changes made to the New Vento, we are confident that the product will continue to appeal to our customers and will play a key role in further expanding the Volkswagen family in India."
Ex-showroom (Mumbai – without Octroi & local taxes) prices start at Rs. 10.91 – 11.64 lakh for the New Vento 1.5 TDI DSG, Rs. 8.93 – 10.47 lakh for the Vento 1.5 TDI, Rs. 9.68 – 10.42 lakh for the Vento 1.2 TSI DSG and Rs. 7.70 – 9.24 lakh for the New Vento 1.6 MPI.
The New Vento will be available at an interest rate of 9.99% per annum through Volkswagen Financial services. This offer is valid for limited period.
Notes:

1) The new Volkswagen Vento will be available in 6 colours: Titanium Beige, Carbon Steel, Candy White, Toffee Brown, Night Blue and Reflex Silver
2) Trim options available on New Vento are:
    New Vento 1.6 MPI (MT): Trendline, Comfortline, Highline
    New Vento 1.2 TSI (7-speed DSG): Comfortline, Highline
    New Vento 1.5 TDI (MT): Trendline, Comfortline, Highline
    New Vento 1.5 TDI (7-speed DSG): Comfortline, Highline
3) Prices of the New Vento (Ex – showroom Mumbai – without Octroi & local taxes and Ex-showroom New Delhi) are:
Fuel
Variant
Ex- Showroom
Mumbai*

(without Octroi & local taxes)

New Delhi
Petrol 1.6 MPI
TL
Rs 7.70 lakh
Rs 7.85 lakh
CL
Rs 8.51 lakh
Rs 8.67 lakh
HL
Rs 9.24 lakh
Rs 9.42 lakh
Petrol 1.2 TSI DSG
CL
Rs 9.68 lakh
Rs 9.87 lakh
HL
Rs 10.42 lakh
Rs 10.62 lakh
Diesel

1.5 TDI

TL
Rs 8.93 lakh
Rs 9.10 lakh
CL
Rs 9.73 lakh
Rs 9.92 lakh
HL
Rs 10.47 lakh
Rs 10.67 lakh
Diesel

1.5 TDI DSG

CL
Rs 10.91 lakh
Rs 11.12 lakh
HL
Rs 11.64 lakh
Rs 11.87 lakh