A comprehensive and very informative portal for automobile enthusiasts. The content of the portal presents information in finer details, giving an excellent insight of the Indian and global automobile segment. The portal contains tons of reviews, industry news, technology trends, market trends, up-coming launches, rumours, buyer's guide, road safety articles, tips and lot more. For visual delight, the website also features beautiful photo albums of automobiles with lots of actions. The visitors are never disappointed.
A professional team of young guns, automobile enthusiasts, runs the show with absolute dedication. The team puts every effort to provide the visitors with a fresh outlook and enlightenment in multiple aspect. The team lives automobile.
Team Automobilians.com:
Devjeet Saha
Founder Director
A bike lover from his childhood. Since 2007 he started his professional activities in the field of the automobile. He had worked closely with Bikeguru Dilip Bam from 2008, assisting him reviewing and testing automotive. He is best known as bike marathoner. He has completed successfully 5 'Saddle Sore' and 2 'Bun Burner' rides. The most stunning feat is his 'Saddle Sore' on Hero Splendor Pro, a 97.3 cc motorcycle in April 2014. Progressively he entered the four-wheeler segment with reviews and travelogues. He is actively involved in automotive testing as well.
Viraj David
Co-Founder (the Thinker, the Writer, the Knee-Scraper & the Driver)
He is a graduate in Automobile Engineering who has a big deal crush on automobiles. He is a self-taught stunt-biker, and knee scraping is his regular feat, even on 100cc motorcycles. He is also an avid test driver, put him behind the steering wheel of a car, and you will hear screeches of joy from the tires on the road. He is also a well-known personality among the automobile PR agencies. He loves collecting die-cast scale models and is also a good sketch artist. Most importantly, he lets his articles speak.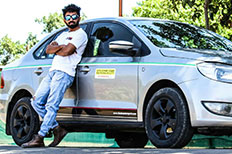 Saurabh Sutar
Co-Founder (the Thinker, the Writer, the Stunter & the Drifter)
Excellent stunt-biker and test-driver, a multi-talented person, holds a Diploma in Automobile Engineering. He is the one to get the vehicle first, it does not matter if it's a two-wheeler or four-wheeler. He understands the vibes of every vehicle so well that, he can take it to its limit of performance. He is often hired by advertising and automotive testing agencies. Saurabh is also a good photographer and singer. His humorous remarks keep the entire team laughing.

Ashish Samant
Technical Head
Automobile enthusiast, an engineer (BE Electronics) with an expertise in comprehensive automobile testing. He owns Zen Microsystems, dealing in instruments and testing services for R&D in automobile industry. He is in the field for more than 15 years now and is well known person in the field of automotive testing for his expertise in instrumentation, data acquisition, data analysis etc. Ashish is also called upon by other leading automobile magazines for his proficiency.
Dibyendu Joardar
Creative Head

Young at heart, always daring for adventures and learning. Technology enthusiast with a flair of writing, cinematography and interest in automobiles. He is responsible for documenting reviews scientifically and more from user perspective. Experience of more than 15 years in the field of Brand Communication.
Avdhoot Kolhe
Photographer (the Perfect Capturer)
One of the young guns, crazy about automobiles. This promising young talent has an eye for details. His works do the talking. With an adventurous mind, he is always ready to travel any destination. Apart from automobile he also loves to shoot wildlife. Pursuing his Diploma in Photography to embrace the media in automobile industry.
Alok Nadem
IT Head
Young, soft spoken, and a very gentle person from outside, but he is a techie, gamer and mobile geek from inside. With good aesthetic sense and coding skills, he puts life in the pages of the portals he develops. With more than 7 years of experience in designing and developing websites for Indian and offshore clients, he is in total charge for developing and maintaining the portal 24×7.