The Triumph Street Twin is the baby Bonneville, the entry-level motorcycle of the Bonneville family which was unveiled with other two models, the Bonneville T120 and the Thruxton café by the English manufacturer. Triumph Street Twin is the successor model to the Bonneville SE and it looks familiar to it. But the Street Twin has been equipped with more modern technical innovations and is all new. The name Bonneville being derived from the famous Bonneville Salt Flats, Utah, USA has been all-time famous for its classic motorcycles range. So, to find out if this baby Bonneville lives up to its name or not, we spent a few days with it and below written article is what we found out about it.
Price of the Triumph Street Twin – Rs. 7 Lakhs (Ex-Showroom, Delhi)
Its Styling: The Street Twin belongs to the Bonneville classic motorcycle range. Now, we have it as an entry-level modern-classic motorcycle. It looks familiar to the motorcycle which it replaces but gets a completely new and modern design. It gets a retro-styling but looks no older. The smaller fuel tank, round headlamp with aluminium brackets, upswept twin stainless steel exhausts, LED taillight, low twin seat, clear lens turn indicators, cast aluminium alloy wheels, side panels and front and rear mudguards give it a modern-retro look. That's not all! The front KYB Forks and rear KYB twin shocks also add up to that classic look. But more attention has been given to its engine's design. The designers have managed to incorporate the styling cues from the previous Bonneville's engine silhouette. The throttle body has been hidden from the view and hence the faux carburetor treatment has gone missing which can be seen on the Street Twin's elder sibling, the Bonneville T120. The air-cooled cooling fins on the cylinder head and the vertically stacked radiator along the new tubular steel cradle frame make it look more modern. While the company offers many customization options, the Street Twin still looks youthful with its clean lines and contemporary design.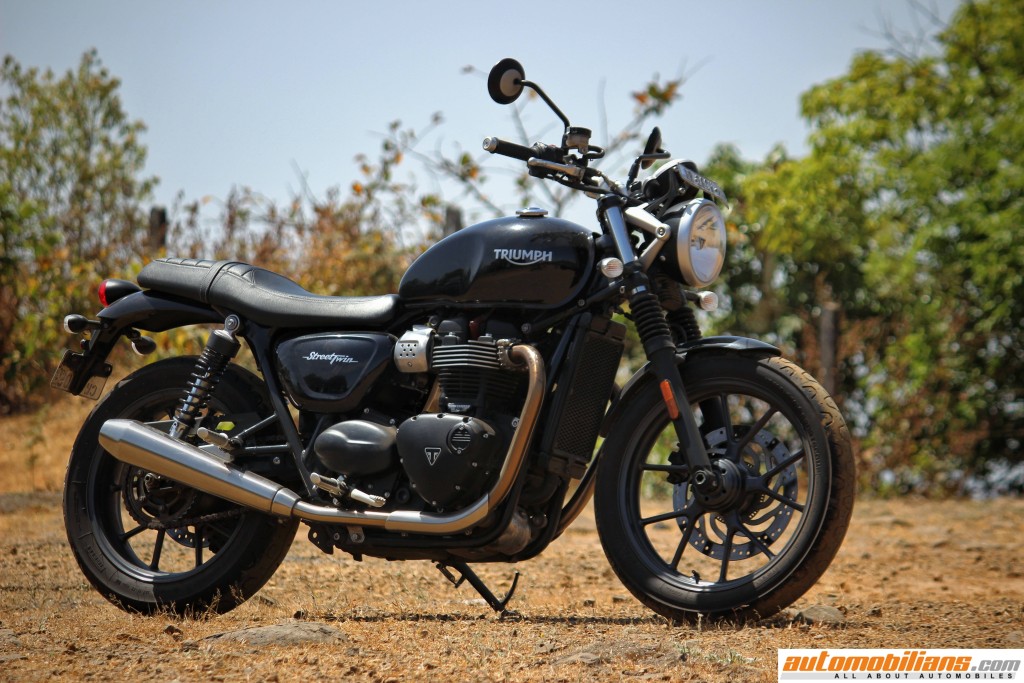 Its Switchgear and Instrument Cluster: Street Twin's instrument cluster carries a modern design. It is a single round pod which shows speedometer in a circular format and many warning lights like the ABS, TC on/off, etc. it also houses an LCD display which shows information like gear position indicator, odometer, trip meters, DTE, average in l/100km format, service indicator, fuel gauge, Traction Control settings and time. But to see the time you need to go through all the information by pressing the 'i' (info) button on the switchgear of the left handlebar. The instrument cluster is given an aluminium treatment and to its either sides below, are the turn indicator lights, high beam light and neutral gear position light. The instrument cluster is another attractive element on this bike. Not to forget, this instrument cluster lacks the tachometer which is not really needed. Now, coming to the switchgears, the right switchgear has engine start/stop button and also the hazard light switch. The left one houses the 'i', info button, turn indicator switch, horn and headlight's low and high beam switch. Plastic quality of the switchgears is top notch and their fit and finish is also very fine.
Its Ergonomics: Astride the Street Twin and immediately you will notice how compact this bike is. Its low seat height of 750mm offers an accessible riding position to every rider. It weighs 198kgs (dry) but does not feels heavy at all. The wide and flat handlebar with center-set footpegs, give you an upright sitting position. The low profile seat is really soft and comfortable. The riding position is in fact a commanding one and you can maneuver the bike easily. The ergonomics are friendly and likable and you will for sure love them.
Its Engine and Performance: The major change on the Triumph Street Twin is its engine. It may look similar to its predecessor's engine but it is completely new. It gets a slight bump in its displacement (865cc to 900cc) and also gets liquid cooling now. So, it is powered by an all-new 900cc HT, liquid cooled, 8V, parallel twin engine. The company calls this engine as a High Torque (HT) engine because it produces 80 Nm of torque @ 3230 rpm. The power produced is of 54 BHP @ 5900 rpm. It produces lower power as compared to what the older Bonneville SE gave out, 67 BHP. But the power delivery is excellent and is in the most usable rpm range. The firing order of this new engine has been changed as the crank angle has been revised to 270° from 360°. So, this new engine is more usable and well performing in real-world conditions. The engine feels vibe-free and is well refined.
Twist the throttle and this motorcycle will move off with an immediate response as it gets ride-by-wire and also the torque kicks in very early. I could feel slight wheelspins (when moving off the line under hard accelerations) but Triumph's traction control system would do its job well of not letting the Street Twin to lose its rear. Nonetheless, the power delivery at every gear was smooth and linear. The engine is mated to a 5-speed gearbox which offers tall gear ratios and it also makes the perfect use of that wide torque range. The gearshifts do happen quickly and are silky-smooth. This is because of the light clutch which gets torque-assist. More importantly, the liquid cooling does its job very neatly of keeping the Street Twin's engine cool. The Street Twin is also a fun-to-ride motorcycle in everyday traffic and through city as there is plenty of power and torque available and also because of the light torque-assist clutch. It surges ahead with no efforts and rides really smooth. The fuel economy which we obtained was of between 4.8 l/100 km and 4.5 l/100 km (i.e. between 20 km/l to 22 km/l) and it really isn't bad at all for a motorcycle with such big displacement engine. And not to forget, while riding this classic motorcycle, you really wouldn't like to miss on hearing to its exhaust note as it is a pure auditory bliss.
Its Riding Dynamics: The Triumph Street Twin sits on a newly geometricized chassis. The motorcycle comes with 18" front wheels and 17" rear wheels; this makes the motorcycle more nimble and fun-to-ride. The front 41mm KYB forks and rear twin KYB suspensions are well mannered. The front had a very nice feedback while the rear was on a little firm side. But they kept the bike stable at all times and there was no wobbling as well. What's more amazing, are the brakes of this motorcycle. The front single 310mm disc and the rear single 255mm disc along with the ABS (standard) do no drama while bringing this bike to a complete stop. They are just outstanding. As I got used to this bike, I went deep in the twisties and the Street Twin really dropped comfortably into the curves. It always held solid lines and also remained stable at high speeds and slowed down well whenever and wherever it was necessary. The Street Twin is offered with Pirelli Phantom SportComp tyres and they offer ample of grip. The traction control works pretty well and gives you a lot of confidence even on the slippery road surfaces. On highways, it cruises smoothly. If you will push it above its limits, you will start experiencing a drop in its power because it is meant to cruise calmly and not to go very fast. It is a very delightful motorcycle to ride in the city and on highways.
Its Verdict: The Triumph Street Twin is the perfect bike to enter with, in the world of big motorcycles. It is an affordable machine which carries hundred percent Triumph's authentic character. It is a perfect modern classic motorcycle with its torque-rich engine, astonishing brakes, better suspensions and beautifully enhanced styling. Its new chassis and perfect ergonomics offer dynamic ride quality and its twin exhausts are tuned to produce an outstanding sound of a British Twin. It is fun, fast and full of possibilities at the same time. The Street Twin is a modern classic motorcycle which remains true to its heritage. The Triumph Street Twin rides like how a Triumph should and it does not fail to give you a face-stretching smile always!
Triumph Street Twin Technical Data:
* Engine: 900cc, HT, liquid cooled, 8 valve, SOHC, 270° crank angle parellel twin engine
* Power: 54 BHP @ 5900 rpm
* Torque: 80 Nm @ 3230 rpm
* Transmission: 5-speed
* Fuel Consumption: 20-22 km/l
* Fuel Type: Petrol
* Frame: Tubular steel cradle frame
* Suspension: KYB 41mm forks, 120mm travel (Front), KYB twin shocks with adjustable preload, 120mm rear wheel travel (Rear)
* Tyres: 100/90 R18 (Front), 150/70 R17 (Rear)
* Brakes: Single 310mm disc, Nissin 2-piston floating caliper, ABS (Front), Single 255mm disc, Nissin 2-piston floating caliper, ABS (Rear)
Triumph Street Twin Dimensions:
* Length: 2090mm
* Width: 785mm
* Height: 1114mm
* Wheelbase: 1415mm
* Seat Height: 750 mm
* Fuel Tank Capacity: 12 litres
* Dry weight: 198kgs
Photographer – Avdhoot Kolhe