BMW has now officially revealed its flagship model – the all new BMW 7-Series. This masterpiece of luxury is expected to go on sale internationally later this year. The new flagship model seems to have gone under many engineering processes whose result is the complete use of carbon-fibre, high-strength steel and aluminium in its body thus making it 130 kgs lighter than the current model.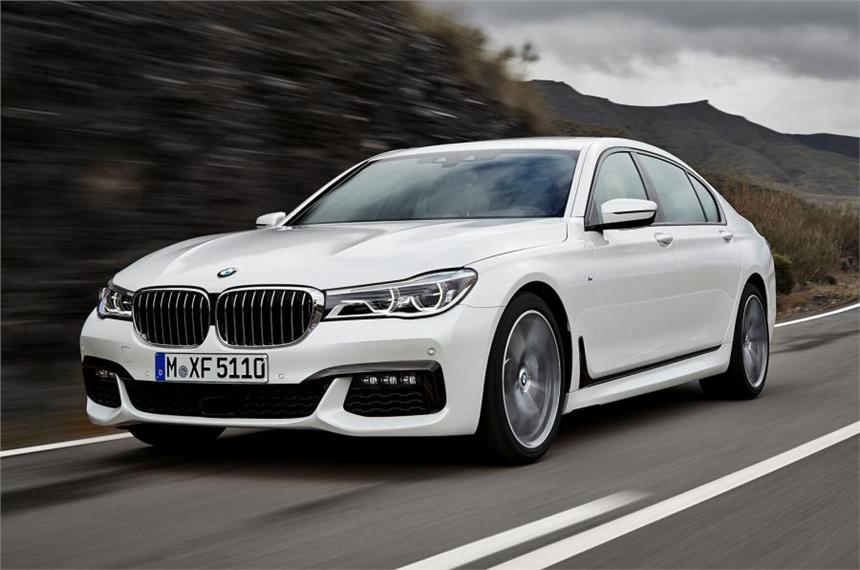 The 730d variant will be powered with a 3L in-line six-cylinder turbo diesel engine which will churn out 261 BHP and can do 0-100 km/h run in 5.8 seconds while its top speed will be 250 km/h.
The 740Li variant will be powered with a 3L in-line six-cylinder turbocharged petrol engine which will churn out 321 BHP and can do 0-100 km/h run in 5.5 seconds while its top speed will be 250 km/h.
BMW will equip the 7-series with a plug-in hybrid petrol-electric system in the new 740e model as it's employed in the BMW X5 xDrive40e which was launched last year. It uses BMW's new turbocharged 2L four-cylinder petrol engine and an electric motor mounted within the gearbox which will churn out a power of 321 BHP and will do the 0-100 km/h sprint in 5.6 seconds and a top speed of 240 km/h in hybrid mode.
The 750i Xdrive model will be powered with a twin-turbocharged 4.4-litre V8 petrol unit which will produce 444 BHP and the sprint of 0-100 km/h will be done in 4.4 seconds and a top speed of 250 km/h. A twin-turbo 6.0-litre V12 twin turbo is also set to join the 7-series range later on. The V8 and the V12 are also set to be used by Rolls-Royce.
The new dimensions of the car's standard variant will be as 5,098mm in length, 1,902mm in width and 1,478mm in height. The new 7-Series is 19mm longer and 7mm higher than its current model and the width remains the same. The car's longer wheelbase variant gains more 139mm, making it 18mm longer than the car it replaces, at 5,238mm. Both the standard and longer wheelbase variants have the same wheelbase measurements as the current 7-series models, at 3,070mm and 3,210mm respectively.
On the basis of new 7-Series, BMW is looking forward at making the M Performance version of the 7-Series which will either be the M7 or M750i and will be powered with M5's twin-turbo 4.4L V8 engine which will churn out power more than 600 BHP.
The enhanced Drive Experience Control function will come as standard on all variants of the car, which allows the driver to choose between COMFORT, SPORT, ECO-PRO and a new adaptive mode that monitors driving style. All variants will come with rear-wheel drive as standard. However, the buyers will also get an option to choose the four-wheel drive variant which will add up extra 70 kgs to the kerb weight of the car.
The new 7-series gets a nominal 135 mm ground clearance and gets re-engineered suspension setup. It gets air springs both at the front and rear, providing constant variable damping control and automatic self-levelling. The driver also gets the option of raising the ground clearance by more 20mm using a button at speeds below 35kph. In SPORT mode the ride height is automatically reduced by 10 mm at certain speeds for improved aerodynamic efficiency.
On the exterior, there is a newly revised bumper, kidney-shaped grille connecting the LED headlights (laser headlights optional) and LED fog lights. There is also a taller upright windscreen, and a chrome outline runs throughout the lower edges of the doors. On the rear it gets raised boot, revised bumper and the LED taillights are connected by a chrome strip.
The interior gets a complete makeover. There is newly revised dashboard, controls and switches, revised digital instrument cluster graphics that light up in white, blue or red depending on the chosen driving mode, a redesigned multi-function steering wheel and new front seats with ventilation and massage functions. There car also gets a Bowers and Wilkins surround sound system, night vision, a glass roof whose lighting can be switched between six colours, and a heads-up display with a larger screen than before.
Also on offer are new iDrive control functions including touch and gesture controls that allow the driver to deliver commands with a wave of his/her hand, and a remote parking system which uses a stereo camera mounted within the windscreen, and radar sensors to allow forward and reverse parking manoeuvres at the press of a button.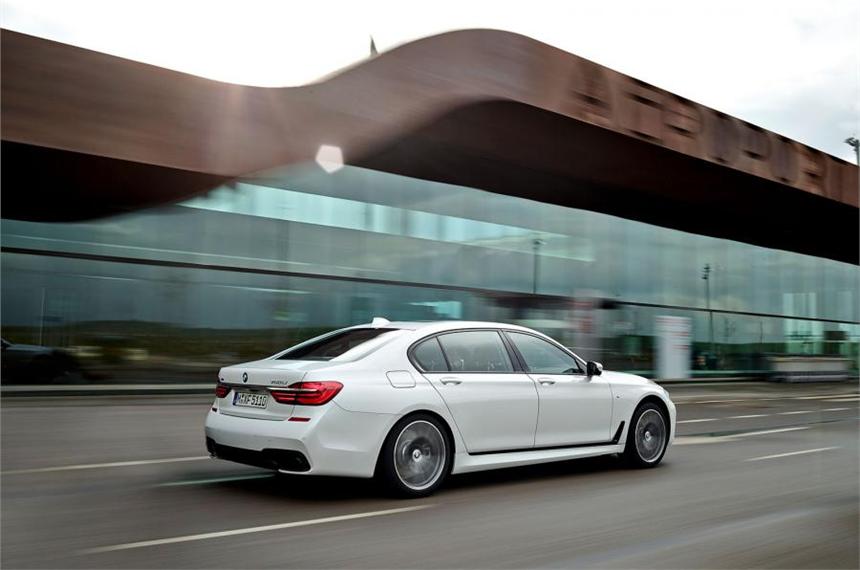 The BMW 7-Series will rival against the Audi A8, Mercedes S-class and the Jaguar XJ. The BMW 7-Series can be launched in India in the early 2016.
g